General Interest News
Aromatic Oil Started Flowing from Stone Cross in Manarcad Church
25 February 2012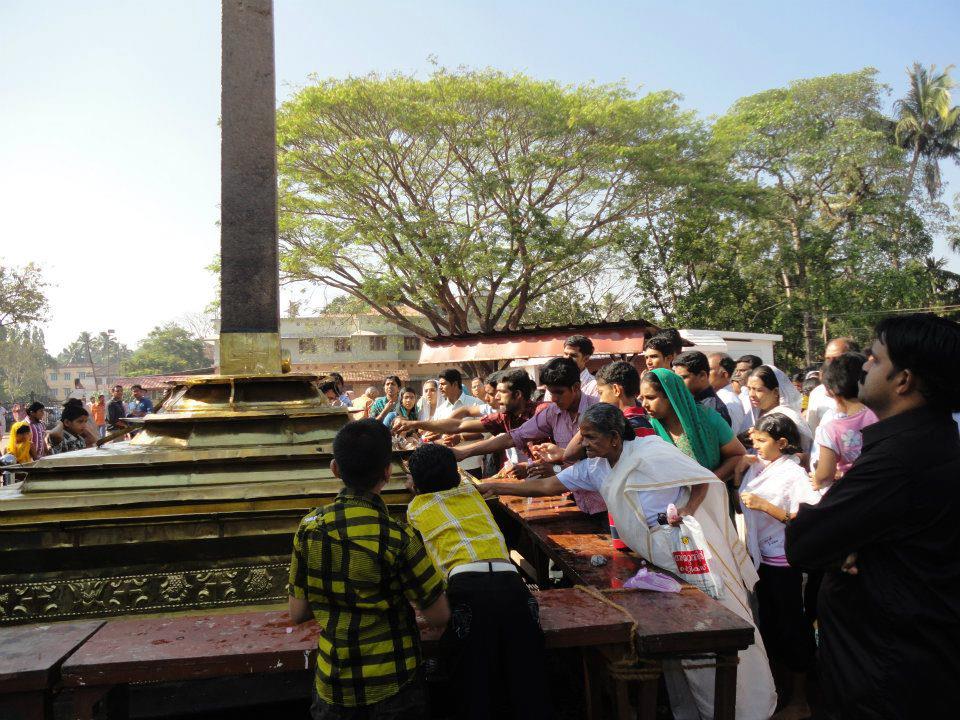 Aromatic Oil has been observed pouring out from the Stone Cross of Manarcad Marthamariam Cathedral (St. Mary's Cathedral), Kottayam, Kerala, India. Faithful are pouring to the Church even in the late night.
Today (26 Feb '12) was the Soonoro Feast and the diocese metropolitan Mor Themotheos Thomas lead the Holy Qurbono (TryMass). Colorful Rasa (procession) took place after the Holy Qurbono and special prayers were held at the Cross. Latter "Nercha Appam" (bread made of rice offered by the faithful were made available to the parishioners in front of the altar) was distributed to the devotees. Thousands of devotees from different part of the state attended.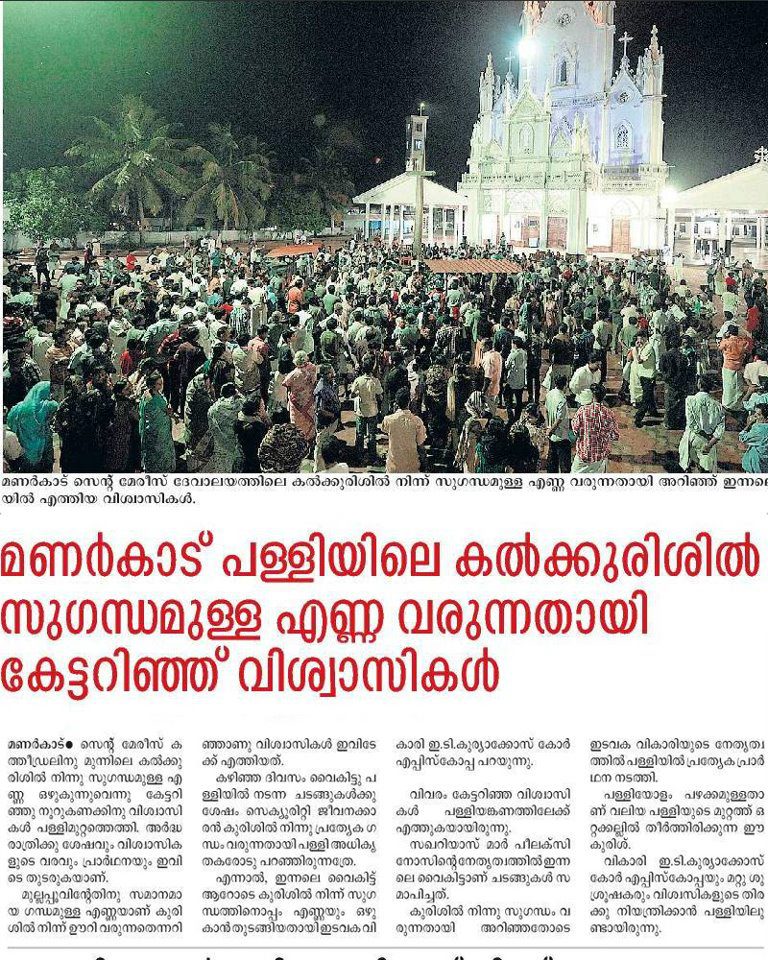 Sugandha Dravyam fell from The Holy Cross on 25th February 2012 at 08:30pm at St. Mary's Cathedral Manarcad and the holy smell spread everywhere in the church. Everyone came to see it and to get blessings from St. Mary.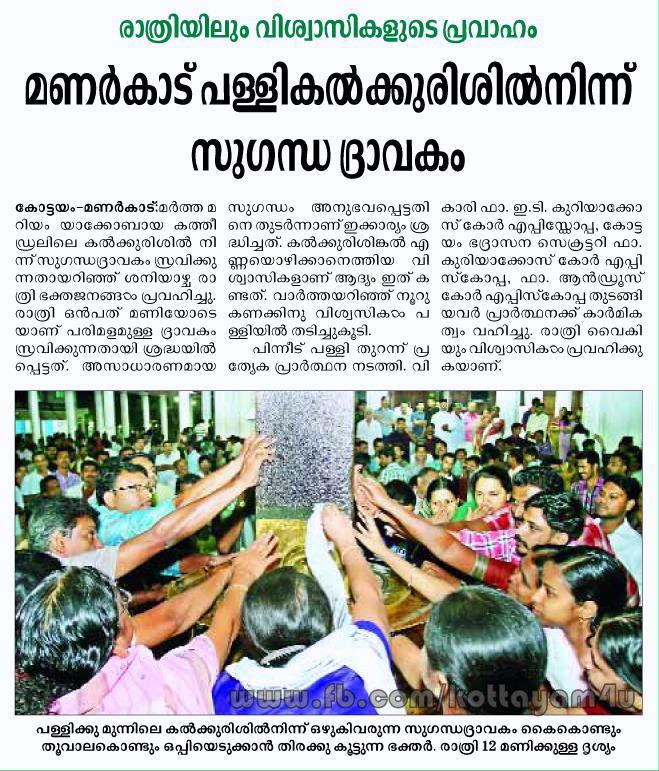 Watch in You Tube: http://www.youtube.com/watch?v=yNZ1DJ7UYu0&feature=youtu.be
His Holiness Moran Mor Ignatius Zakka I visited Manarcad Cathedral in 1982 on February 26 & 27. The Manarcad Cathedral is blessed with the Holy Girdle of St. Mary and was the venue for the consecration of the Holy Mooron.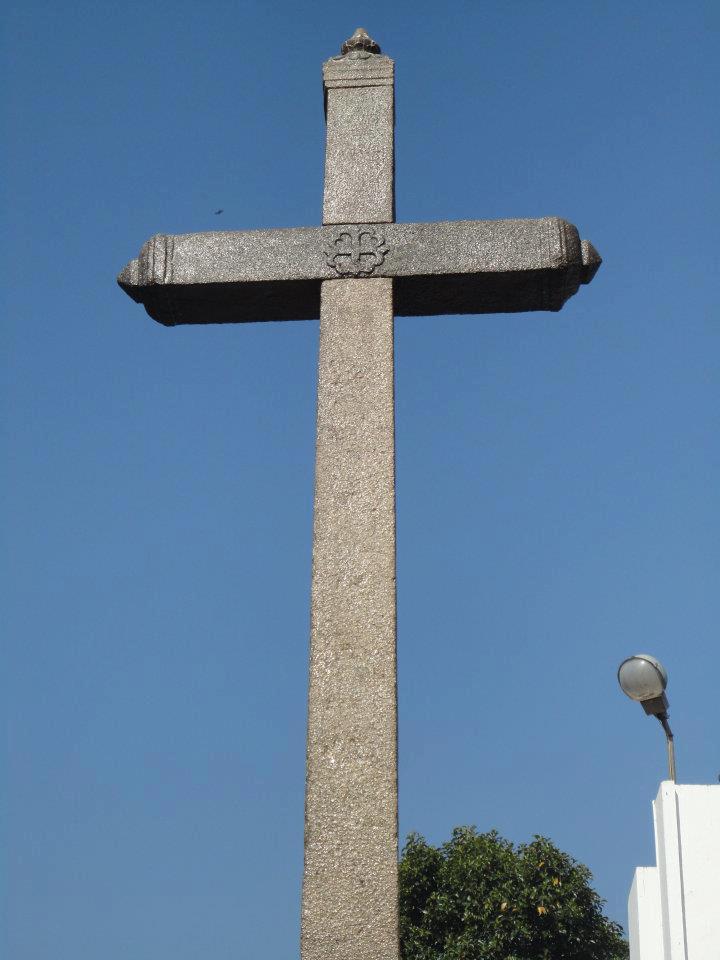 Source: SOCM Forum. See More Photos at: SOCM Facebook Page
See Also:
Miracle Happening in Bahrain St. Peter's Jacobite Syrian Orthodox Church
Holy Oil Flowing from St Mary's Photo..... It started at 6:00 PM local time on Jan 21, 2012.
General Interest | Church Fathers | Faith | History | Inspirational | Sermons | Library - Home | Baselios Church Home
-------
Malankara World
A service of St. Basil's Syriac Orthodox Church, Ohio
Copyright © 2009-2020 - ICBS Group. All Rights Reserved. Disclaimer
Website designed, built, and hosted by International Cyber Business Services, Inc., Hudson, Ohio