Picture of the Week
Jesus Christ, The High Priest - ICON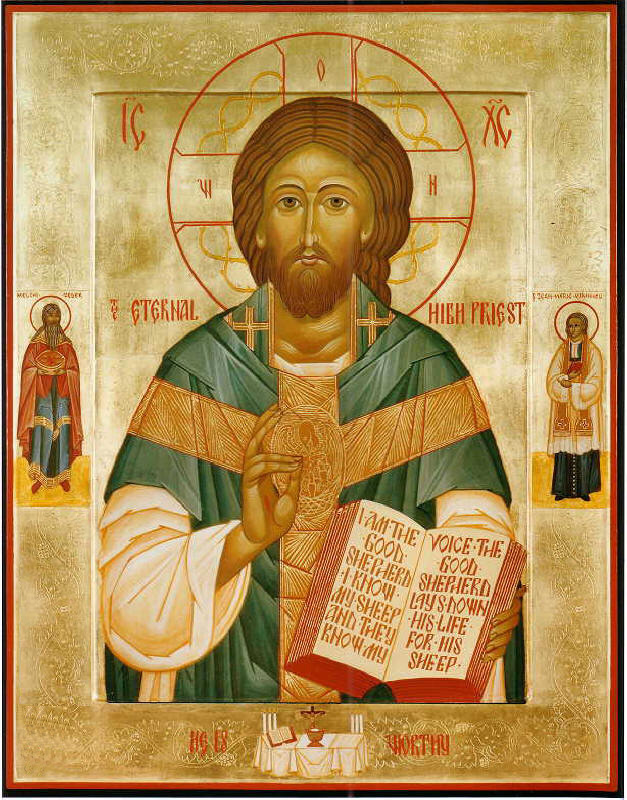 This icon shows Jesus Christ, our eternal high priest.
The gold pelican over His heart represents self-sacrifice.
The border contains an altar and grapevines, representing the Mass, and icons of Melchizedek and St. Jean-Baptiste Vianney.
Melchizedek: king of righteousness (left icon) was priest and king of Jerusalem.
He blessed Abraham and has been considered an ideal priest-king.
St. Jean-Baptiste Vianney is the patron saint of parish priests.
Scripture | Daily Devotionals | Weekly Devotionals | Lectionary | Prayers | Church Fathers | Faith | History | Inspirational | Sermons | Qurbana Videos | Devotional Songs | Poems | Humor | Health | General Interest | Malankara World - Home
-------
Malankara World
A service of St. Basil's Syriac Orthodox Church, Ohio
Copyright © 2009-2020 - ICBS Group. All Rights Reserved. Disclaimer
Website designed, built, and hosted by International Cyber Business Services, Inc., Hudson, Ohio