Advent - Waiting for the Savior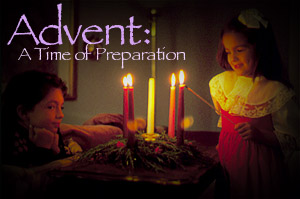 Christmas Fast
by His Holiness Moran Mor Ignatius Zakka I Iwas
The institution of this fast was towards the beginning of the fourth century AD. This can be gathered from reading memres of St. Ephrem the Syrian (+373) and the hymns he composed in the fourth Century. Christmas fast is practiced in preparation for welcoming the commemorative day of Lord Jesusí birth in the flesh and in memory of the grief brought by sin, which we experienced before the Lordís birth. The darkness of ignorance, Satanís enslavement of us, and the infliction of the created world, in expectation of salvation accomplished through the birth of the savior, who redeemed us by His incarnation.
We practice this fast to become pure in our souls and body and be worthy of welcoming the commemoration of the redeemerís birth, the word of God incarnate, the way Moses fasted before the written word of God, that is the Law of the Old Testament, was handed over to him.
Christmas fast used to last for forty days. The church, however, shortened the period to 25 days. In 1946 and pursuant to a decision taken by the Council held in Homs, Late Patriarch Ephrem I Barsoum of Good memory limited it to 10 days starting on December 15 and ending on Christmas Day, Dec. 25.
See Also:
Malankara World Advent Supplement
MW Advent Supplement | MW Christmas Supplement | Sermons Home | Malankara World Journal | Library - Home
-------
Malankara World
A service of St. Basil's Syriac Orthodox Church, Ohio
Copyright © 2009-2020 - ICBS Group. All Rights Reserved. Disclaimer
Website designed, built, and hosted by International Cyber Business Services, Inc., Hudson, Ohio