Today with Jesus
The Wailing Wall
by Rev. Fr. V.V. Paulose, Toronto, Canada
Today's Bible Verse
"Pray for peace in Jerusalem. May there be peace within her walls and safety within her strong towers." (Psalm 122:6-7)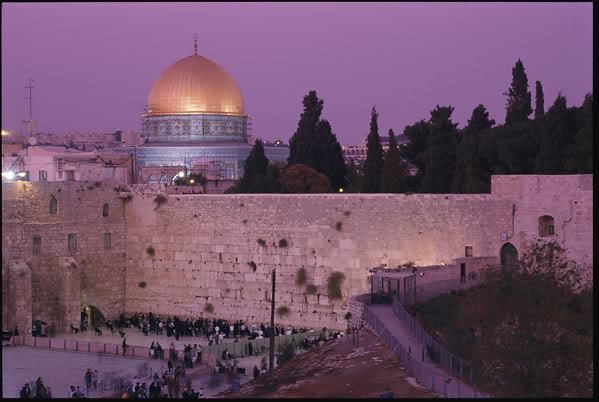 Wailing Wall in Jerusalem
Discussion
The historical cry is a symbol of hope and its certainty - The wailing wall (The western wall).
Prayers with tears can never be fruitless. There is no other historical remnant in the world as the Wailing Wall. The Jews grieve upon visiting the Western Wall and seeing the desolate site of the temple. It's the remnant of the first century retaining wall of the temple in Jerusalem. Measuring some 160 feet long and 60 feet high, it forms part of a larger retaining wall of the temple mount at the top, which now seats the Dome of the Rock and the Al Aqsa mosque.
For nearly 2000 years since the destruction of the temple in 70 AD, the Western Wall has been the focal point for prayer of Jews in Israel and throughout the world. Even inducting new soldiers in the Israel Defense Force is done in front of the wailing wall with the prayer of hope," Peace in Jerusalem" and that is the reason for the unity and glorious existence of Israel as a nation in the midst of destructive enemies. Israel, as a nation in 1948, is the fulfillment of 2000 years long waiting of the Jews by crying and beating their heads with hope in front of the wailing wall.
This story is about Napoleon. As Napoleon passed by a synagogue (Prayer hall of Jews), he heard the sound of people weeping inside. So he turned to his assistant and asked, "What is going on with the Jews?"
"Today is Tisha B'Av," came the reply "and the Jews are mourning the loss of their temple."
Napoleon looked at the synagogue and said, "If the Jews are still crying after 1800 years, then I'm certain the temple will one day be rebuilt."
In 1967, the Jews got control of Jerusalem including the temple mount with the wailing wall. Still, the wailing wall stands as the symbol of hope, eternity, shared destiny, sadness, broken heart, unity, peace, creation, final joy and the fulfillment of prayer.
"For you have been a shelter for me, a strong tower from the enemy" (Psalm 61:3).
Look on Jesus and pour out your tears in front of him with hope for the salvation and happiness of your neighbors and for our unfulfilled hopes and aspirations.
Prayer
Jesus, let you be our hope. We come to you in prayer with tears and hope. Let our unfulfilled aspirations be fulfilled as thy will. Don't leave us like a forsaken desolate desert. We are saved and healed because of all the sufferings you underwent for our sake. We pray for all those who are waiting with perseverance for your presence. We pray for the Jews. All we ask in the name of Jesus. Amen.
Yesterday | Today with Jesus Archives | Next
More Devotionals | Weekly Devotionals | Sermons | Essays | Articles | Bible Study | Malankara World - Home | Baselios Church Home
-------
Malankara World
A service of St. Basil's Syriac Orthodox Church, Ohio
Copyright © 2009-2020 - ICBS Group. All Rights Reserved. Disclaimer
Website designed, built, and hosted by International Cyber Business Services, Inc., Hudson, Ohio