Shunoyo (Soonoyo) - Assumption of St. Mary - Supplement
The Holy Virgin Mary in the Syrian Orthodox Church
by His Holiness Moran Mor Ignatius Zakka I Iwas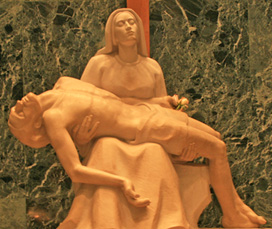 The Virgin Entrusted to John, The Beloved Disciple at The Cross
The Virgin Mary followed her son Jesus to the Golgotha and it was at the cross that the prophecy of Simeon was fulfilled " a sword shall pierce through thy own soul"; for she saw her Holy son crucified on the Cross. She beheld him dead, and participated in burying him. She beheld him afterwards rising from the dead. She must have been with the disciples on the Mount of Olives and must have seen him ascending to heaven.
In the Acts of the Apostles (1:14), it is reported that the Virgin Mary with the disciples and the brethren of the Lord continued with one accord in prayer and supplication. She was with them at Pentecost in the upper room where they were all filled with the Holy Ghost. The day of Pentecost marks the birthday of the church, when three thousand persons believed following the address of Peter, the chief of the Apostles. They were also baptized due to the importance of baptism for salvation according to God's words.
"He that believeth and is baptized shall be saved; but he that believeth not shall be damned" (Mark 16:16). Some might ask whether the virgin did receive the sacrament of baptism. The Holy Book is silent in relevance to this and there is no mention, whatsoever, of having the Apostles baptized or not. In the Syrian Church, in his treaties on the Apostles' sanctification of chrism, Mar Iwannis of Dara (860+) mentions, in passing that the Virgin was baptized with the aim of giving the issue of baptism and Chrism great significance. No where else in our tradition have we ever come across a text that supports Iwannis of Dara's view. This is not, however, a doctrine of the church, but just a view of one of the church fathers. We have no idea where the virgin dwelled after being accompanied by John, the beloved disciple. Most probably she stayed in Jerusalem.
Some historians suggested that she visited Ephesus with John and stayed there for a while and returned to Jerusalem afterwards.
Shunoyo Supplement Home | Previous Page | Table of Contents | Next Page
Shunoyo Home | Lectionary Sermons | General Essays | Articles | eBooks | Our Faith | Church Fathers | Prayers | Library - Home
-------
Malankara World
A service of St. Basil's Syriac Orthodox Church, Ohio
Copyright © 2009-2020 - ICBS Group. All Rights Reserved. Disclaimer
Website designed, built, and hosted by International Cyber Business Services, Inc., Hudson, Ohio