Shunoyo (Soonoyo) - Assumption of St. Mary - Supplement
The Holy Virgin Mary in the Syrian Orthodox Church
by His Holiness Moran Mor Ignatius Zakka I Iwas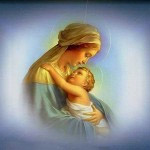 The Virgin, The Virtuous Woman and Loving Mother
In her daily life, the Virgin Mary lived the life that good, virtuous women usually led. In her life Solomon's verse was fulfilled "who can find a virtuous woman? For her price is far above rubies" (Prov. 31:10).
Joseph, who was betrothed to Mary was a carpenter for his livelihood "and Jesus increased in wisdom and in stature and in favor with God and man."
Jesus might have studied the law and the prophecies with the children of his hometown and practiced carpentry in the workshop of Joseph, who was legally but not physically his father.
We have known that the Virgin Mary kept religious offices according to the Law of Moses. She went to Jerusalem every year at the feast of the Passover (Luke 2:41). When child Jesus was twelve years old they took him to the temple where all males were to appear before the Lord God. According to Jewish customs, he was considered at this age, " The son of the Pentateuch", which means being committed to all commandments of the Law which include prayers, fasting and appearance before the Lord (Deut. 16:16). When the eight days of festivities were over they returned to Nazareth with their friends who accompanied them to Jerusalem and the two male and female groups walked separately. At sunset they used to meet at a site agreed upon for staying the night. In the evening, the caravan arrived in a town called "Al-beereh" to stay the night there. Joseph and Mary, supposing Jesus to have been in the company, sought him among their kinsfolk and acquaintance but they did not find him. So they turned back again to Jerusalem seeking him. After three days they found him in the temple, sitting in the midst of the doctors, both hearing them and asking them questions. His mother said unto him, "Son, why hast thou thus dealt with us? Behold, thy father and I have sought thee sorrowing" (Luke 2:48) and he said unto them: "Wist ye not that I must be about my father's business?" (Luke 2:49)
The Virgin Mary, The Patron Saint in Cana of Galilee

When Jesus was thirty and he started His divine ministry in public, the Virgin Mary's responsibilities became greater, We heard her saying to him at the marriage ceremony in Cana of Galilee:"they have no wine". Jesus said unto her "woman what have I to do with thee? Mine hour is not yet come". Mary saith unto the servants " whatsoever he saith unto you, do it", knowing that he never refuses a request of hers. So at Cana Jesus performed his first miracle changing water into wine before his disciples at the request of His mother.
So clear was Mary's attitude towards Lord Jesus' message. She had faith in her son. Could she ever be doubtful or skeptic, having had the angel annunciating His divine status? " He shall be great and shall be called the son of the highest and the Lord God shall give unto him the throne of his father David, and He shall reign over the house of Jacob for ever". When we read in the Holy Gospel that "His friends went out to lay hold on him, for they said He is beside himself" (Mark 3:21) we should not be misled into thinking that His mother agreed with them and disavowed her son. We also read what Mark put down: "There came then his brethren and his mother, and standing without, sent unto him, calling him. And the multitude sat about him, and they said unto him, Behold thy mother and thy brethren without seek for thee. And he answered them, saying, who is my mother or my brethren? And he looked round about on them, which sat about him, and said, behold my mother and my brethren! For whosoever shall do the will of God, the same is my brother, and my sister, and mother" (Mark 3: 31-35).
With such a statement Lord Jesus does not mean to undervalue his mother's dignity; on the contrary he aims at elevating the believers in him, his disciples in particular, whom he had just chosen, to her most sublime spiritual rank. What the Holy Gospel said about his mother asserts this.
"Mary kept all these things and pondered them in her heart". Every disciple therefore, and every faithful of both sexes who keeps God's word and acts according to His will as Mary did shall have the same grace bestowed on them.
In the Holy Gospel we also read in (Luke 11:27-28) that a certain woman of the company lifted up her voice and said unto him "Blessed is the womb that bare thee. and the paps which thou hast sucked". But he said, " yea, rather blessed are they that hear the word of God, and keep it". This verse includes a praise of the virgin as well.
Shunoyo Supplement Home | Previous Page | Table of Contents | Next Page
Shunoyo Home | Lectionary Sermons | General Essays | Articles | eBooks | Our Faith | Church Fathers | Prayers | Library - Home
-------
Malankara World
A service of St. Basil's Syriac Orthodox Church, Ohio
Copyright © 2009-2020 - ICBS Group. All Rights Reserved. Disclaimer
Website designed, built, and hosted by International Cyber Business Services, Inc., Hudson, Ohio