New Year's Day is the time when we make resolutions. People rush to health clubs in New Year. The memberships swell in January. By March, most of the members would forget about the resolutions and quit. We can also predict what people resolve on New Year's Day. Losing weight perpetually tops the list of resolutions. Instead of making the same old New Year's resolutions, this year why not make resolutions that matter, those that have real meaning, and have eternal significance? We may have given and/or received gifts for Christmas. But the best gift is the promise made by Jesus:
"Peace I leave with you; my peace I give you. I do not give to you as the world gives. Do not let your hearts be troubled and do not be afraid" (John 14:27).
As we begin this New Year, spend some quiet time with God asking Him to reveal His heart to us and guide us on our path in 2016. No one can promise eternal peace other than God. With God there is nothing impossible. Many people have suffered from floods, forest fires, and from persecution in Middle East and other parts of the world in the hands of terrorists. Two of our bishops are still being held against their will in middle east. Let us pray that they will be returned safely and the people in Middle East can live in peace in the lands where Christianity originated. May this New Year bring Peace, Health and Happiness to all who had been victims of this persecution and genocide. Bruce Van Natta, founder of Sweet Bread Ministries and author of the book, "A Miraculous Life," is an amazing survivor of an accident that certainly looked to be fatal. He was crushed by a 17,000 pound logging truck to the point where part of his body was only one inch thick and five major arteries were severed. Bruce survived with sheer determination and prayer. He challenges us to make resolutions that not only last for the whole year, but also will last for eternity. Bruce has tasted the amazing love and grace of God. He says that he learned from his experience that God wants to be close to us. What does God want from us in the New Year? According to Bruce, the answer is as simple as ABC:
A) An intimate relationship with each of us (We are His children. He want to be close to us like a father ants to be close to his children.) B) Become more like Him (We are made in the image of God. A Christian Life means living like what Jesus told us to do - Loving God and Loving our neighbor. Serve than be served.)C) Come into alignment with His plan and will for our lives. (Surrender to God so that He can use us to do what He wants us to accomplish.)
I hope that, as we begin a New Year, we will spend some quiet time to reflect on what we can do to become closer to God. We had covered most of these topics in the previous issues of the Journal. Now is the time to apply them in our lives. Write down your plan to become more intimate with God. Share with us. We find that writing down your plans/goals and sharing them with others will go a long way in implementing them. We can help you keep on target. Dr. Peter Beck, Charleston Southern University in Charleston, SC suggests a few things that we all should be resolved to do in the New Year:
1. Praise God for every new day (Psalm 118:24)2. Read through the Bible (2 Timothy 3:16-17)3. Pray daily for one another and the church (1 Thessalonians 5:17)4. Share your faith with at least one new person each week (Romans 10:14)
That should be simple enough to do, right?
LL HG Dr Yuhanon Mor Philexinos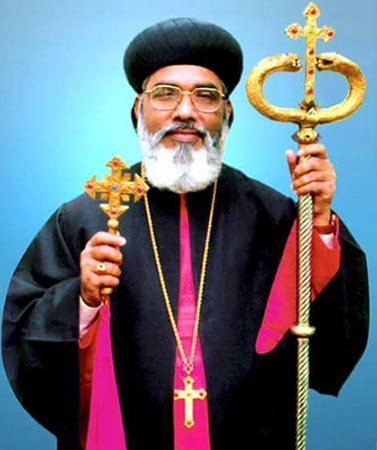 As we were making the final preparations for publishing this issue, I came to know of the departure of our Bishop HG Dr Yuhanon Mor Philexinos to His heavenly abode on Wednesday, December 30, 2015. He was 74. He died at Kalpetta in Wayanad due to old age ailments. He will be laid to rest at St. Mary's Simhasana Cathedral Church, Pampady (10 miles East of Kottayam) as per the will of His Eminence on 01 January 2016, at 2.00 PM local time. The funeral services will be headed by HB Baselios Thomas I, Catholicose of India, and HE Nathaniel Mor Berthomios, Representative of HH Ignatius Aphrem II, The Patriarch of Antioch and All the East. Earlier HE Kuriakose Mor Severios, the Archbishop of Knanaya Archdiocese, will conduct the morning qurbano. Thirumeni was born as John Jacob in Elappanal Family of Pampady on December 5, 1941. He studied in MGM High School Pampady, the same school I also studied later. (Pampady is only 2 miles from my ancestral house.) He was ordained deacon by Mor Philaxinos Poulose (later Catholicose Mor Baselios Paulose II) in 1964, at the age of 23, and Kassisho in 1969 by Mor Baselios Augen I. When he came to study in the USA, Fr. John Jacob served as the vicar in many Jacobite churches in Staten Island, Manhattan, Philadelphia, Chicago, Dallas, Houston and Augusta. On September 12, 1985 Mor Baselios Paulose II consecrated Fr. Jacob as the new metropolitan of Malabar, with the name Mor Philaxinos, at St Peter's & St Paul's Cathedral Church in Meenangadi. Thirumeni played a key role in developing the Malabar diocese. He constructed many new churches throughout the diocese. Many churches were also built in Nilgiri district of Tamil Nadu, Kozhikode and Malappuram. Please pray for Thirumeni. His departure is a great loss to our church. We offer our condolences to HG's family - both physical and spiritual.
Congratulations to HE Archbishop Yeldho Mor Theethose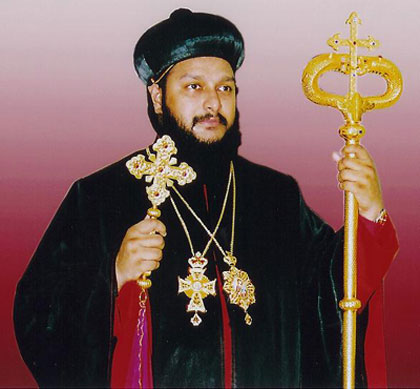 January 4th 2016 is the 12th year of consecration of our beloved Patron HE Yeldho Mor Theethose, Archbishop and Patriarchal Vicar of the Malankara Archdiocese of the Syriac Orthodox Church in North America. Thirumeni is a truly special person. We wish Thirumeni all the best as HE celebrates this milestone. Take a look at the Malankara World Journal special dated January 4, 2014 issued in connection with the 10th anniversary celebration of consecration of Thirumeni. Click the link below:
Volume 4 No 188: January 4, 2014
malankaraworld.com/newsletter/MWJ_188.htm
Yeldo Mor Titus 10th Consecration Anniversary Special
Next Week
Next week is another liturgically packed week for our church. January 6 is the Denho - the Baptism of Jesus Christ. See how we packed the 30 years of the early life of Jesus in two weeks just like they did in the Gospels. Jesus is ready to go public. The only remaining event of the Christmas celebration is Mayaltho on February 2 when Jesus is taken to Temple and meets Simeon and Anna. (This is a fixed date feast of the church and is celebrated precisely 40 days after Christmas.) On January 7 we remember the beheading of John the Baptist - the forerunner to the Messiah. On January 8, we remember St. Stephen, the first martyr of the church. Because of the importance of Denho, we will have a special edition of Malankara World Journal to be released, God Willing, on Tuesday, January 5.
In Closing
As we embark on 2016, may the following prayer be yours in the New Year:
"Lord grant that this year I may be more holy, and walk more closely than ever in all holy conversation; I earnestly desire to be filled with thy holy thoughts, to be carried out in holy affections, determined by holy aims and intentions, and governed in all my words and actions by holy principles. O that a golden thread of holiness may run through the whole web of this year." - Mathew Henry
We wish you all a Happy New Year. Thank you for your support. Please pray for this mission. Dr. Jacob Mathew
Malankara World