by Matthew Henry
Bible Text
5 So the people of Nineveh believed God, and proclaimed a fast, and put on sackcloth, from the greatest of them even to the least of them. 6 For word came unto the king of Nineveh, and he arose from his throne, and he laid his robe from him, and covered him with sackcloth, and sat in ashes. 7 And he caused it to be proclaimed and published through Nineveh by the decree of the king and his nobles, saying, Let neither man nor beast, herd nor flock, taste any thing: let them not feed, nor drink water: 8 But let man and beast be covered with sackcloth, and cry mightily unto God: yea, let them turn every one from his evil way, and from the violence that is in their hands. 9 Who can tell if God will turn and repent, and turn away from his fierce anger, that we perish not? 10 And God saw their works, that they turned from their evil way; and God repented of the evil, that he had said that he would do unto them; and he did it not.
- Jonah 3:5-10
Commentary
(2.) Upon what inducement this fast is proclaimed and religiously observed (v. 9). Who can tell if God will turn and repent? Observe, [1.] What it is that they hope for - that God will, upon their repenting and turning, change his way towards them and revoke his sentence against them, that he will turn from his fierce anger, which they own they deserve and yet humbly and earnestly deprecate, and that thus their ruin will be prevented, and they perish not. They cannot object against the equity of the judgment, they pretend not to set it aside by appealing to a higher court, but hope in God himself, that he will repent, and that his own mercy (to which they fly) shall rejoice against judgment. They believe that God is justly angry with them, that, their sin being very heinous, his anger is very fierce, and that, if he proceed against them, there is no remedy, but they die, they perish, they all perish, and are undone; for who knows the power of his anger? It is not therefore the threatened overthrow that they pray for the prevention of, but the anger of God that they pray for the turning away of. As when we pray for the favour of God we pray for all good, so when we pray against the wrath of God we pray against all evil. [2.] What degree of hope they had of it: Who can tell if God will turn to us? Jonah had not told them; they had not among them any other prophets to tell them, so that they could not be so confident of finding mercy upon their repentance as we may be, who have the promise and oath of God to depend upon, and especially the merit and mediation of Christ to trust to, for pardon upon repentance. Yet they had a general notion of the goodness of God's nature, his mercy to man, and his being pleased with the repentance and conversion of sinners; and from this they raised some hopes that he would spare them; they dare not presume, but they will not despair. Note, Hope of mercy is the great encouragement to repentance and reformation; and though there be but some glimmerings of hope mixed with great fears arising from a sense of our own sinfulness, and unworthiness, and long abuse of divine patience, yet they may serve to quicken and engage our serious repentance and reformation. Let us boldly cast ourselves at the footstool of free grace, resolving that if we perish, we will perish there; yet who knows but God will look upon us with compassion? II. Here is a wonder of divine mercy in the sparing of these Ninevites upon their repentance (v. 10): God saw their works; he not only heard their good words, by which they professed repentance, but saw their good works, by which they brought forth fruits meet for repentance; he saw that they turned from their evil way, and that was the thing he looked for and required. If he had not seen that, their fasting and sackcloth would have been as nothing in his account. He saw there was among them a general conviction of their sins and a general resolution not to return to them, and that for some days they lived better, and there was a new face of things upon the city; and this he was well pleased with. Note, God takes notice of every instance of the reformation of sinners, even those instances that fall not under the cognizance and observation of the world. He sees who turn from their evil way and who do not, and meets those with favour that meet him in a sincere conversion. When they repent of the evil of sin committed by them he repents of the evil of judgment pronounced against them. Thus he spared Nineveh, and did not the evil which he said he would do against it. Here were no sacrifices offered to God, that we read of, to make atonement for sin, but the sacrifice of God is a broken spirit; a broken and contrite heart, such as the Ninevites now had, is what he will not despise; it is what he will give countenance to and put honour upon. Excerpted from Matthew Henry's Commentary of The Bible
by David Sper
WHO WAS JONAH?
"The word of the Lord came unto Jonah the son of Amittai" (Jonah 1:1) Jonah (which means "dove" in Hebrew) is identified as the son of Amittai. According to 2 Kings 14:25, Jonah was from Gath Hepher, a village about 2 miles northeast of Nazareth. Second Kings 14 also helps us to date Jonah's life sometime during Jeroboam's reign from 793—753 B.C.. Some believe that Jonah began to speak on behalf of God about the time the prophet Elisha was concluding his work. Two keys will prove useful in understanding the real issues in this book. First, the book records Jonah's mission to Nineveh, but it is written to Israel, who hated Nineveh. Second, Jonah is not the principal character of his own book—God is! God has the first word and the last. He orchestrates the entire drama to show His love for Israel's enemies.
JONAH'S MISSION
"Arise, go to Nineveh, that great city" (Jonah 1:2). Nineveh, founded by Nimrod, was on the east bank of the Tigris River, about 550 miles from Samaria, the capital of the Northern Kingdom of Israel. It was large, and was protected by an outer wall and an inner wall. The inner wall was 50 feet wide and 100 feet high. This was the time of Nineveh's greatest glory. "Cry against it; for their wickedness is come up before Me" (Jonah 1:2). Notice carefully that this is a message of judgment, not mercy. God was going to judge the people of Nineveh for their wickedness. He is "Judge of all the earth" (Genesis 18:25). And He must be recognized as such because, even though He is Saviour, He is also Sovereign. God as Judge sent a messenger with a message of judgment, but Jonah declined. Instead of accepting his assignment to speak on behalf of God, the prophet decided to make a run for it.
JONAH'S FLIGHT
"But Jonah rose up to flee unto Tarshish from the presence of the Lord" (Jonah 1:3). Jonah's response to God's mission was the opposite of Isaiah's, who said to the Lord, "Here am I; send me" (Isaiah 6:8). Jonah was told to arise and go, and he did—but in the opposite direction! He headed for Tarshish, which was 2,500 miles west of Joppa on the west coast of Spain. Jonah thought he was going to be able to "flee … from the presence of the Lord," but Psalm 139 makes it clear that it is impossible. Still, Jonah attempted what Adam and Cain had tried before him—running from God's presence. And he did this rather than obey the Lord's command.
JONAH'S PROBLEM
Why did Jonah flee? He understood God's judgment, but he also understood God's mercy. And, as we will see, Jonah did not want Nineveh, the capital of an enemy nation, to be forgiven. Because Jonah knew the willingness of God to forgive sin when there is true change of heart, he fled rather than tell the Ninevites of the coming judgment. He didn't want them to escape God's wrath. The evil of Nineveh was legendary in ancient times, and it was often experienced firsthand by the Jewish people (see Nahum 3:1-5). Still, at the root of Jonah's unwillingness to go to the citizens of Nineveh was a great hatred for them. They had proven themselves again and again to be the enemies of Israel. They were seen as cruel torturers who descended on rival nations like a plague of locusts—destroying and consuming all. For Jonah to go to Nineveh would have been the moral equivalent of asking a Jewish resident of New York City in the 1940s to go to Berlin and give the Nazis a chance to be forgiven. The racial tension was so intense that, rather than obey, Jonah fled.
OUR LESSON
It is easier to hate than to love—and some of us may often find ourselves dangerously close to creating our own Nineveh. Perhaps the people that inhabit our "Nineveh" are abortionists, homosexuals, political enemies, cultists, or an ethnic group we are uncomfortable with. The question we must honestly consider is this: will our prejudice cause us, like Jonah, to be guilty of silence, or will we intentionally express the heart of our God? Jonah chose silence and hate rather than obedience and love. We learn many lessons in the book of Jonah, but the thread that connects them all together is the mercy of God. We see it in His pursuit and restoration of Jonah, His sparing of the sailors, and His miraculous salvation of Nineveh. Also in full view is the spiritual failure of Jonah … who experienced mercy but gave none;
who received love but returned none;
who benefited from the patience of God but resented God for showing that same patience to Nineveh. It's easy to forget that the one who is forgiven much should love much, and the one who has received mercy should be merciful. There's an old hymn that says, "There's a wideness in God's mercy like the wideness of the sea." But even that's not wide enough. The ultimate expression of the wideness of God's mercy is that of the outstretched arms of Christ nailed to a cross and dying for our sins. How each of us responds to that mercy is the issue on which our eternity hangs. Jonah received God's mercy and even steered others to it, but his great failure was in not wanting others to be allowed to experience that mercy for themselves. God grant that we would succeed in gratefully and obediently taking His mercy to those who need it as much as we do. - Condensed from "The Failure of Success: The Story of Jonah" by David Sper. Copyright 2004 by RBC Ministries, Grand Rapids, MI. Men have been looking so long at the great fish they have failed to see the great God!
—G. Campbell Morgan
By Clarke Morledge
Much of the attention surrounding the Book of Jonah focuses on the story of Jonah being swallowed for three days and three nights by a "whale." There is a lot of confusion about this. For one thing, the actual Bible text calls it a "great fish," and not a "whale" (Jonah 1:17). But in this post, I want to focus briefly on the city where Jonah was called to preach: Nineveh. Nineveh was the capital of the ancient Assyrian empire. The Bible talks quite a bit about the threat that the dreaded Assyrians posed for the Israelites, a threat that was eventually realized by the destruction of the Northern Kingdom of Israel, in the 8th century before the birth of Christ. So, you only imagine the horror experienced by the prophet Jonah, first mentioned in 2 Kings 14:25, when he was called by God to urge the citizens of Nineveh to repent, and come to know the God of Israel. Nineveh was the last place Jonah wanted to be. The city of Nineveh is in the news quite a bit these days. Nineveh is part of the greater city of Mosul, in Iraq, where a coalition of military forces have been trying to force the Islamic State out of the city. Many skeptics may dismiss the story of Jonah as a "fairy tale," but the story of what has happened in today's Mosul is tragically real. For example, thousands of Christians have had to flee the city from the Islamic State, and surely, some remain, fearful for their lives. We should pray for them. Given what we know about Nineveh/Mosul today, I can relate a bit to Jonah's desire not to go the Nineveh. I would not want to be there either! A Reluctant Prophet to a Despised People The Book of Jonah is such an important story in the Bible (I blogged on one aspect of Jonah's story previously on Veracity). Yet the message is often overshadowed by questions about its historicity. Nineveh is indeed a real city in Biblical history. Nevertheless, the Bible has a descriptive element about Nineveh that raises a good question. Then the word of the Lord came to Jonah the second time, saying, "Arise, go to Nineveh, that great city, and call out against it the message that I tell you." So Jonah arose and went to Nineveh, according to the word of the Lord. Now Nineveh was an exceedingly great city, three days' journey in breadth. Jonah began to go into the city, going a day's journey. And he called out, "Yet forty days, and Nineveh shall be overthrown!" And the people of Nineveh believed God. They called for a fast and put on sackcloth, from the greatest of them to the least of them.(Jonah 3:1-5 ESV). The idea that Nineveh was "an exceedingly great city, three days' journey in breadth" is a very interesting detail. According to archaeological evidence, the city of Nineveh in Jonah's day was only about a mile in breadth at its widest part. Most people could walk that distance in a matter of hours, not days. The much, much larger city of Mosul today, the second largest in Iraq, is probably a "three days' journey" wide, so what do we make of these "three days?"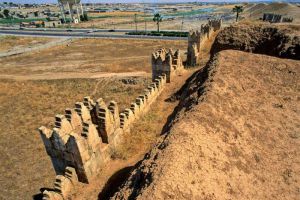 The walls of ancient Nineveh. The walls were excavated and rebuilt in the 20th century, but the Islamic State has damaged this archaeological site in the last few years (credit: ABC News).
A couple of solutions have been proposed. For example, some scholars argue that the reference to Nineveh here is really to the "greater Nineveh" area, overlapping much of what makes up Mosul today. Perhaps this corresponds to Jonah's journey across the "city." Others suggest that the "three days" refers to the amount of time Jonah took to deliver his message in different parts of the city. Others suggest that this reference to "three days" could be a symbol of some sort (or an idiomatic expression?). Could it be that the "three days" across Nineveh has something to do with the "three days and three nights" in the belly of the great fish? The Oxford don and famous Christian apologist, C.S. Lewis, remarked that the literary style of the Book of Jonah suggests that the book could be a type of fiction designed to teach spiritual truth. Lewis does not specify, and I am not the literary critic that he so expertly was, but it is possible that the "three days" might have been something he had in mind when thinking about the genre of Jonah (Protestant Reformer Martin Luther also had his own doubts and questions about the historicity of Jonah's story). It is important to clarify that Lewis was careful to explain himself: "This is not a "rationalistic approach" to miracles. Where I doubt the historicity of an Old Testament narrative I never do so on the ground that the miraculous as such is incredible. Nor does it deny a unique sort of inspiration: allegory, parable, romance, and lyric might be inspired as well as chronicle." I know that there are evangelical Christians who would fight tooth and nail to defend the literal historicity of the Book of Jonah. There are very good reasons to accept it as history, given the vivid historical reality behind the contemporary news reports given to us about Mosul. In many respects, the text of Jonah has the look and feel of historical narrative. The greatest argument, though, for the historical character of the Book of Jonah is Jesus' reference to the story in Matthew 12:40. We should not ridicule the idea of Jonah's preaching mission as history, simply because there are some elements that strike us as extraordinary or unlikely. Whatever Jesus' view was of Jonah needs to be our view of Jonah! In saying this though, I am not prepared to throw C. S. Lewis (or Martin Luther) under the bus on this one. A careful reading of Jonah indicates that the story of Jonah is quite different than what we find from the other Bible prophets. Jonah is very reluctant to go preach to the people of Nineveh. Contrast that with the willing obedience of characters like Hosea, Isaiah, and Jeremiah to perform the mission that God called them to do. Frankly speaking, Jonah was a bigot, and unlike many of the other Bible prophets, God had to do some serious, miraculous work to bring him around to the right way of thinking. Even then, by the end of chapter 4, it is evident that Jonah was still stuck in his ways, despite a brief period of obedience. Sadly, debates about the historicity of Jonah's story often obscure the clear teaching that this short, yet theologically rich, text communicates to us, as a part of God's Word. This much should be clear to the reader: The story of Jonah is a type of satire meant to challenge the rather self-righteous stubbornness of a prophet like Jonah with God's desire to reach out to the most despised people around us. Are you and I willing to embrace God's mission to share the Gospel among a people, we would rather ignore and not have in our lives? Who are the "hated" people of Nineveh today in our world, whom God is calling us to love with the Gospel? Source: Veracity Blog
1. What kind of journey lay ahead of Jonah, and how did he feel about his destination? JONAH would have plenty of time to think. Before him lay a journey of more than 500 miles (800 km), an overland trek that would take him about a month, perhaps even longer. To begin, he had to choose between the shorter routes and the safer ones and then steadily make his way through valleys and over mountain passes beyond counting. He likely had to skirt the vast Syrian Desert, ford such rivers as the mighty Euphrates, and seek shelter among foreigners in the towns and villages of Syria, Mesopotamia, and Assyria. As the days passed, he thought about the destination that he so dreaded, the city that drew closer with each step he took​—Nineveh. 2. How had Jonah learned that he could not run away from his assignment? 2 One thing Jonah knew for certain: He could not turn around and run away from this assignment. He had tried that before. As we saw in the preceding chapter, Jehovah patiently taught Jonah by means of a windstorm at sea and a miraculous rescue involving a huge fish. Three days later, Jonah was vomited out alive onto a beach, an awed and more compliant man.​—Jonah, chaps. 1, 2. 3. What quality had Jehovah shown toward Jonah, yet what question arises? 3 When Jehovah ordered Jonah to Nineveh the second time, the prophet obediently headed east on this long journey. (Read Jonah 3:1-3.) However, had he allowed Jehovah's discipline to work a thorough change in him? For instance, Jehovah had shown him mercy, saving him from drowning, holding back punishment for his rebellion, and giving him a second chance to carry out this assignment. After all of this, had Jonah learned to show mercy to others? Learning to show mercy is often difficult for imperfect humans. Let us see what we can gather from Jonah's struggle. A Message of Judgment and a Surprising Response 4, 5. Why did Jehovah refer to Nineveh as "the great city," and what does that teach us about him? 4 Jonah did not see Nineveh as Jehovah did. We read: "Now Nineveh herself proved to be a city great to God." (Jonah 3:3) Three times, the record of Jonah quotes Jehovah as referring to "Nineveh the great city." (Jonah 1:2; 3:2; 4:11) Why was this city great, or important, to Jehovah? 5 Nineveh was ancient, being among the first cities that Nimrod established after the Flood. It was vast, a metropolitan region that evidently included several other cities, requiring a man three days to walk from one end to the other. (Gen. 10:11; Jonah 3:3) Nineveh was impressive, with stately temples, mighty walls, and other edifices. But none of these factors made the city important to Jehovah God. What mattered to him were the people. Nineveh had a huge population for that time. Despite the people's badness, Jehovah cared about them. He values human life and the potential that each individual has for repenting and learning to do what is right. 6. (a) Why might Jonah have found Nineveh intimidating? (See also footnote.)
(b) What do we learn about Jonah from the preaching work that he carried out? 6 When Jonah finally entered Nineveh, its sizable population of more than 120,000 may have made the place only more intimidating. * He walked for a day, penetrating ever deeper into that teeming metropolis, perhaps looking for a suitable central location to start spreading his message. How would he reach these people? Had he learned to speak the Assyrian tongue? Or did Jehovah grant him that ability through a miracle? We do not know. It may be that Jonah made his proclamation in his native Hebrew and used an interpreter to relate it to the Ninevites. At any rate, his message was simple and not likely to win him any favor: "Only forty days more, and Nineveh will be overthrown." (Jonah 3:4) He spoke out boldly and repeatedly. In doing so, he showed remarkable courage and faith, qualities that Christians today need more than ever. Jonah's message was simple and not likely to win him any favor 7, 8. (a) How did the people of Nineveh respond to Jonah's message?
(b) What did the king of Nineveh do in response to Jonah's proclamation? 7 Jonah's message got the Ninevites' attention. No doubt he braced himself for a hostile and violent response. Instead, something remarkable happened. People listened! His words spread like wildfire. Before long, the whole city was talking about Jonah's prophecy of doom. (Read Jonah 3:5.) Rich and poor, strong and weak, young and old were all caught up in the same repentant spirit. They abstained from food. News of this popular movement soon reached the ears of the king. 8 The king too responded to Jonah's proclamation. Struck with godly fear, he rose up from his throne, removed his luxurious robes of state, put on the same rough clothing that his people were wearing, and even "sat down in the ashes." With his "great ones," or nobles, he issued a decree that turned the fast from a spontaneous popular movement into an official action of state. He ordered that all wear sackcloth, even the domestic animals. * He humbly acknowledged that his people were guilty of badness and violence. Expressing hope that the true God would soften upon seeing their repentance, the king said: "God may . . . turn back from his burning anger, so that we may not perish."​—Jonah 3:6-9. 9. Critics have expressed what doubt regarding the Ninevites, but how do we know that the critics are mistaken? 9 Some critics express doubt that such a change of heart could have occurred so quickly among the Ninevites. However, Bible scholars have noted that a movement of that kind was not out of keeping with the superstitious and volatile nature of people of such cultures in ancient times. Further, we know that such critics are mistaken, for Jesus Christ himself later referred to the repentance of the Ninevites. (Read Matthew 12:41.) Jesus knew what he was talking about, for he had been alive in heaven to witness those events as they unfolded. (John 8:57, 58) The truth is, we should never assume that it is impossible for people to repent​—no matter how vicious they may seem to us. Only Jehovah can read what lies within the human heart. A Contrast Between Divine Mercy and Human Rigidity 10, 11. (a) How did Jehovah respond to the repentance of the Ninevites?
(b) Why can we be sure that Jehovah's judgment was not in error? 10 How did Jehovah react to the Ninevites' repentance? Jonah later wrote: "The true God got to see their works, that they had turned back from their bad way; and so the true God felt regret over the calamity that he had spoken of causing to them; and he did not cause it."​—Jonah 3:10. 11 Does this mean that Jehovah decided that his own judgment about Nineveh had been in error? No. The Bible explains that Jehovah's justice is perfect. (Read Deuteronomy 32:4.) Jehovah's righteous anger against Nineveh simply abated. He observed the change in those people and saw that the punishment he had intended to bring on them would no longer be fitting. This was an occasion to show divine mercy. 12, 13. (a) How does Jehovah show that he is reasonable, adaptable, and merciful?
(b) Why was Jonah's prophecy not a false one? 12 Jehovah is nothing like the rigid, cold, even harsh God so often portrayed by religious leaders. On the contrary, he is reasonable, adaptable, and merciful. When he determines to bring punishment on the wicked, he first uses his representatives on earth to issue warnings, for he is eager to see the wicked do what the Ninevites did​—repent and change their ways. (Ezek. 33:11) Jehovah told his prophet Jeremiah: "At any moment that I may speak against a nation and against a kingdom to uproot it and to pull it down and to destroy it, and that nation actually turns back from its badness against which I spoke, I will also feel regret over the calamity that I had thought to execute upon it."​—Jer. 18:7, 8. God is eager to see the wicked repent and change their ways, as the Ninevites did 13 Was Jonah's prophecy a false one? No; it fulfilled its purpose as a warning. That warning was based on the Ninevites' bad ways, which subsequently changed. Should the Ninevites resume their wicked ways, God would bring the same judgment against them. That is exactly what happened later on.​—Zeph. 2:13-15. 14. How did Jonah react to Jehovah's mercy on Nineveh? 14 How did Jonah react when destruction did not come at the time he expected it to? We read: "To Jonah, though, it was highly displeasing, and he got to be hot with anger." (Jonah 4:1) Jonah even uttered a prayer that sounds like a rebuke of the Almighty! Jonah suggested that he should have stayed home, on his own ground. He claimed that he knew all along that Jehovah would not bring calamity on Nineveh, even using that as an excuse for his running away to Tarshish in the first place. Then he asked to die, saying that death would be better than life.​—Read Jonah 4:2, 3. 15. (a) What may have led Jonah into a downward spiral?
(b) How did Jehovah deal with his distressed prophet? 15 What was troubling Jonah? We cannot know all that went through his mind, but we do know that Jonah had proclaimed doom to Nineveh before all those people. They had believed him. And now, no doom was coming. Did he fear being ridiculed or being labeled a false prophet? Whatever the case, he did not rejoice over the people's repentance or over Jehovah's mercy. Instead, it seems, he was on a downward spiral into a mire of bitterness, self-pity, and wounded pride. Evidently, though, Jonah's merciful God still saw good in this distressed prophet. Instead of punishing Jonah for his disrespect, Jehovah simply asked him one gentle, probing question: "Have you rightly become hot with anger?" (Jonah 4:4) Did Jonah even answer? The Bible record is silent. 16. In what ways might some find themselves disagreeing with God, and what lesson can we learn from Jonah's example? 16 It is easy to judge Jonah for his conduct, but we do well to remember that it is not unusual for imperfect humans to disagree with God. Some may believe that Jehovah should have prevented a tragedy or that he should have executed swift judgment against the wicked or even that he should have brought an end to this whole world system of things before now. Jonah's example serves to remind us that when we disagree with Jehovah God, it is always our own point of view that needs an adjustment​—never His. How Jehovah Taught Jonah a Lesson 17, 18. (a) What did Jonah do after leaving Nineveh?
(b) How did Jehovah's miracles involving a bottle-gourd plant affect Jonah? 17 The despondent prophet left Nineveh and headed, not home, but eastward, where some mountains overlooked the region. He built a little shelter and settled in to wait​—and to watch Nineveh. Perhaps he still clung to the hope of witnessing her destruction. How would Jehovah teach this hardheaded man to be merciful? 18 Overnight, Jehovah caused a bottle-gourd plant to sprout up. Jonah woke to see this luxuriant growth, with its broad leaves providing far more shade than his flimsy shelter ever could. His spirits lifted. "Jonah began to rejoice greatly" over the plant, perhaps viewing its miraculous appearance as a sign of God's blessing and approval. However, Jehovah wanted to do more for Jonah than simply deliver him from the heat and from his own petulant anger. He wanted to reach Jonah's heart. So God performed additional miracles. He sent a worm to attack and kill the plant. Then he sent "a parching east wind" until Jonah began "swooning away" because of the heat. The man's spirits plummeted, and again he asked God that he might die.​—Jonah 4:6-8. 19, 20. How did Jehovah reason with Jonah about the bottle-gourd plant? 19 Once more Jehovah asked Jonah if he was rightly angry, this time over the death of the bottle-gourd plant. Instead of repenting, Jonah justified himself, saying: "I have rightly become hot with anger, to the point of death." The stage was now set for Jehovah to drive the lesson home.​—Jonah 4:9. God used the bottle-gourd plant to teach Jonah a lesson in mercy 20 God reasoned with Jonah, saying that the prophet was feeling sorry over the death of a mere plant that had sprung up overnight, one that Jonah neither planted nor caused to grow. Then God concluded: "For my part, ought I not to feel sorry for Nineveh the great city, in which there exist more than one hundred and twenty thousand men who do not at all know the difference between their right hand and their left, besides many domestic animals?"​—Jonah 4:10, 11. * 21. (a) What object lesson did Jehovah teach Jonah?
(b) How may the account about Jonah help us to take an honest look at ourselves? 21 Do you see the depth of Jehovah's object lesson? Jonah had never done a thing to take care of that plant. Jehovah, on the other hand, was the Source of life for those Ninevites and had sustained them, as he does all creatures on earth. How could Jonah place more value on a single plant than he did on the lives of 120,000 humans, in addition to all their livestock? Was it not because Jonah had allowed his thinking to become selfish? After all, he felt sorry for the plant only because it had benefited him personally. Did not his anger over Nineveh spring from motives that were likewise selfish​—a prideful desire to save face, to be proved right? Jonah's story may help us to take an honest look at ourselves. Who of us is immune to such selfish tendencies? How grateful we should be that Jehovah patiently teaches us to be more selfless, more compassionate, more merciful​—as he is! 22. (a) How was Jonah evidently affected by Jehovah's wise instruction about mercy?
(b) What lesson do we all need to learn? 22 The question is, Did Jonah take the lesson to heart? The book bearing his name ends with Jehovah's question hanging there​—in effect, still echoing. Some critics might complain that Jonah never answers. In truth, though, his answer is there. It is the book itself. You see, evidence indicates that Jonah wrote the book bearing his name. Just imagine that prophet, once again safe in his homeland, writing this account. We can almost picture an older, wiser, humbler man ruefully shaking his head as he describes his own mistakes, his rebellion, and his stubborn refusal to show mercy. Clearly, Jonah did learn a vital lesson from Jehovah's wise instruction. He learned to be merciful. Will we?​—Read Matthew 5:7. TO THINK ABOUT . . . How did Jonah show faith and courage as he preached in Nineveh? What can we learn from the Ninevites' repentance? What can we learn from Jonah's attitude toward the repentance of the Ninevites? In what ways would you like to imitate the faith of Jonah when you receive corrective counsel? Source: JW.org
Copyright © 2018 Watch Tower Bible and Tract Society of Pennsylvania.