Obituary
In Celebration of the Life of Mr. M.J. Thomas Mannakuzhiyil, Ayroor
by Fr. Babu Peringol, Secretary, St. Ephrem Universal Syriac Orthodox Medical Mission (SEUSOMM)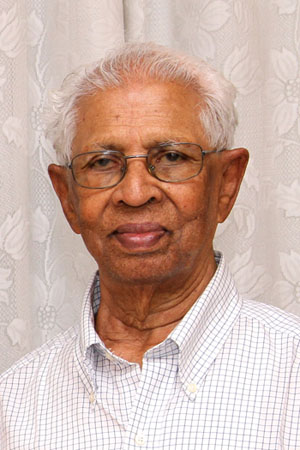 M.J. Thomas
(Puliyodil Mannakuzhiyil House, Kanjeeetukara – Ayroor)
18 July 1918 – 11 May 2011
Mr. M.J. Thomas (92), beloved father of Lony Thomas, Treasurer of St. Ephrem Universal Syriac Orthodox Medical Mission (SEUSOMM), went to join his Heavenly Father on Wednesday, May 11, 2011 at 11:18 AM at Lutheran Hospital, Denver, Colorado.
Mr. Thomas was born and brought up in ancient Mannakuzhy family, predominantly of Jacobite Syrian Christians, in Ayroor, a small village near Thiruvalla in central Travancore, Kerala State, India. He was named "Baby" as the second in nine children of M.C. John and Annamma John. The Mannakuzhy family had produced several Jacobite priests and the last one was his uncle, the late Very Rev. M.C. Varghese Cor-Episcopos.
After the college education in accounting Mr. Thomas was employed in Tanzania, Africa from 1939 for thirty-four years. After retirement he settled down in Bangalore, India during 1973 with his wife and three children, two girls and a boy, who were pursuing their professional education in Madras. Mr. Thomas is survived by his wife Maggie; two daughters, Liby and her husband Bobby Zachariah and Lisa and Dr. Eipe Kuruvilla; and his son, Lony and Susan. He has six grand children and six great grand children. Before moving from this world he had led a very happy life, and he was satisfied in fulfilling the task for the family and the society. He had been blessed to spend the last days of his life fully conscious with the family including all the children, grand children and the great grand children, and he received last Holy Communion four days ago in preparation for his departure.
Mr. Thomas was very enthusiastic in the church activities in his young age. He was compassionate and a philanthropist for several social projects. His life-long dedication to his Savior and God was inspirational and his generosity in contributions including building the St. Mary's Cathedral Church in Bangalore, and purchasing the St. Mary's Church in Denver.
As many of us know, even when the old age was bothering him physically, his spiritual strength was exemplary. He attended the Church Services regularly; He had attended the last Good Friday and Resurrection services at our St. Mary's Church in Denver. Mr. Thomas was a gentleman, an ardent supporter of the Holy Syrian Orthodox Church and an active faithful which he inherited from his forefathers who initiated a church built on their property about seventy years ago during the LL Michael Mor Dianasius. He carried on his faith to the places where he was employed in Africa and during his retirement life both in Bangalore and the United States. I think Mr. Thomas' loyalty to the Church of Antioch must have influenced his beloved son, Lony Thomas, to work for the Medical Mission/SEUSOMM. The unique legacy of Mr. M.J. Thomas is an ideal example of Christian love of a humble Servant of God.
Lony Thomas recalls the life of his dad thus: "We will remember always Daddy's sweet, gentle nature; passionate Christian faith; and strong determination – amongst many happy memories in 92 years of a live well lived.
It is a time of grief and sorrow, but we feel some comfort in knowing that we were greatly blessed with a man of such character and integrity - as a loving husband, sibling, father, and grandfather. We should all continue to be inspired by Daddy's kindness, simple joy and the selfless compassion that he bestowed on all those he met."
On behalf of the St. Ephrem Universal Syriac Orthodox Medical Mission, I pray God to keep the soul of Mr. Thomas at His right hand, and to bless Mrs. Thomas and all his three children and their families during this difficult time. May the Lord, Jesus Christ, who "wept" on the demise of His beloved friend Lazarus may comfort the bereaving families, as He told Apostle Paul: "My grace is sufficient for you" (2 Corinth. 12:9).
[Editor's Note: On behalf of Malankara World, we extend our condolences to the bereaving family.]
Obituary | Scripture | Daily Devotionals | Weekly Devotionals | Lectionary | Prayers | Church Fathers | Faith | History | Inspirational | Sermons | Qurbana Videos | Devotional Songs | Poems | Humor | Health | General Interest | Malankara World - Home
-------
Malankara World
A service of St. Basil's Syriac Orthodox Church, Ohio
Copyright © 2009-2019 - ICBS Group. All Rights Reserved. Disclaimer
Website designed, built, and hosted by International Cyber Business Services, Inc., Hudson, Ohio