Malankara World Journal Special Souvenir Edition
Volume 2 No. 100 September 26, 2012
Table of Contents
If you are not receiving your own copy of Malankara World by email, please add your name to our subscription list. It is free.
click here.
Four years ago, it was just an idea; today we are celebrating a milestone.

A few years ago, I was driving from Cleveland to Chicago to speak at a conference. It was a long drive; I was just mentally preparing for the talk. I was confined to the hospital for three days with chest pain and was out only two days earlier. So, I didn't get time to fine-tune the speech. This looked like an excellent opportunity. I was to talk of the relationship between our church and family. What role does church play in the growth and development of our families and vice versa.

As I pondered the issues, few questions came to my mind. There is no question in my mind that we have the best liturgy in the world. But over 90% of the people attending our qurbano have no clue what is going on. Many of our youngsters prefer to attend non-denominational churches than attending our church services. Why? Some may say that they do not understand Malayalam services. They may say it is due to our long services. Why can't our clergy in US and outside Kerala give the sermon in English along with some of the Thubden readings, Lord's Prayer, etc.? What about the length of services? They have no problem attending a 3 - hour football game or a day-long cricket game in India. But when it comes to time for attending church, no one has time.

We are also facing a deterioration of the family in our church. More marriages are breaking up. We see more and more spousal abuses, alcoholism, drug addiction etc. Families are the microcosm of the church. If the families collapse, our church goes with that. Catholic Church, Anglican Church, Lutheran Church, etc. have programs for assisting couples that have marriage problems. What are we doing as a church?

We see an exodus of people going to pentecostal churches like CRF, Heavenly Feast, etc. and also to Malankara Reeth church etc. In the mean time, we have no outreach program to attract people into our church. No inflow, and big outflow; isn't that spell big trouble?

These were some of the issues that propped up in my mind as I contemplated the role of the church and families. If we want to have a dynamic church, we need to provide what people are looking for, without compromising on the Christian Spirituality. This means that we need to have both youth and adult learning programs to teach them about our sacraments. We have to provide them with opportunities to learn more about the Bible, the Word of God. We need to improve our sermons in the church and encourage our clergy to be more like "rabbi" Jesus Christ wanted them to be in the Body of the Christ. We need to encourage fellowship within the church, rather than frequent fights so that people can experience the lasting peace Jesus promised us. We need to encourage our people to serve rather than trying to be the master. We need to provide support for people and families when they face difficulties and provide a shoulder to lean on.

There is a whole list of things we can do and we must do; but we don't.

Malankara World is a humble approach to address some of these issues that are vital for the survival of our church. I discussed these ideas with several people in various ranks of the church. Most of them said it cannot be done. Some advised me to wait till the internal strife in the church is over before embarking on this mission.

My faith in the God taught me that if it is God's will, He will find a way to get it done. We need to be there with a willing heart to listen to him. His Word will serve as a lamp to our feet and provide the light to our path. And with God, there is nothing impossible.

The first step was to build a library of resources for our families. MalankaraWorld.com website now has over 7,000 articles covering all spectrum of subjects.

The second step was to build a communication channel to our members. Malankara World Journal was the answer to that. With the publication of Issue 100, we feel we have made a major step in that direction.

Of course, there are many other steps we need to take (part of our strategic plan) before we accomplish what we started. We now have a committed core team in place and support from clergy and laity alike. And we have God directing our path. We hope that you will pray for Malankara World and its ambitious mission.

With profound humility and a contrite heart, we present to you Issue 100 of the Malankara World Journal. We hope that this issue will become a cherished keepsake, something you will refer to over and over again.

Dr. Jacob Mathew
Managing Editor, Malankara World

for the Malankara World Team
Count your garden by the flowers,
Never by the leaves that fall.
Count your days by golden hours,
Don't remember clouds at all.

Count your nights by stars, not shadows,
Count your life with smiles, not tears.
And with joy on every birthday,
Count your age by friends, not years.
Message from His Eminence Mor Titus Yeldho, Patron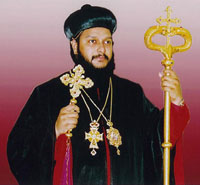 MALANKARA ARCHDIOCESE
of the Syrian Orthodox Church in North America
(Under the Holy Apostolic Throne of Antioch and All the East)
Archbishop Mor Titus Yeldho
Patriarchal Vicar
By the Grace of God
September 26, 2012
We are very happy to learn about the Special Souvenir Edition of Malankara World Journal to celebrate the publishing of Issue 100 of the journal. Malankara World strives to provide 'spiritual manna' to our families. When we read the New Testament and the establishment and growth of our Holy Church, we find that families are the foundation of the church. So, in order to have a healthy church we need to make sure that we have healthy families. Malankara World has taken up this difficult task of providing spiritual nourishment to our families. Our families are spread all over the globe and it is not possible to have churches in remote areas. This web outreach program will fill a great need and helps us to have our families connected.
We congratulate the team behind Malankara World and their hard work. We pray to almighty God that Malankara World be a blessing to our families. In the words of our Holy Father, "let each hearts and each of our families be the dwelling places of God."
We extend our paternal blessings. May the Grace of God be with you all.
Archbishop Mor Theethose Yeldho
Blessed Memory of Yeldo Mor Baselius,
Patron Saint of Malankara World
by: Rev. Fr. Paul C. Thotakat
"Remember your former leaders, who spoke God's message to you. Think back on how they lived and died. Imitate their faith." - Hebrew 13: 7
Syrian Orthodox Church in India is indebted to fathers who guided us and strengthened us in true faith. The story of Yeldo Mor Baselius is the story of strong faith, determination and commitment of a prelate. The number of days Bava spend in India was very few. However, his companion - Mor Ivanios led the faithful here for upto nine years. Both entered into heavenly abode by caring for the faithful in India and this land was fortunate to receive their mortal bodies. Let the blessed memory of Baselius Bava and Ivanios Bava be a stronghold to all of us. Here is a brief account of life of Yeldo Mor Baselius Bava which is familiar to most faithful Syrian Christians in India.
Yeldo Mor Baselius was born in a village called kooded (now known as Karakosh) near Mosul in Iraq where Morthsmooni and her seven children suffered Martyrdom. At a very young age he joined the Mor Bahnan Monastery and become a monk. In 1678 he was consecrated Maphryono ('Maphryono' is another canonical title of the 'Catholicose of the East' that functions within the jurisdiction of the Patriarchate of Antioch.) by the Patriarch of Antioch Moran Mor Ignatius Abdul Masih I.
After the Koonen Cross Oath in January of 1653, the Syrian church was in need of spiritual guidance. The leaders of the church sent appeals for help to churches in Alexandria, Persia and Antioch. The excessive pressures and influences of the Portuguese elements once again forced the Syrian Christians to slowly drift away from their ancestral precepts and ethos. MorThoma II who was the lone Metropolitan in Malankara was not able to discipline them as well. So he sent a fervent appeal to his supreme head, the Patriarch of Antioch, for the immediate assistance of a Metropolitan and also 'Malpans' (teachers of theology) to educate the faithful. A delegation was later deputed to the Patriarchate at Mordin (Turkey) with the same purpose. During the consecration of the 'Holy Mooron' (Holy Chrism) at the Kurkuma Dayro (Deir-al saffron) in 1684, Patriarch Moran Mor Ignatius Abdul Messiah I painfully discussed the matter with the Maphryono Mor Baselius Yeldo and other prelates assembled there. Knowing about the unpleasant situation prevailing in Malankara, Maphryono Mor Baselius Yeldo, who was above 90 years of age, gladly volunteered for the service, relinquishing his administrative charge there. His self-sacrificing decision was praised by all. However, the Patriarch and others who were concerned about the Maphriyono's age and health tried to discourage him. But they later succumbed to the determination of Mor Baselius Yeldo Bava.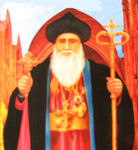 On returning to the Maphriyanate at the Mor Mattai Dayro in Mosul (Iraq), Bava made preparations for the treacherous journey to India. He installed Metropolitan Mor Dioscoros of Mosul who belonged to Kurd Island as Maphryono and started the long journey to a region, totally unknown to him. He was accompanied by his brother Jamma, the newly consecrated Episcopo Mor Ivanios Hidayatulla (son of Samma of Bakudaidand) and two Ramban's (monks) namely, Joea and Mathai of the monasteries of 'Mor Mattai' and 'Mor Behnan'. The group travelled down to south from Mosul and boarded ship at Basra in Iraq, thus commencing the first phase of the mission. They faced many obstacles along the way, but survived all these by the power of the prayers. A true believer is filled with extraordinary power to deal with the problems of life as long as he is in touch with Christ. Bava could not have embarked on the stupendous demanding and treacherous journey to a foreign land without having had absolute faith.
Mor Baselius Yeldo Bava and his entourage reached Surat in Gujarat (North India) by the middle of 1685 and from there proceeded to the eastern (Malabar) coast. Sometime later, they landed at Thalassery port in north Malabar. [As per the letter of MorThoma IV to the Patriarch of Antioch dated 25th Elool (Sept) 1720, those who reached Malabar, were Mor Baselius Yeldo, Mor Ivanios, and 'Ramban Mathai' (there exists no further information about this Rabban)]. In order to avoid attacks from pirates along the seacoast and to escape from the Portuguese, they traversed due east to Tamil Nadu and proceeded down to southern Kerala on foot. Obviously the saint and others with him were under the impression that the Portuguese were still wielding power on the west coast. So the journey was in disguise through thick forests. After some weeks they reached a small village on the bank of a river at sunset. On the way they encountered a ferocious tiger. Bava's escorts were scared to death but it is said that the Saint calmly took out the 'Sleebo' (Cross) and made the sign of the cross in the direction of the animal and it ran away roaring into the forests as if struck by a heavy object.
Later they reached the place which is now known as 'Pallivasal' near Munnar. There were many huts in the foothills for the travelers. Mor Yeldo Bava had a feeling that it would be dangerous to stay in those inns since he expected heavy rains and floods that night. So Bava advised his companions and the people remaining in the place that it would be better to sleep on the upper reaches of the surrounding hills. Some people who believed him moved higher up the hill but others dismissed the idea lightly and stayed on the inns. During the night there was a very heavy downpour and in the instantaneous flood many people and animals living on the river banks lost their lives. In the mourning the saint offered the Qurbono (Holy Eucharist), for the dead and the mercy shown on those with him, on a temporary altar made there. From that time the place assumed the name 'PALLIVASAL' (place of Holy church).
From there the Holy Father accompanied by the Episcopo Ivanios came to Kozhippilli village near Kothamangalam by afternoon. When they came to know that they had reached populated areas, Bava decided that it was unwise for both to travel together any further. He therefore asked the Episcopo to climb a tree and hide himself while the Saint proceeded on foot for reconnaissance. When the holy father reached the banks of Kothamangalam river at Chakkalakudy he saw a Nair (Hindu) gentleman who was tending cattle there. Through symbols they communicated and the man told Bava that there was a Church nearby.
Bava asked him to accompany him to the church. The man expressed his inability to do so since he could not abandon the cattle. The Saintly Bava took his walking stick and drew a big circle on the ground. Then he asked the man to take all the cattle into that circle. He waited for some more time to see how the cattle behaved and he found that they were not leaving the boundary of the circle. He realized that Mor Baselius Yeldo was a man of God. The man's sister was at that time in labor pains. He told the Bava about the difficult situation. When the Saint asked for some water with a view to bless it, the man thought that he was asking for water to quench thirst and he tried to climb a coconut tree nearby. The tree began to bend! The man took two tender coconuts from the tree and gave them to the Saint. The Saint blessed one of the tender coconuts and asked the man to rush home and make his sister drink the juice. While Bava waited at the same spot, after about one hour the man returned with the good news that his sister had given birth to a boy. Greater surprise was in store for him, since the cattle had not moved out of the circle. The man gladly accompanied the Saint to the church. While they got into the river to cross it, some children who were swimming in the river tried to throw pebbles at the Saint. Somehow instead of throwing pebbles they ended up following the Saint and his companion. As the saint reached the church premises, the church bells began to toll. People living in the neighborhood rushed to the church to find out what was going on. That was on 'Kanni 11th' in the Malayalam calendar (end of September), AD 1685.
On Kanni 13, the church used to celebrate its foundation day. On the 12th evening the Vicar sought the Saint's permission to hoist the flag. The Saint replied that the festival of the Holy Cross should be celebrated on the 14th and not on the 13th. When it was explained to the Saint that what they were celebrating was not the festival of the Holy Cross but the anniversary of the founding of the parish, the Saint permitted them to go ahead but reminded them about the importance of the festival of the Holy Cross. On the next day, on the feast of the Holy Cross, (Kanni 14 in the Malayalam calendar), Episcopa Hidayatulla Mor Ivanios was consecrated as Metropolitan after the Holy Qurbana by the saintly Mor Baselius Yeldo. Because of the tedious journey and the old age, by then Mor Yeldo was totally exhausted. Three days after he became seriously ill. On 30th September (Kanni 17) he received the last sacraments. Two days after (on Kanni 19, probably October 2) on Saturday in the afternoon, the saintly father left his mortal self for his heavenly home at the age of 92 while the congregation assembled inside the church, and was offering prayers. The Saint told them that he was about to die and when his spirit leaves his body; there would be a sign on the Cross situated on the western side of the Church. And the huge granite Cross miraculously lit up at the time of the Saint's demise. The Holy Father's mortal remains were entombed on the next day (Kanni 20) in the western side of the Madbaha of the church. The two weeks of sojourn of the Maphriyono at Kothamangalam electrified the Syrian Christians all over Malankara and the mission undertaken by the saint was fulfilled to a large extent by his faithful associate, Metropolitan Mor Hidayatulla Ivanios. He passed away in 1693 and was buried at the MorThoman Church, Mulunthuruthy.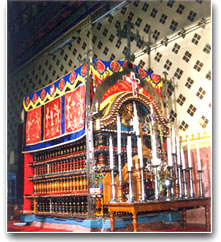 The saints who are departed from the mortal body are still alive in spirit. They serve as a signpost to all faithful in our odyssey to the heavenly Jerusalem through the path of true faith. Intercessory prayers to saints will facilitate us being led to the kingdom. They are compassionate to those who solicit their intercession. Dhukrono of the Baselious bava is celebrated in the MorThoman Church (CheriaPalli) at Kothamangalam every year on October 2 and 3 and is popularly known as "Kanni 20 Perunnal". Groups of pilgrims, irrespective of caste and creed come to the church every day seeking his intercession.
It reminds me, when Jesus was preparing to go to Bethany, a place so near to Jerusalem and political condition was not a safe one, his disciple Thomas declared - "Let us also go, that we may die with Him." (John 11:16). Thomas displays willingness to put himself into the way of danger, and shows himself to be a passionate and committed follower of Jesus. Bava was willing to go to India in spite of the danger and even to die. India's patron saint St. Thomas and Yeldo Mor Baselius Bava also challenge our gratitude, in as much as it is by their ardent charity for our souls, and by their labors and sufferings, that we enjoy the happiness of holy faith. Let us ask Almighty and ever living God, who strengthened His disciples with sure and certain faith, for the strength to defend our faith.

Each of us has a unique role in the mission of Jesus and the Church. Our role may not lead us into a foreign land, but our role is both unique and necessary to the overall mission. The uniqueness of our personal part in the mission of Jesus is part of our uniqueness as a person. We are all pieces of the jigsaw, each of us a small but essential part of the whole mission. When we fit ourselves into the bigger jigsaw, there is a deep peace and joy which remains despite the troubles and difficulties of life. Let us go forth and ask Jesus to help us to fulfill our part of His mission every day in the daily events of our lives and in the places we have been called to be.
About The Author:
Rev. Fr. Paul C. Thotakat is the Joint Secretary of the Malankara Archdiocese of The Syrian Orthodox Church in North America. He is also vicar of St. Mary's Syrian Orthodox Church, Dallas, TX.
by Very Rev. Dr. Kuriakose Corepiscopa Moolayil, Malankara World Board Member

Dear Dr. Mathew and all the readers of the Malankara World,
I would like to convey my great love and appreciation to Dr. Jacob Mathew for this great work for the glory of the church.
This 100th issue is really a great achievement.
I have referred MW to many of my friends and all of them are using this for their spiritual nourishment.
I wish to quote one of my great senior priest friends, " I won't refer MW to any other priest; I fear they also will know from where I prepare my sermons." Of course this is a jovial comment, nevertheless it expresses the usefulness of this work.
I am sorry, I could contribute very little to this noble work, even though Dr. Mathew persistently prompted me to work for this site.
He found time to visit me and my work at Theeram to discuss on this. This time also he was asking me to write an article in this souvenir edition. My work at Theeram and ecclesiastical commitments prevented me from doing that.
Theeram Residential Center- Phase 1 will be inaugurated on 13 October 2012. I am thoroughly engaged in the final finishing works there. I thank MW for projecting Theeram building as the cover picture of one of the latest issues.
I am sending my humble regards and prayers through this letter to Dr. Mathew and all those who are associated with this very dedicated and noble work.
May God bless us all and let Him use this for His glory.
About The Author:
V. Rev. Dr. Kuriakose Corepiscopa Moolayil, popularly known as Moolel achen, is a member of the Board of Malankara World. He is also Director of Theeram (India Center for Social Change; http://www.icsctheeram.org ) and Director of Mor Adai Study Centre ( http://www.moradaistudycenter.org ) a publisher of spiritual books. Achen is a true scholar of our church and is associated with numerous spiritual organizations of the church. He can be contacted at: Cell: +91 944 620 3002. We are humbled by achen's compliments and support.
by Sunitha J. Flowerhill, Malankara World Editorial Board Member
Editor's Note:

This poem is based on Sunitha's cherished childhood memories about her Grandma who passed away recently and her wonderland that revolves around grandma and the church. Being a widow, Sunitha's grandma was much attached to her parish, the North Parur Church.
ശൈശവകാല ആത്മീയ സ്മരണകള്‍
ശൈശവ കാലമാം ജീവന്‍ തന്‍ തിലകം
ആത്മ മിഴിവേകും വിസ്മയങ്ങളേകും ഘട്ടം
ജീവ സ്പന്ദനം നിലയ്ക്കും വരേയ്ക്കും
തേജസ്സേറും സ്മരണകളേകും കാലം
വിശാലമാം പള്ളിമുറ്റത്തോടിക്കളിച്ചും
വെണ്മയെഴും അമ്മച്ചിമാരോടു പുന്നാരം ചൊല്ലിയും
ഭയാനകമാം കതിന പൊട്ടിക്കും പെരുന്നാളു കണ്ടും
വിശന്നു പൊരിഞ്ഞാസ്വദിച്ചു നേര്‍ച്ച ഭക്ഷിച്ചും
നീളന്‍ പഞ്ഞിത്താടിയും സ്നേഹം വഴിയും മിഴികളുമായ്
ചേര്‍ത്തു പിടിച്ചു തലോടും പാതിരികളും
കുരിശിന്‍ തൊട്ടിയും പുല്ലിടതൂര്‍ന്ന സെമിത്തേരിയും
പള്ളിമണികളും നാഴികമണി ഗോപുരങ്ങളും
ബഹുദൂരം താണ്ടും പ്രദക്ഷിണ ഘോഷങ്ങളും
ചെണ്ടവാദ്യങ്ങളും ബാന്റും സ്തോത്രഗീതങ്ങളും
കാതങ്ങളോളം മുഴങ്ങും കൂട്ടമണിയും
എന്തിലും ഫലിതം കാണും കപ്യാരു ചേട്ടനും
കപട ഗൗരവം ഭാവിക്കും കാരണവര്‍മാരും
കാര്യസ്ഥ പ്രമാണികളാം കരക്കാരും
പൊടിമീശ വച്ചു നടക്കും ഗായക സംഘങ്ങളും
കിളിനാദ കുതൂഹലമേകും തരുണീമണികളും
ക്രിസ്തുമസ് കാല കരോള്‍ സന്ദേശ വാഹകരും
പാതിരാ കുര്‍ബാന തന്‍ പുതുമയും
വലിയ നോമ്പിന്റെ യാതനകളും പിന്നെ
ഉയിര്‍പ്പു തിരുനാളിന്റെ മഹോന്മയും
കൊയ്ത്തു കാലം കള്ളകര്‍ക്കിടകം മഞ്ഞുമാസമെന്നുവേണ്ട
കാലഭേദമെന്യേ അചഞ്ചലമായ് നിലകൊള്ളും
അശരണര്‍ക്കാശ്വാസമേകും ജ്വാലയായ് നിവര്‍ത്തിക്കും
വിശ്വാസം പടുത്തുയിര്‍ത്തും പള്ളിമന്ദിരം
വാഴ്ക വാഴ്ക നീണാള്‍വാഴ്ക നാളെകളെ പുല്‍ക
പുതു നാമ്പുകളെ പഠിപ്പിക്ക പഴമകളെ സൂക്ഷിക്ക
സത്യസംരക്ഷണാര്‍ഥം മൂല്യ നിര്‍വചനാര്‍ഥം
പ്രൌഢോജ്ജ്വലമായ് ശക്തിയായ് നിലകൊള്‍ക നീ......
എഴുതിയത്:
സുനിത ജിജൊ ഫ്ലവര്‍ഹില്‍
ഡെലവേര്‍, യു എസ് എ
About The Author:
Sunitha is a humanitarian with a global outlook, has a mind to outreach and capture the public spirit. In addition to being a member of the Editorial Board of Malankara World, Sunitha is also the Webmaster and Youth coordinator of St. Peters Syriac Orthodox Church, Philadelphia (www.stpeterspalli.com) and Women's Core Committee member of Ecumenical Fellowship of Indian churches, Philadelphia. Her other responsibilities include being Vice-president and committee member of Delaware Malayalee Association. Her hobbies include Classical dance and music, Blogging, conducting and choreographing Christian stage shows and programs. She works for Xerox Corporation.
by Joel Osteen
I can do all things through Christ who strengthens me. - Philippians 4:13
Today, I want to remind you of what God says about you. No matter what's happening in your life today, remember: you are not limited by your resources, your family or your background. Almighty God has equipped and empowered you. He has given you creativity, ideas, inventions, skills and talents. Don't you dare settle for a mediocre life! Today, I call forth the seeds of greatness inside of you.
Today, I declare that your best days are ahead. That you are going to go further than anyone in your family ever did; that you are going to dream bigger and live higher. I declare that you are a leader, an influencer, a minister of reconciliation. You are the fragrance of God to the nations.
Before anyone put a curse on you, God Almighty put a blessing on you. Walk and live in that blessing by following His commands and staying fully committed to Him in everything you do!
Prayer:
Father, thank You for blessing me and calling me according to Your purposes. I receive Your Word which is a lamp to my feet and a light to my path. I will hide Your truth in my heart that I might not sin against You. In Jesus' name. Amen.
by Marc Cortez
When you meet someone for the first time, you form some opinion of them. You can't help it. How they look, what they say, when they laugh, it all shapes your inner picture of them.
The same is true in stories. The first time an author introduces a new character, pay attention. They'll often give you little clues about that character's personality and how they fit into the story. And sometimes, they just skip the clues and come right out and tell you something important.
"Let us create man in our image, after our likeness" (Genesis 1:26). There it is. The very first thing the Bible tells us about the human person. That's our first impression.
But what does it mean? What is an "image"? How can an invisible God have an image anyway? And why don't the other creatures get to be images? I think iguanas are pretty cool. And I certainly don't want to tell them that they're not good enough to be one of God's image bearers in the world. The last thing I want is an irritated iguana in my house.
REPRESENTING GOD
Let's start with the basics. What is an "image"? We use that term in a variety of ways. If I walk into the bathroom, I'll see my image, my reflection, in the mirror. And, if I don't pay enough attention to what I look like in the mirror, I may develop some problems with my public image - what other people think about me. If that happens, someone might describe me using another image: "He's a dog."
At the core of all these, though, lies the idea that these images represent me. Clearly my reflection in the mirror does so - it offers a picture of what I look like. My public image functions very much the same way. It's not actually me, but it is a significant representation of me. It's the picture or concept of me that people have in mind when they think about me.
That's my image. Even a figure of speech is an image in this sense. We use metaphors to draw a picture, to re-present that reality in a different way. Obviously, I'm not really a dog. But someone might use the image of a dog to represent me. (Please don't, I'm very sensitive.)
Suppose that I take a picture of you. And, by some miracle, it's actually a good one. It looks just like you. Everyone says so. I print it out on some photo paper, frame it, and hang it on my wall. That's a nice thing to do.
Now suppose I take a knife and jam it into the picture right between your eyes. Yanking the knife out, I do it again. And again. Now what do you think? Are you upset? Why? It's just a picture, right? Just a piece of paper and some ink. Ah, but it's not, is it? That picture represents you, and you know it. By assaulting the picture, I'm attacking you. That's because it's far more than just a pretty piece of paper. It's an image.
IMAGES AND IDOLATRY
In the Bible, that's the kind of relationship that exists between a god and its idol. Everyone understood back then that the idol wasn't the same as a god. An idol is a thing of wood, stone, and gold. A god is something else entirely. But, at the same time, an idol wasn't just a pretty statue, something that would look nice in the living room next to grandma's urn. An idol was an image, a representation of a deity, in which that god was present in a very real way.
If I walked into your house and knocked your idol off its shelf, smashing it into little pieces, I haven't simply messed up the décor. I've committed a sacrilege. That was your god! Actually, it was an idol of your god. But the connection is so close that it might as well have been your god. Your deity was present in that idol, and I have probably offended him, and you, very deeply.
A BAD DAY FOR DAGON
There's a great story in the Bible that illustrates this (1 Samuel 4-5). The Israelites had gone to war against the Philistines. They did this a lot. Unfortunately for the Israelites, this particular war wasn't going very well. So the Israelites decided that before the next battle, they would go and get the ark of the Lord. With the ark on their side, how could they possibly lose? Don't you remember when those guys opened the ark and all the ghosts came out and killed the Nazis? How can you lose with a box like that?
Okay, maybe that only happened in Raiders of the Lost Ark. But you get the point. The ark was a powerful symbol representing the God of Israel. If Israel's army had the ark with them, surely God himself would be present with the army and would fight for them.
And the Philistines knew this. When they heard that the ark had arrived, they freaked: "A god has come into the camp!" (1 Samuel 4:6). They knew this was no mere symbol. This was something that manifested the presence of God himself.
But the battle went badly for the Israelites and the Philistines captured the ark. (The Israelites had forgotten that you can't keep God in a box and that God knows when his people and their leaders rebel against him in their hearts.) They took the ark back to their city and placed it in the temple at the feet of their god, Dagon - the vanquished and the victor.
The next morning, however, the Philistines came into the temple and found the statue of Dagon lying on the floor. That's not good. Remember, this was no mere statue. This was an idol, an image. Dagon was supposed to be present in and with his idol. And your god is definitely not supposed to fall over like that.
So the Philistines propped Dagon back up and left him in the temple with the ark of God at his feet. When they came in the next morning, he'd fallen down again. Only this time his head and his arms had broken off! Definitely not good.
A contest of deities was taking place here, albeit a rather one-sided one. This was not just a pretty box and a nice statue hanging out in a room together and discussing the finer aspects of Feng Shui. These were two images, and each represented the presence of its deity. Clearly the contest was not going well for one of them.
IMAGE AND PRESENCE
So an "image" is basically an "idol," something that manifests the presence of a god. And that's what the Bible means when it calls us an image of the living God. We are his idols in creation, the ones through whom he intends to manifest his presence in the world. Although the Bible never makes the connection explicit, I've long wondered if that's why he tells us not to make any images of him (Exod. 20:4). We don't need to create images of God because he's already done it!
But I still haven't explained to my irritated iguana why only humans get to be images. And the short answer is, I don't know. God never says why he decided to manifest his presence through humans. But he did. And that will just have to be good enough for all the iguanas in the world. If it's not, they can take it up with him.
About The Author:
Marc Cortez is a theology professor and Dean at Western Seminary, husband, father, & blogger, who loves theology, church history, ministry, pop culture, books, and life in general. This post is an excerpt from his new book 'Good News for the Living Dead: A Fresh Take on the Gospel Story.' Visit him at marccortez.com.
CHRIST:
My child, the highest goal of your life is union with Me in Heaven. Let your intentions throughout the day be guided by this truth. In all things be sure to stay on the path which leads to Heaven. Do not become too deeply interested in the passing desires and brief enjoyments of this earthly life.
2. I have given you everything that you are and everything you have. All things come to you from Me, the Supreme Good. Whatever comes, accept it, use it, enjoy it, as I wish and as much as I wish.
3. If you think only of satisfying yourself, without considering My approval, your mind becomes confused and your will becomes weak. Mistakes and sins will rob you of peace on earth and of unending happiness in Heaven. In all things, therefore, keep your eyes on Me.
4. Happy are those who desire only what I want, trying steadily to do My Will. Such people do not let themselves become completely absorbed by their daily activities. They frequently offer their activities to Me. They see the brevity of human contentment on earth.
5. Examine your motives in your daily words and actions. Find out how you may please Me more, and avoid everything which may draw you away from Me.
THINK:
I was created for eternal happiness with God in Heaven. Everything else must take second place in my life, because if I lose Heaven, I will be losing everything. The sure guide to Heaven is God's holy Will. If I follow it in my daily life, every moment on earth will be a sure step toward the perfect happiness which my heart craves.
PRAY:
My God and loving Father, grant me the wisdom to think, speak, and act each day as You want me to. May I never be such a fool as to disagree with Your supreme goodness and wisdom. Nothing on earth can bring me any lasting happiness. Therefore, let me never sin for the sake of anything. I want to live for the perfect- happiness for which You created me. Amen.
Source: My Daily Bread by Anthony J. Panone, S.J. (1954); Confraternity of the Precious Blood, NY
CHRIST:
My child, if you directed your desires according to My Will, you would learn many a holy lesson from the events of daily life. Nothing is so small and unimportant that it does not, in some way, reflect my wisdom and goodness. When you have become as good and unselfish as you should be, you will find it easy to understand the deeper meaning of the events in your daily life. An unselfish heart sees much more than what appears on the surface.
2. I created Heaven and earth for the service of man. I have even appointed angels to help man. In fact, I Myself am continually serving and helping man. If he lives as I desire, he shall one day share with Me the perfect happiness of Heaven.
3. What are you doing in return for My numberless favors? You should serve Me every single day of your life. Yet, you fail to give Me unselfish service even for one single day. I deserve all possible obedience, all possible honor and eternal praise. To Me you owe each breath and second of life. Without My continued support, nothing could please nor help you. All assistance and relief is the work of My hand.
THINK:
If I ever wrote down a list of God's gifts to me, I would have to compose a book. Everything and everybody, whatever I may mention, is a gift of God for a definite purpose. All things, not just some things, are in my life for God's good reasons. In one way or another, they are meant to help me earn the unending happiness and glory of Heaven. I must reject any person or thing that leads me away from this goal by sin. All things are to be used wisely, that is, to help me live a good and useful life. By an intelligent use and control of life's daily needs and activities, I prove my sincere desire for God's eternal love and friendship in Heaven.
PRAY:
My God, the good things that attract me on earth are only tiny reflections of Your perfect attraction and goodness. Let them never turn my thoughts aside from You, the Perfect Good. I hope to turn away from anybody or anything which draws me away from You. The good things of earth will pass away all too soon, but You will remain forever. I choose You now by a sincere daily battle against sin. Grant me the glorious favor of pleasing You on earth and loving You in Heaven. Amen.
Source: My Daily Bread by Anthony J. Panone, S.J. (1954); Confraternity of the Precious Blood, NY
CHRIST:
My child, the person who esteems anything for itself alone, forgetting My goodness and love, will always be small and inferior like the things which he values. Whatever does not help you to please Me, has no true value in your life. You should therefore consider it as nothing.
2. Unless you see Me in your daily life, you will sooner or later become discontented, wherever you are and wherever you turn.
3. If any man tries to enjoy anything as though it were his alone, he will not have a lasting joy nor true freedom. In many ways he will find himself tied down and shut off from Me.
4. He who thinks more of earthly things than he does of Me, will find nothing but insecurity, trouble and sorrow. He may not realize it, but he is planning his own destruction.
5. Be it ever so little, if anything is loved and valued more than it deserves, it holds you back from Me, the Highest Good, and it weakens your soul. The man who looks only for worldly satisfactions, becomes blind to the loving presence of his Creator.
THINK:
One who seeks only pleasure, ease, honor, or profit is a worldling, that is, he lives only for this life. Gradually he becomes a slave of his earthly desires, so that he cannot even think of God. He will believe in Heaven too late -when he finds its gates forever closed to him.
PRAY:
My God, I rely on Your assistance to keep myself free from the slavery of earthly attractions. I shall use my possessions and daily enjoyments as things which You have lent to me. May I never offend You with these gifts of Yours. As yesterday's enjoyments passed away, so too will those of today. I want to live for the greatest Good—for You, my God and my All. You alone are best and highest. Only You can satisfy my heart's longings forever. Amen.
Source: My Daily Bread by Anthony J. Panone, S.J. (1954); Confraternity of the Precious Blood, NY.
by Jill Carattini
Researchers have stumbled onto a subject that has long been tested, though perhaps never before quite so clinically. Over the last decade, millions of dollars have been spent on testing the effects of prayer in the field of medicine. The studies, which have targeted an assortment of medical conditions and religious traditions, have attracted criticism from all over the place. Some argue that science has no place exploring matters of religion. Others note the impossibility of creating a controlled environment or securing viable results. Still others argue these experiments at the outset have a faulty understanding of both God and prayer. The opinions of those conducting the studies are equally varied. One scientist insists the tests are meant to answer practical questions and not religious ones; another thanks God in the official report of his findings. Nearly all involved agree that such studies are difficult, but that the subject is one worth testing, however little we understand it.(1)
That one's prayers are with the sick, troubled, or grieving is a promise often uttered. It is a phrase heard both within and outside of Christian circles: "My prayers are with you." It is a promise that could perhaps be met with cynicism. Is he really praying for me? Are her words a goodhearted turn of phrase and little more? The well-meaning words are undoubtedly uttered from time to time without much follow-through - or intention for that matter. But more often, the thought is received as it is likely intended. It is encouraging to know that someone is thinking of you, that his thoughts and prayers are with you, hoping or crying out with your own. The late atheist Christopher Hitchens said he was touched by the thought that he was in people's prayers.(2) The assuring words remind the one struggling that they are not standing entirely alone in the darkness. And certainly that is a powerful thought in the midst of pain and uncertainty, as many scientists and psychologists have discovered.
But what about the times when someone has told you that they are praying for you, and you know that they are doing exactly that: crying out to God on your behalf. Have you ever heard anyone say that they could sense the prayers of believers moving them through a difficult situation? For these people, the power of prayer moves well beyond encouragement.
In fact, when uttered on sincere lips, "I'm praying for you" can be as frightening a thought as it is encouraging. Someone is standing before God with your name on her heart, rebelling against the status quo, refusing, like the woman before the judge, to take no for an answer. This introduces an entirely new set of concerns: Is she praying for me the way I'd like things to turn out? Is he asking God for the answer I'm hoping for? When my dad was diagnosed with terminal cancer, I was livid when someone told me they were praying that God would take him home quickly - despite the fact that in between our cries for healing, we were praying that God would simply be near and real and in control. As someone once noted, prayer requires more of the heart than of the tongue. Knowing that someone is standing before God on your behalf is powerful not because she is standing with you but because she is standing with God.
The apostle Paul often voiced in his letters gratitude for the prayers of believers on his behalf. In and out of jail, in abundance and in lack, he saw them participate in bringing about God's purposes in his life through their prayers for him. To the Philippian church he wrote, "Yes, and I will continue to rejoice, for I know that through your prayers and the help given by the Spirit of Jesus Christ, what has happened to me will turn out for my deliverance" (1:19). He did not thank them for praying that what had happened to him would be altogether reversed, but that the purposes of God would be accomplished in all things. Paul saw the power in prayers that hope and expect with all boldness that Christ will be exalted whether by life or by death.
As one has said, "Prayer is not about overcoming God's reluctance, but laying hold of his willingness." Perhaps the best studies in prayer are in the lives of those who see that its power lies wholly in the one in whom we pray.
References:
(1) Benson H, Dusek JA, Sherwood JB, et al. (April 2006), "Study of the Therapeutic Effects of Intercessory Prayer (STEP) in cardiac bypass patients: a multicenter randomized trial of uncertainty and certainty of receiving intercessory prayer," American Heart Journal, 934–42.
(2) Ross Douthat, "Prayers For Christopher Hitchens," The New York Times, July 15, 2010.
About The Author:
Jill Carattini is managing editor of A Slice of Infinity at Ravi Zacharias International Ministries in Atlanta, Georgia.
Copyright (c) 2011 Ravi Zacharias International Ministries
by Mark Schindler
Asking for Our Fancy
Psalm 78 recounts Israel's constant disobedience to God. In explaining their problem, Asaph writes, "And they tested God in their heart by asking for the food of their fancy" (verse 18).
Never satisfied with what God gave them, Israel always pushed Him to see how much they could satisfy their own desires! Could we be doing the same thing when we pray? Is our focus always toward God's purpose and the welfare of others?
Just like Christ, we have the same kind of power in our grasp every time we come before God's throne in prayer! Do we use it to satisfy ourselves or to further the purpose of God? If Ground Hog Day is any indication, we will not find true contentment until we use the power we have in absolute service to others.
Just how much time does God expect us to spend praying for ourselves? Jesus gives an outline prayer Matthew 6:9-13, but He spends most of the remainder of the chapter telling us not to worry about our own lives and our personal concerns. He already knows what we need (verse 32). But, He urges us, concentrate totally on His Kingdom and His purpose! In effect, He tells us how we should be filling in that outline prayer: by asking for the needs of others and His purpose!
Should not our outgoing concern for others start when we are in the very presence of God? In verses 5-8 Jesus instructs us how to pray, using the pronouns "you" and "your," but when He tells us what to say in verses 9-13, He changes the pronouns to "us" and "our." God gives us more than a hint here that our lives should be given in outgoing concern for others, beginning at His throne in prayer. And if we are praying for others, and others are praying for us, then we will all be pleasing God.
Effective, Fervent Prayer
God tells us to pray when we are afflicted, but not necessarily for ourselves (James 5:13-14). Remember that Job was released from his affliction when he prayed for his friends who had been judging him (Job 42:10). God tells us to pray for those who hatefully use us (Matthew 5:44), even those who are causing our affliction.
The prayer of faith will save the sick (James 5:15). Whose prayer of faith? It certainly takes faith for the sick to call for the elder, but is it the person's prayer for himself or others' prayers of faith for him? James says we should be praying one for another so we may be healed (verse 16).
One of the most effective and fervent prayers in all history, recorded in John 17, is Jesus Christ's prayer before he was taken to be crucified. About to suffer as no man ever has, we might expect Him to pray for His own desires. But because He followed God's will perfectly, His whole prayer rings with appeals for God's Work and people, including us.
If we are ever to be content in any situation we find ourselves in, then we must get our minds totally off ourselves and onto God's purpose and each other. And the best place we can start is with the power that He has given us in prayer.
Source: Excerpted From Forerunner, March 1994 © 1994 Church of the Great God
by Oswald Chambers
"When you pray, go into your room, and when you have shut your door, pray to your Father who is in the secret place . . ." - Matthew 6:6
The primary thought in the area of religion is - keep your eyes on God, not on people. Your motivation should not be the desire to be known as a praying person. Find an inner room in which to pray where no one even knows you are praying, shut the door, and talk to God in secret. Have no motivation other than to know your Father in heaven. It is impossible to carry on your life as a disciple without definite times of secret prayer.
"When you pray, do not use vain repetitions . . ." (Matthew 6:7). God does not hear us because we pray earnestly - He hears us solely on the basis of redemption. God is never impressed by our earnestness. Prayer is not simply getting things from God - that is only the most elementary kind of prayer. Prayer is coming into perfect fellowship and oneness with God. If the Son of God has been formed in us through regeneration (see Galatians 4:19), then He will continue to press on beyond our common sense and will change our attitude about the things for which we pray.
"Everyone who asks receives . . ." (Matthew 7:8). We pray religious nonsense without even involving our will, and then we say that God did not answer - but in reality we have never asked for anything. Jesus said, ". . . you will ask what you desire. . ." (John 15:7). Asking means that our will must be involved. Whenever Jesus talked about prayer, He spoke with wonderful childlike simplicity. Then we respond with our critical attitude, saying, "Yes, but even Jesus said that we must ask." But remember that we have to ask things of God that are in keeping with the God whom Jesus Christ revealed.
by HH Moran Mor Ignatius Zakka I Iwas, Patriarch of Antioch and all the East, Syrian Orthodox Church
Dearly Beloved: You have done excellent in choosing the Sacrament of the Holy Priesthood immediately after he had founded His Holy Church on the rock of true faith which was proclaimed by St. Peter the head of the Apostles, who said to the Lord Jesus: " You are the Christ, the Son of the Living God" . And Jesus answered him: Blessed and happy are you, Simon Bar-Jona! For flesh and blood has not revealed this to you, but my Father who is in Heaven; and I tell you, you are Peter, and on this rock I will build my Church and the doors of sheol shall not prevail against it. I will give you the keys of the kingdom of Heaven, and whatever you bind on earth shall be bound in Heaven, and whatever you loose on earth shall be loosed in Heaven" ( Matt 16:16-19).
The Lord gave all the Apostles this power when he appeared to them on of the eve of his resurrection from among the dead as they were assembled in the upper room while the doors were locked. He stood in their midst and said: ''peace be with you. As the father has sent me, even so I send you. And when he had said this, he breathed on them, and said to them, receive the Holy Spirit. If you forgive the sins of any, they are forgiven; if you retain the sins of any they are retained" John 20:21 and 22). He thus ordained them priests, as we are taught by our fathers the saints.
Likewise, he ordained them bishops when "He took them out as far as Bethany, and he lifted up his hands and blessed them. While he blessed them, he parted from them and went up to heaven" (Luke 24: 51 and 52).
Thus, the Lord installed in his church shepherds, ministers, teachers and guides and gave them the Holy Spirit, the Spirit of truth, that he may protect and keep them in the truth and remind them with all that Jesus said to them to safeguard the precious jewel of the true faith. He made them, his faithful stewards and partners in the power of shepherding his sheep, endowed with the faculty of speech, on the pastures of his divine teachings, and the stream of waters of his Holy living Gospel so that they may timely offer food to his servants. In this regard, St. Paul says: "And no one takes this honor upon himself but only he who is called of God, as was Aaron" (Hebr 5:4).
Therefore, priests and bishops in their different ranks are set apart by God from among the faithful to go before the people and offer sacrifices for the remission of their own sins as well as the sins of the people. The Lord God thus bestows upon them the grace of carrying the mission of the priesthood and hence obtain divine power exclusive to those who are selected for this high honor with all its spiritual rights and privileges and related duties and burdens. This includes: looking for the lost sheep and carrying it on the shoulders and brining it back to the fold, awaiting the prodigal son, rejoicing by his return and reestablishing trust with him. It also includes calling upon parishioners, warning the urging them to repent, otherwise the Lord would punish His shepherds according to the prophet Ezekiel: "If I say to the wicked, you shall surly die in his iniquity; but his blood I will require at your hand" ( Ezek 3:18).
In reviewing the duties and privileges of the priest, we realize that the priest, whose mission is primarily to the voice of the people to God and raise his prayers to Him, also performs the duty of a prophet in conveying the voice of God to the people. Priests, thus, must warn, preach to sinners and instruct them to observe the divine commandments. Further, they should make themselves good examples for them, in this way they become a light for the world and salt for earth.
The Lord Jesus Himself, had chosen and called His righteous apostles and pious disciples, and they had accepted His invitation by their full free will leaving behind everything for His sake. He graduated them in His divine school. He used to retire with them from time to time and explain to them His parables and divine teachings so that they may understand what He was aiming at in his invaluable sermons. He further gave them the keys of knowledge and understanding the essence of God's commandments and prohibitions. Also, He bestowed on them the power of teaching, edification, disciplining, justification and sanctification for the building of the Holy Body of Christ which is the Church. Devils submitted to them in His name, as they joyfully told Him after returning from a journey where He had sent them in pairs before Him to every city and place He had intended to go. He said to them: "Behold, I have given you authority to tread upon serpents and scorpions, and over all the power of the enemy; and nothing shall hurt you. Nevertheless, do not rejoice in this, that the spirits are subject to you; but rejoice that your names are written in Heaven" (Luke 10:19-20).
From here, we know that the wage of the Lord's priests is kept in heaven and not on earth to which He sent them to preach the Gospel of Salvation. He never promised them with bodily rest and happiness. On the contrary, he demanded of them self-denial, carrying the cross and following Him in the trial of pain and sacrifice in all worldly matters. He said to them: " Take no gold, nor silver, nor copper in your belts, no bag for your journey, nor two tunics, nor sandals, nor a staff for the laborer deserves his food. Behold, I send you out as sheep in the midst of wolves; so be wise as serpents and innocent as doves… and you will be hated by all for my name's sake. But he who endures to the end will be saved… and do not fear those who kill the body but cannot kill the soul; rather fear him who can destroy both soul and body in hell" (Mat. 10: 7-28).
With this, the Lord told them about the hardships they would encounter in life so long as they have chosen to enter through the narrow door and walk in the difficult road leading to the kingdom. At the same time, He assured them of His protection and of their exalted position with Him saying: "But so far as you are concerned, even the hairs of your head are all numbered. Therefore fear not. Whoever receives you, receives me; and whoever receives me, receives Him who sent me. He who receives a prophet shall receive a prophet's reward; and whoever receives a righteous man in the name of a righteous man's reward" (Mat. 10:30, 41and 42).
The Apostle Paul advises the faithful to honor the clergy. He says: "We beseech you, brethren, to respect those who labor among you and are over you in the Lord and admonish you, and to esteem them very highly in love because of their work" (I Thess 5:12).
But the best and the highest reward are received by the shepherds in Heaven. In this regard, apostle Paul says: "I have fought the good fight, I have finished the race, I have kept the faith. Henceforth there is laid up for me the crown of righteousness, which the Lord, the righteous judge, will award to me on that day" (2 Tim 4: 7-8). Thus, those whom the Lord called in this life and they answered His call, and whom He sent, and they fought for the sake of salvation of their souls and those of others, will be called by the Lord to enter His Heavenly Kingdom to inherit the everlasting bliss, being crowned with the crown of righteous, the pious, and the saints. They will be all with the Lord Jesus who promised: "If any one serves me, let him follow me; and where I am, there shall my servant be also; if any one serves me, the Father will honor him" (John 12:26).
Excerpted from the 1997 Patriarchal encyclical of HH Moran Mor Ignatius Zakka I Iwas.
Source: the Archdiocese Of The Syrian Orthodox Church of Antioch For The Eastern USA
by Father Robert Barron
What is the provenance of this distinctively Catholic/Orthodox conviction that Jesus is "really, truly, and substantially present" under the Eucharistic signs of bread and wine? I would suggest that we begin with the still breathtaking discourse of the Lord, found in the sixth chapter of the Gospel of John. Astounded by the miraculous multiplication of the loaves and fishes, the crowds come to Jesus and he tells them not to search for perishable bread, but rather for the bread that "endures to eternal life." He then specifies, "I myself am the living bread come down from heaven…the bread that I will give is my flesh for the life of the world."
Now it would be hard to imagine anything more theologically problematic, and frankly, more disgusting to a first century Jew than this claim. Scattered throughout the Old Testament are numerous prohibitions against the eating of an animal's flesh with the blood, for blood was seen as life and hence as the special prerogative of God. But Jesus is proposing, not only the eating of an animal's flesh with blood, but his own human flesh with blood. When they balk ("The Jews quarreled among themselves, saying, 'How can this man give us his flesh to eat?'"), Jesus does not tone down his rhetoric; he intensifies it: "Amen, amen, I say to you, unless you eat the flesh of the Son of Man and drink his blood, you have no life in you." It is fascinating to note that the Greek verb that lies behind the word "eat" here is not phagein (the verb normally used to designate the way human beings eat) but rather trogein (a verb that designates the way animals eat, having the overtone of "gnawing" or "munching"). And in case anyone has missed his point, Jesus adds, "For my flesh is real food and my blood is real drink." Are we surprised that most of the crowd, having taken in this teaching, decided to leave Jesus? "Therefore, many of his disciples…said, 'This is a hard saying: who can understand it?" So indeed has this teaching been hard and divisive in the course of the church's life.
How can we begin to understand it? Let us consider the power of words. Certainly words can describe reality, standing, if you will, in a passive relationship to what is. But they can also play a much more active role, not simply describing reality, but affecting it, changing it. Think of the manner in which a word of praise, spoken by a significant authority figure, can change the direction of a young person's life. Or consider the authoritative statement, "you're under arrest," spoken by a properly deputized officer of the law: whether the addressee of those words likes it or not, he is, in fact, under arrest, the words having actively changed his status. Now if our puny human words can change reality, how much more thoroughly and radically can the divine word bring about an ontological transformation. On the Biblical telling, God's word in fact constitutes reality at the deepest level: "God said, 'let there by light,' and there was light." The prophet Isaiah, channeling the words of the Lord, says, "So shall my word be that goes forth from my mouth; it shall not return to me void, but it shall accomplish what I please…"
The central claim of the New Testament is that Jesus is not simply one teacher among many, one more in a long line of prophets, but rather "the word made flesh," the incarnation of the divine word which made and sustains the world. Therefore, what Jesus says, is. To the dead daughter of Jairus, Jesus said, "Little girl, get up," and the dead girl got up. At the tomb of Lazarus, Jesus shouted, "Lazarus come out!" and the dead man came out. The night before he died, Jesus sat down with his disciples for a Passover supper. He took the ordinary unleavened bread, broke it, gave it to his disciples and said, "take this all of you and eat it; this is my body." He then took the blessing cup after supper and, passing it around, he said, "take this all of you and drink from it; this is the cup of my blood." Was he trading in symbolic and metaphorical speech? If he were an ordinary human being, one more prophet or religious poet, that's all he could have been doing. But he was, in fact, the Word of God, and therefore, his words had a power to transform at the most fundamental level of reality. This is why that ordinary bread and wine became Christ's very body and blood.
At the consecration at every Mass, the priest takes bread and wine and pronounces over them, not his own words, but Christ's. He acts, not in his own person, but in persona Christi and hence he affects the transformation that Catholics call "transubstantiation," the changing of the bread and wine into the body and blood of Christ. And this is why, in the presence of those transformed elements, the only proper action is to fall down in worship.
About the Author:
Father Robert Barron is the founder of the global ministry, Word on Fire, and in July will become the Rector/President of Mundelein Seminary. He is the creator of the documentary series, "Catholicism." The documentary has been awarded an esteemed Christopher for excellence.
Source: CNA; Copyright © CNA All rights reserved.
by: Msgr. Charles Pope
A fundamental principle of the Holy Sacraments is that they have a reality that exists apart from the priest's holiness or worthiness. They work ex opere operato (ie.. they are worked from the very fact of the work). One need not doubt therefore that a sacrament is in fact given just because a bishop, priest or deacon seems less than holy or worthy. Neither can the disposition of the recipient un-work the work. For example, Holy Communion does not cease to be the Body, Blood, Soul and Divinity of Christ merely because the one who steps forward is unworthy or even an unbeliever. The Sacrament has a reality in itself that transcends the worthiness of the celebrant or recipient.
However, sacraments are not magic in the sense that they work effects in us in a manner independent of our disposition or will. Sacraments, though actually conferred by the fact that they are given, have a varying fruitfulness dependant upon the disposition, worthiness and openness of the recipient. One may receive a sacrament to great effect or lesser effect depending on how well disposed they are to those effects. This is referred to as the fruitfulness of the sacraments.
To illustrate fruitfulness let's take a non sacramental example. Imagine two men in the Fine Arts Museum and lets us also imagine that they are looking at a Rembrandt painting: Apostle Peter Kneeling of 1631. Now one man is a trained artist. He knows and understands the use of shadow and light. He can observe and see the techniques of brush strokes. He knows of Rembrandt and his life and times. He also knows the Bible and a good bit about hagiography. He knows about St. Peter, the significance of the keys, of Peter's penitence and how he finally died. The second man knows none of this and is actually rather annoyed to be in the "boring" museum. All he thinks is, "Who is that guy and why is he sitting on the floor?….Why don't we get out of here, go to a sports bar and hook a few brews or something more interesting?"
Now, both men are actually standing before a Rembrandt painting. It has a reality in itself apart from what either man thinks. It is, in fact, what it is. But the experience of beholding the painting is a far more fruitful experience for the first man than for the second. The first man gains a lot from the experience, the other gains little and may in fact have an experience that is adverse or repelling.
It is like this with the sacraments. They have a reality in themselves that is objective and real and they actually extend the graces they announce. But how fruitfully a person receives them is quite dependent on the openness and disposition of the recipient. Sacraments are not magic as though they zap us and change us independently of our disposition.
Consider some examples:
1. Two people come forward to receive Holy Communion. One comes forward with great piety and mindfulness to what and Who she is to receive. She has recently made a good confession and is in a state of grace. She prayerfully, mindfully and devoutly receives the sacred host and returns to her pew to pray. The second person comes forward inattentively. Instead of thinking of what she is about to do she is irritated at the priest for going long in the homily and distractedly considering what she is going to do when she leaves here. She has not been to confession in many years and may in fact be in mortal sin. She receives the Sacred Host with little thought or devotion and heads for the nearest door.
Both in fact receive the Body, Blood, Soul and Divinity of Jesus. Objectively the sacrament is conferred. But one receives fruitfully and the other has little or no fruitfulness. In fact, if she is in state of mortal sin, not only did she not fruitfully receive a blessing but she may have brought a condemnation upon herself (cf 1 Cor 11: 29).
So the sacrament is not magic and does not zap the second woman into holiness. A sacrament worthily received in a mindful manner to a person well disposed can have great effects, but proper and open disposition including faith-filled and worthy reception are essential. The more open and disposed one is, the more fruitful the reception.
2. Two people go to confession. One carefully prepares by examining his conscience and has a true contrition (sorrow for sin and a firm purpose of amendment). In examining his conscience he does not merely consider his external behaviors but looks to the internal and deeper drives of sin within him. He seeks to reflect on his motivations, priorities, resentments and the like. He goes to confession once a month. Once in the confessional he makes a good confession and listens carefully to what the priest says and accepts his penance with gratitude to God.
The second man makes little preparation only coming up with a few vague sins on his way from the car. He comes yearly to confession to make his Easter duty and after a year can only figure he has said a few bad things and been a little grouchy, and looked at a few dirty pictures. In the confessional he mentions his sins only in a perfunctory way and pays little attention to the exhortation of the priest.
Now both men receive absolution but one receives the sacrament for more fruitfully than the other. The first man will likely experience growth in holiness and spiritual progress if he routinely approaches the sacrament in this manner. The other will probably be back next year with the same list or with worse things.
3. Marriage is a sacrament received once. As such it's graces are received at once but unfold throughout married life. Hence, two are made one on the day of marriage but the couple's experience of this may vary and hopefully grow as time goes on. Through daily prayer, weekly communion, personal growth in holiness of the spouses, consistent work at their relationship, the graces of marriage will be experienced more fruitfully as time goes on. But it is also possible to stunt or hinder the fruitfulness of graces of marriage through neglect of prayer, sacraments, interpersonal growth and communication.
Sacraments therefore are not magic acts. They convey a reality, but internal disposition, worthy, mindful reception and faith are all essential factors for the sacraments to be received more and more fruitfully. Perfunctory and mindless reception yields little fruit. Devout, mindful and worthy reception yields increasing fruit. And those are the ones on whom seed was sown on the good soil; and they hear the word and accept it and bear fruit, thirty, sixty, and a hundredfold (Mark 4:20).
by Gary Zimak
I'm sad to admit that, over the course of my life as a cradle Catholic, I have received Our Lord in Holy Communion many times and didn't have too much to say to Him. It's understandable, isn't it? There are lots of important things to do after receiving Communion: we have to look around the church and see how many people we know, we have to plan what we're going to do after Mass and let's not forget that we have to read the parish bulletin to see if we're having coffee and donuts after Mass. With all of these distractions, it's easy to forget that we received the Lord and Savior of the Universe into our very bodies in a foretaste of the Heavenly banquet!
While I'm obviously using sarcasm to make a point, it really can be difficult to keep our focus after receiving Holy Communion. Since the Church teaches that there are infinite graces available after we receive Jesus, however, this isn't the best time to become distracted. But what can we do? In reality, there is a simple acronym that help you to better focus on speaking to Our Lord after receiving Him in Holy Communion. The acronym?
A.C.T.S.
Adoration, Contrition, Thanksgiving, Supplication. Generally accepted as the four types of prayer, this acronym is hardly a secret. What is not well known, however, is the effectiveness of using this method immediately after receiving Holy Communion. My wife, Eileen, has used it for years and finds it very helpful for collecting her thoughts after receiving the Eucharist. After trying it myself, I can see why she likes it …it works! Here's an example of just how simple this method of prayer can be:
Adoration - Lord Jesus, I bow down before You and give you glory. I adore and love You and acknowledge Your power over all areas of my life. I ask my Blessed Mother, Mary, to supplement my feeble prayers and give You the proper adoration and praise of which You are so deserving.
Contrition - I am sorry that MY sins caused You to die a painful death on the cross. Please forgive me, Jesus, for the times that I've failed to "do the right thing". Have mercy on me, a poor sinner.
Thanksgiving - Lord, I give You thanks for the many blessings in my life: my family, my job, my house, my friends. I thank You for the gift of the Catholic Church and her clear and infallible teachings. I thank You for the Sacraments which give me the grace that I need to lead a good and holy life, especially for the gift of Your Body, Blood, Soul and Divinity in the Holy Eucharist.
Supplication- Please help me, Lord. I am a sinner who is struggling to be good. I know that I can't do it alone and I ask for your help. Allow me to receive all of the graces possible from this reception of the Eucharist. Help me to love You more and grant me an increase in faith, hope and charity. I ask You to pour out Your blessing on my family and friends and those who have asked for my prayers.
Why not try it for yourself and see what happens? The next time you receive Jesus in Holy Communion, close your eyes (the first step in avoiding distractions) and think of "A.C.T.S". Go through the letters, one by one, and speak from your heart. I predict that you'll find yourself getting closer to Jesus than you ever thought possible!
About The Author:
Gary Zimak is the founder of Following The Truth Ministries, a lay apostolate created to assist in learning more about their Faith. He is a regular guest on EWTN Radio's "Son Rise Morning Show" and appears frequently on several other radio programs. In addition to writing for CatholicLane, Mr. Zimak hosts a daily program on BlogTalkRadio.
by Greg Laurie
"Let your light so shine before men, that they may see your good works and glorify your Father in heaven." (Matthew 5:16)
Awhile back I went to Starbucks with my friend, Marty Goetz. And Marty ordered a low-fat, decaf latte.
So I turned to him and said, "Why? Why don't you just order an empty cup and pretend to be drinking a latte?" Low-fat means all the fun is gone. And decaf means all the buzz is gone.
It can be the same way with Christians. We can be ineffective because of compromise, because of sin, which is a result of leaving our first love. We are no longer the radiant lights that we once were.
In the Sermon on the Mount, Jesus said, "You are the salt of the earth; but if the salt loses its flavor, how shall it be seasoned? It is then good for nothing but to be thrown out and trampled underfoot by men. You are the light of the world. A city that is set on a hill cannot be hidden" (Matthew 5:13–14).
What good is unsalty salt? No good at all. What good is an uncarbonated soda? Not good.
I think there are some unsalty, uncarbonated Christians out there. Have you blown your testimony because you have lost your first love and turned to sin? Have you lost your light?
Jesus had these words for the church of Ephesus, which had left its first love: "Remember therefore from where you have fallen; repent and do the first works, or else I will come to you quickly and remove your lamp stand from its place - unless you repent" (Revelation 2:5).
The principle for returning to your first love can be summed up this way: remember, repent, and repeat. Remember from where you have fallen. Repent, which means to change your direction. And then repeat: go back and do the things you once did when you closer to God.
Copyright © 2012 by Harvest Ministries. All rights reserved.
by Saint John Chrysostum
You are the salt of the earth. It is not for your own sake, he says, but for the world's sake that the word is entrusted to you. I am not sending you into two cities only or ten or twenty, not to a single nation, as I sent the prophets of old, but across land and sea, to the whole world. And that world is in a miserable state.
For when he says: You are the salt of the earth, he is indicating that all mankind had lost its savor and had been corrupted by sin. Therefore, he requires of these men those virtues which are especially useful and even necessary if they are to bear the burdens of many. For the man who is kindly, modest, merciful and just will not keep his good works to himself but will see to it that these admirable fountains send out their streams for the good of others. Again, the man who is clean of heart, a peacemaker and ardent for truth will order his life so as to contribute to the common good.
Do not think, he says, that you are destined for easy struggles or unimportant tasks. You are the salt of the earth. What do these words imply? Did the disciples restore what had already turned rotten? Not at all. Salt cannot help what is already corrupted. That is not what they did. But what had first been renewed and freed from corruption and then turned over to them, they salted and preserved in the newness the Lord had bestowed. It took the power of Christ to free men from the corruption caused by sin; it was the task of the apostles through strenuous labor to keep that corruption from returning.
Have you noticed how, bit by bit, Christ shows them to be superior to the prophets? He says they are to be teachers not simply for Palestine but for the whole world. Do not be surprised, then, he says, that I address you apart from the others and involve you in such a dangerous enterprise. Consider the numerous and extensive cities, peoples and nations I will be sending you to govern. For this reason I would have you make others prudent, as well as being prudent yourselves. For unless you can do that, you will not be able to sustain even yourselves.
If others lose their savor, then your ministry will help them regain it. But if you yourselves suffer that loss, you will drag others down with you. Therefore, the greater the undertakings put into your hands, the more zealous you must be. For this reason he says: But if the salt becomes tasteless, how can its flavor be restored? It is good for nothing now, but to be thrown out and trampled by men's feet.
When they hear the words: When they curse you and persecute you and accuse you of every evil, they may be afraid to come forward. Therefore he says; "Unless you are prepared for that sort of thing, it is in vain that I have chosen you. Curses shall necessarily be your lot but they shall not harm you and will simply be a testimony to your constancy. If through fear, however, you fail to show the forcefulness your mission demands, your lot will be much worse, for all will speak evil of you and despise you. That is what being trampled by men's feet means."
Then he passes on to a more exalted comparison: You are the light of the world. Once again, "of the world": not of one nation or twenty cities, but of the whole world. The light he means is an intelligible light, far superior to the rays of the sun we see, just as the salt is a spiritual salt. First salt, then light, so that you may learn how profitable sharp words may be and how useful serious doctrine. Such teaching holds in check and prevents dissipation; it leads to virtue and sharpens the mind's eye. A city set on a hill cannot be hidden; nor do men light a lamp and put it under a basket. Here again he is urging them to a careful manner of life and teaching them to be watchful, for they live under the eyes of all and have the whole world for the arena of their struggles.
by Dr. Jack Graham
"You are the salt of the earth, but if salt has lost its taste, how shall its saltiness be restored? It is no longer good for anything except to be thrown out and trampled under people's feet."

"You are the light of the world. A city set on a hill cannot be hidden. Nor do people light a lamp and put it under a basket, but on a stand, and it gives light to all in the house. In the same way, let your light shine before others, so that they may see your good works and give glory to your Father who is in heaven." Matthew 5:13-16
Many years ago, England's leader Oliver Cromwell was looking for silver to feed the economy of Britain. So he called some of his leaders together and said, "Let's put some more silver in circulation to boost the economy!"
The leaders responded, "Sir, the only silver that remains in England is the silver in the statues of the saints, which are in the churches!"
So Cromwell stood up and said, "Well, then melt down those saints and put them in circulation!"
That's exactly what needs to happen to followers of Christ, God's saints, today. The church needs to get into circulation for our Lord where God has put us. We need to be the salt and light that God has called us to be to a world living in darkness!
So here's a little exercise I want you to do: Take a pen and a piece of paper, and make a list answering the question, "Who am I?" Your list may include "husband," "wife," "son," "daughter," "worker," "boss," "volunteer," etc.
Then, to the right of each item on your list, write down how you are being salt and light for the Lord in that particular category. How do you do ministry in your role as a spouse? As a sibling? As a parent? Or in the workplace?
Once you begin to answer that question, you'll start to understand how you can make a bigger impact for Christ in every area of your life!
EXAMINE YOURSELF TO SEE HOW YOU CAN BETTER REACH OTHERS FOR CHRIST IN EACH AREA OF YOUR LIFE.
Source: Power Point Devotional
by RC Sproul
Scripture: Matthew 20:24-28
"Whoever would be first among you must be your slave, even as the Son of Man came not to be served but to serve, and to give his life as a ransom for many" (Matthew 20: 27-28).
The other ten disciples cannot believe that James and John would ask to sit at the right hand and left hand of Jesus and become "indignant" toward the two brothers (Matt. 20:24). This feeling is not entirely unbecoming to a follower of Jesus, if the other members of the Twelve are upset because James and John fail to practice the humility Christ has commended in His followers (18:1-4). It does not seem, however, that their anger is provoked by the failure of James and John to obey Jesus; rather, they are perturbed because the two disciples have been trying to take glory for themselves without sharing it with the others. After all, Jesus gathers the entire group together in today's passage to describe the greatness of service, something only James and John would need to hear if the other ten disciples had the proper motivation for their indignation. At this point, position is what all of Christ's disciples are seeking.
To seek one's greatness and power, Jesus tells us, is at odds with kingdom values (Matt. 20:25-28). Gentiles lord their authority over one another, a reference to the Roman system where humility was a vice and might was always right. On the other hand, God's children serve one another. Greatness is found in putting others first and in seeking the welfare of others above one's own (see Phil. 2:1-11). John Chrysostom comments, "Loving the first place is not fitting to us, even though it may be among the nations. Such a passion becomes a tyrant. It continually hinders even great men" (Homilies on the Gospel of Saint Matthew, 65.4). In the kingdom, the last are first and the first are last (Matt. 20:16).
Christians are servant-leaders because that is how their Master operates. He came to serve and give His life "as a ransom for many" (v. 28). Certainly, we cannot give our lives for others precisely as Jesus did since we cannot atone for sin. Yet we can imitate Christ's service by not clutching tightly to any "rights" we think are ours, letting them go for the sake of another's good. Like Jesus, we are able to see others as friends, not worthless subjects (John 15:13-15). We are not to think ourselves above "menial" tasks (13:1-17). Whatever it may look like in our lives, the only way to be great is to put the needs of others above our own.
Coram deo: Living before the face of God
Matthew Henry writes, "It is the duty of Christ's disciples to serve one another, for mutual edification." A true leader leads by example, never asking others to do something that the leader is unwilling to do himself. He does not seek leadership in order to have power and authority over others, he leads in order to do good for other people. Is the leadership function you perform, no matter how large or small it might be, characterized by such service?
For further study:
Psalm 84:10
Source: INTO the WORD daily Bible studies from TableTalk Magazine, Matthew Studies.
Copyright © 2008 by Ligonier Ministries.
Laura MacCorkle, Crosswalk.com Senior Editor
When we choose to be a servant, we give up the right to be in charge. There is great freedom in this. . . . When we choose to be a servant, we surrender the right to decide who and when we will serve. We become available and vulnerable. —Richard Foster, Celebration of Discipline
When I first read the words "available and vulnerable" in the above quote, my mind immediately went to what a personal ad might say. But in this case, it would be a "personal servant ad" in the fictitious Ministry Daily News . . .
AVAILABLE AND VULNERABLE . . .
SWF seeks 24/7 ministry opportunities. Creative, outgoing, loves serving the King of Kings. Leadership skills in abundance, but also comfortable as a team player in group settings. Local projects a plus, but will consider long-distance. No task too menial or small. Money, time and personal agenda not a problem. Ready to sacrifice and serve at a moment's notice. Acclaim and reward not required.
If only that were accurate, right? What seems to stand in the way of me living a life of true service and being "available and vulnerable" like this is me. I'm not unlike James and John who also struggled with what it means to serve Christ:
Then James and John, the sons of Zebedee, came to him. "Teacher," they said, "we want you to do for us whatever we ask." "What do you want me to do for you?" he asked. They replied, "Let one of us sit at your right and the other at your left in your glory" (Mark 10:35-37).
They wanted the acclaim and the visibility. But what they didn't get at this point is what is required in Christian service: sacrifice.
"You don't know what you are asking," Jesus said. "Can you drink the cup I drink or be baptized with the baptism I am baptized with?" "We can," they answered. Jesus said to them, "You will drink the cup I drink and be baptized with the baptism I am baptized with, but to sit at my right or left is not for me to grant. These places belong to those for whom they have been prepared" (Mark 10:38-40).
Only Christ could bear the wrath of God's judgment and die in our place on the cross. Only his blood could atone for our sins. As Christ followers, James and John shared in his sufferings (as do we all). But their places of honor would be determined by God.
Instead, whoever wants to become great among you must be your servant, and whoever wants to be first must be slave of all. For even the Son of Man did not come to be served, but to serve, and to give his life as a ransom for many"
(Mark 10:43-45).
Some of us might say, "Oh, but I love to serve!" and "I have a servant's heart!" or "I serve whenever I can!" And perhaps we truly do. Or, perhaps we only serve when it feels right, when the popular people are asking us to or when it works out with our schedule or when it is for a cause that is "big" or involves traveling to an exciting destination. See how we can easily place these perimeters and try to control when and how and whom we serve? I do it, too. If I'm serving, then it's going to be on my terms.
But that's not true service . . .
"Now that I, your Lord and Teacher, have washed your feet, you also should wash one another's feet. I have set you an example that you should do as I have done for you. I tell you the truth, no servant is greater than his master, nor is a messenger greater than the one who sent him. Now that you know these things, you will be blessed if you do them" (John 13:14-17).
Washing someone's feet. Think about it. That is truly making yourself available and vulnerable—especially if the condition of the feet are rank and unpleasant to behold. To me, foot washing represents the task that I don't want to do. It's the ministry opportunity for the person who drives me nuts. It's the service project that cuts into my "more important" appointments. It's the mission of mercy that will cause my finances to be stretched beyond my comfort zone or will require me to give up some of my belongings to someone else. By and large, it's something that in my flesh I just don't want to do.
True service is not a feeling, but an act of submission . . . a way of life that is patterned after Jesus Christ. Will you give of yourself and make yourself available and vulnerable today? Let's learn to serve our Savior as he has served us.
Intersecting Faith & Life:
If you are ready to serve like this—if you are ready to let go and quit gripping so tightly to your life—then ask God to present an opportunity to you right now. Ask him to open your ears, eyes and heart so that you will recognize and accept however he is calling you to be available and vulnerable.
Further Reading:
"Rise" by Robbie Seay Band

Slow down, be still
Let go, we will
Be here, be now
Slow down, be still


Breathe in, refill
Be here, be now
If you choose to love
To know that the call
Is to give all you are


To give love away, away
Rise, rise, people of love rise
People of love rise, give yourself away
Rise, rise, people of love rise
People of love rise, give yourself away
Give yourself away, give yourself away

Slow down, just breathe
Be still, believe
Be here, be now
Slow down and see
It's all you need
Be loved and free

And to hear the call, is to give your love away
And to hear the call, is to give your love away
And to hear the call, is to give your life away
Is to give your life away

We're not safe, we're not safe
But we will rise.
Source: The Crosswalk.com Devotional. Laura MacCorkle is Crosswalk.com Senior Editor.
By Ryan Duncan
Whoever wants to become great among you must be your servant, and whoever wants to be first must be slave of all. For even the Son of Man did not come to be served, but to serve, and to give his life as a ransom for many. - Mark 10: 43 – 45
Sometimes, I get restless. I went to college at Taylor University, a small Christian school in the middle of Cornfield, Indiana. Though Taylor wasn't very big, it strove to serve Christ, and encouraged its students to impact the world for God. During the January term, when you could sleep all day and goof-off all night, Taylor offered something called Lighthouse Missions. Instead of wasting their brief vacation, students became a part of service-learning projects that allowed them to share Christ with a world in need.
When Spring Break came around, and the beaches of Florida were calling, it sent students everywhere from Russia to the neighboring town of Grant County, where they engaged in housing projects, orphan care, and outreach. It was tough giving up those precious vacation days, but it felt good to know you were serving Christ. Unfortunately, after graduation opportunities like these are harder to come by. With a forty to fifty-hour work week, not to mention budgeted money and vacation time, jetting off to some foreign location isn't something you can just do.
I can remember sitting in church, boiling with frustration because I couldn't just go do something like I had in college. God clearly has a sense of irony, because at that moment the pastor stood up and asked for volunteers to help pack up after the service. My problem? I had become the "wealthy giver." Not sure what I mean? Read this story in Mark 12:
Jesus sat down opposite the place where the offerings were put and watched the crowd putting their money into the temple treasury. Many rich people threw in large amounts. But a poor widow came and put in two very small copper coins, worth only a fraction of a penny. Calling his disciples to him, JesSmentsid, "I tell you the truth, this poor widow has put more into the treasury than all the others. They all gave out of their wealth; but she, out of her poverty, put in everything--all she had to live on." – Mark 12: 41-44
It's amazing how serving Christ can easily become something selfish. I was only interested in serving if it was on my terms, and because of that I let a lot of opportunities pass me by. The truth is that volunteering for a church nursery could be just as important in God's eyes as building houses in another country.
An old professor once told my class that the kingdom of God is built on willing hearts. When we choose to follow God, we are laying the bricks of his kingdom, and creating a sturdy foundation for others to stand on. So get involved, and if you feel God leading you toward a big opportunity, take it. But don't be too proud to serve in the small places. Sometimes it's the little things that make all the difference.
Intersecting Faith and Life
What opportunities does your church offer for serving? Take a moment to look them over and see if one is good for you. Churches are always looking for volunteers to help with children and young adults.
Further Reading
Philippians 2:1-4
Source: Crosswalk.com - The Devotional. Ryan Duncan is Editor for TheFish.com
by James MacDonald
For what we proclaim is not ourselves, but Jesus Christ as Lord, with ourselves as your servants for Jesus' sake. For God, who said, "Let light shine out of darkness," has shone in our hearts to give the light of the knowledge of the glory of God in the face of Jesus Christ. But we have this treasure in jars of clay, to show that the surpassing power belongs to God and not to us. - 2 Corinthians 4:5-7
Have you noticed that contemporary culture teaches us to disrespect things that are ordinary? If it's not special, if it's not superior, if it's not flashy, then we think that it doesn't matter. You know I wonder, is that what God really wants for our life? Does God want us to be prominent people? Is there anything wrong with being an ordinary person living a faithful life? Much of the aberrant teaching within Christianity reinforces this notion that somehow we've got to do something big, we've got to do something special, we've got to get our name in lights in order to make our life count.
So, I want to look at the life of an ordinary guy in the Bible. And as I've studied, I am convinced that King David falls into that category. Do I hear you starting to argue with me? Are you thinking, "David - ordinary? What are you talking about? He was amazing." Think again. David wasn't exceptional. David was an ordinary person. Trust me when I say, if there was anything that was noteworthy in his life, it wasn't about David at all - it was God.
So you're thinking to yourself, "That's it? We're all just ordinary? I'm not extraordinary?" I've got good news: You're not - but God is.
That's the bigger message of David's life. When Samuel got the word from God that David was His man for the throne, " . . . Then Samuel took the horn of oil and anointed him in the midst of his brothers. The Spirit of the LORD rushed upon David from that day forward" (1 Samuel 13). God was the one who carried David into extraordinary events. Every time you go, "Wow," - just remember, it's God working in David. That's the thing that was exceptional about him.
Here's the key to an extraordinary life, ". . . Not by might, nor by power, but by my Spirit, says the LORD of hosts . . ." (Zechariah 4:6). If God uses us, it's not about what we bring to the table at all; the extraordinary thing is always, always, always God.
Ordinary you; extraordinary God.
Journal:
• Have I ever realized that every talent or ability I have comes from God?
• What am I most proud of accomplishing? Who really should get the credit?
Prayer:
Heavenly Father, I must confess that in this area, I tend to rely on my own strength. I am sorry that when I pat myself on the back for a job well done, I am really taking Your glory. Help me to give you all the glory, recognizing that it is You who takes my ordinary self and does extraordinary things. In Jesus' name, Amen.
Source: Our Journey Online
by James MacDonald
So we do not lose heart. Though our outer nature is wasting away, our inner nature is being renewed day by day. For this slight momentary affliction is preparing us an eternal weight of glory beyond all comparison, as we look not to the things that are seen but to the things that are unseen. For the things that are seen are transient, but the things that are unseen are eternal. - 2 Corinthians 4:16-18
Over and over again in Scripture, we get to see just how regular King David was. His faith was ordinary, his friends were ordinary, his failure was ordinary. The only thing amazing about him - was God. God was extraordinary through David. We're a lot like David. We're all just regular people, living pretty regular lives, with regular gifts and abilities. But God wants to do phenomenal things through us even in our "regular-ness."
Sometimes we think extraordinary is all about the big stuff. You know - the crisis, the colossal, the cataclysmic. But today, we will focus an ordinary problem from David's life: death. Everyone is going to die eventually, yet most people live like it's not coming.
Well, it's coming. And David had to face this very ordinary problem just like the rest of us. "When David's time to die drew near, he commanded Solomon his son . . ." (1 Kings 2:1a).
Did you notice where David's last words were directed? To his son, Solomon. He said, in essence, Be faithful to the Lord. Walk in His ways. The older you get, the more concerned you are about what you're leaving behind you. I'm not talking about things.
What else could you want? What else could there be in life but to live for God and serve and work for Him and then to go be with Him forever?
If there's one thing I've learned is that David was just an ordinary guy; he wasn't proud of every chapter in his book. He didn't delight in everything on every page, but when he fell, he got up again. Think back to one of David's more famous Psalms where he writes, " . . . though I walk through the valley of the shadow of death, I will fear no evil." Why? Because "You are with me." That's the summary of David's life right there. God was with him. At the end of the day, that's the life we have to pursue. An ordinary life lived for God in His strength equals extraordinary.
Don't spend another moment working to show people how important or special or somehow unique you are. By faith, believe that as a regular person, if anything praiseworthy or lasting or eternal comes from your life, it will be because of what God has done in you and through you.
Journal:
In what ways is God trying to use me in spite of my "regular-ness?"
Am I actively seeking ways to serve the Lord with my life? If not, why? What is holding me back?
Prayer:
Father, thank You that You use me in Your kingdom. I feel so unworthy and incapable sometimes. Forgive me for believing that lie and continue to perfect me as I totally surrender to You in Your service. Help me believe, as David did, that You truly are always with me. In Jesus' name, Amen.
Source: Our Journey Online
by Erik Raymond
I recently went to see the summer blockbuster movie, The Avengers with my son. As expected it lived up to the hype in terms of graphics, stunts, and even to some extent, a compelling storyline. These seemingly normal people are given extraordinary abilities as they become superstars and are enabled to save the world against extraterrestrial attack.
Let's face it, we like super-heroes. We like the idea of having people living among us who are endowed with the powers and compelled by a willingness to save us from our greatest danger. We have an innate insecurity that is skillfully quieted by our ability to pretend that we are ok. The stories of super-heroes relate to our insecurities and then lull us back to sleep by captivating our imaginations. It's smart business.
Now think with me about the church and her mission.
We are a group of people who want to press hard upon the insecurity of humanity in light of their biggest need. We want to show that apart from Christ all humanity is hungry and hurting. They are hungry because apart from Christ nothing will truly satisfy the hungry soul. They are hurting because they are continuing to suffer the fallout of fractured relationship with their Creator. This is expressed by guilt, shame, insecurity, depression and anger (to name a few). This translates into fractured relationships with others and is characterized by the same footprints.
The bottom-line is that the world and all of the people in it are truly broken apart from Christ. Furthermore, apart from Christ the greatest danger we will face is not invasion from a transcendent alien but from a transcendent God who will judge each man according to his work. The greatest enemy to the human being is human sin. The wages of sin is death (Rom. 6:23) and it will come in terms of physical death and ultimately eternal death in hell, apart from Christ.
Once this wound of insecurity is reopened the church, unlike Hollywood, cannot lull us back to sleep with magic hammers or green giants. Instead it comes with the message of how weak people may find redemption and rest.
Think about it, the church is not made up of spiritual avengers. We are not mind-blowing, off-the-charts in awesomeness, and excelling in cool.
The Apostle Paul knew in his day of the potential to covet the "wow" factor. He reminds the Corinthians of their pedigree:
"For consider your calling, brothers: not many of you were wise according to worldly standards, not many were powerful, not many were of noble birth."
(1 Corinthians 1:26)
Far from being the ballyhooed group of superstars the church is made up of the unwise, weak people born into a bunch of no-name families from nowhere.
According to Scripture, God has done this intentionally. Why is this?
"But God chose what is foolish in the world to shame the wise; God chose what is weak in the world to shame the strong; God chose what is low and despised in the world, even things that are not, to bring to nothing things that are, so that no human being might boast in the presence of God." (1 Corinthians 1:27-29)
God humbles the pride of the wise so he can alleviate boasting in self (humility) and bring about boasting in God (worship).
So that, as it is written, "Let the one who boasts, boast in the Lord."
(1 Corinthians 1:31)
The point of using weak people is to showcase the power of God. The gospel brings us low so that we can rest upon Christ. The gospel declares that the infinitely powerful God came into the world in the form of a weak baby. He lived in a perfectly holy life of obedience in submission to the Law of God. All of this He did for law-breaking rebels like me and you. Then He went to the cross to suffer the punishment and wrath due those same enemies. Finally, after winning our righteousness, acceptance, forgiveness and life, He rose victoriously from the grave for us!
If, after all of this, we are still thinking that we have something to offer God or something to boast in then Christ will not be boasted in, this Jesus will be of little value (Galatians 2:21). Instead, the right response is to come to Christ, trusting in His work and treasuring Him for His worth.
The church then, being made up of weak, unspectacular, and ordinary people, marches around the world proclaiming the message of how we may be delivered from our greatest enemy. Instead of flattering us the gospel flattens us, but only that we may rise and boast in Christ.
About The Author:
Erik Raymond is pastor at Emmaus Bible Church in Omaha, Nebraska. He and his wife, Christie, have six children. You can read his blog at OrdinaryPastor.com .
Source: Christianity.com Daily Update
by Whitney Hopler
God has made you and your spouse two completely different people, and the many differences between you can prove frustrating when you're struggling to understand each other. But if you accept the differences between you and learn how to work with them effectively, you can build the close marriage God wants you and your spouse to enjoy. Here's how:
Choose to stay in your marriage.
It's tempting to give up on a difficult marriage, but if you honor your marriage vows you made to God by remaining committed to your spouse, you can count on God to give you the grace and wisdom you need to grow in your marriage. So put a stop to fantasies about leaving your marriage and finding a new spouse who is just like you (no one exists who is just like you, anyway). Instead, decide to invest your time and energy into building a stronger marriage with your current spouse by working through your differences together.
Strengthen yourself spiritually.
Prepare for the challenges of making changes to your marriage by strengthening your soul through spiritual disciplines. Saturate your mind with the Bible's wisdom, pray about your marriage and listen to the Holy Spirit's response, and meet with a spiritual mentor who will support you on your journey toward a better marriage.
Adjust your attitudes.
Make some crucial changes in the way you think about your marriage and the way you'll choose to relate to your spouse from now on: Accept that you may never agree on some issues. Be flexible and willing to compromise. Look to God alone to meet your deepest needs, realizing that only God (who is perfect, unlike your human spouse) can truly meet those needs. Invest in healthy friendships with a few same-gender people so you release more pressure from your spouse to meet more of your relationship needs than is reasonable. Decide to communicate directly, clearly, and honestly with your spouse about everything, rather than expecting him or her to read your mind. Choose to focus on what's positive about your spouse rather than on what's negative about him or her, and speak well of your spouse to others. Reflect on your past conflicts and ask God to show you what He wants you to learn from them so you can work through your disagreements more successfully in the future. Put your hope in God, trusting him to improve your marriage if both you and your spouse are willing to make the effort, and knowing that God will help you grow into a stronger person no matter what your spouse decides or what happens to your marriage.
Accept your spouse.
Ask God to help you accept your spouse as He does, respecting the unique way that God has created your spouse and loving your spouse unconditionally. Keep in mind that the differences between you and your spouse don't mean necessarily mean that you're right and he or she is wrong – you each just have unique personalities and perspectives. Your differences can complement each other if you work from a foundation of mutual love and respect.
Identify the key changes you hope to see happen your marriage.
Think and pray about which differences between you and your spouse cause the most tension in your marriage. Then choose the top three areas and work with your spouse to try to reach compromises in those three areas to make both of you happier in your marriage.
Work well with each other's family differences.
Get to know how your spouse's family of origin has affected his or her approach to your marriage so you can better understand why he or she acts in certain ways. Rather than setting up household roles the way they were in the homes that you and your spouse grew up in, set them up in whatever ways work best for the two of you in your unique marriage. Pray and get counseling together for healing from past family pain that is negatively affecting your marriage. Work together to take the pressure of unrealistic extended family expectations off of your marriage by setting up boundaries with them to protect your marriage from unnecessary stress.
Understand and appreciate the gender differences between you that God has designed.
God has created male and female brains to work differently, and He has also given men and women distinctly different emotional needs. Respect God's design and learn how to use the gender differences between you and your spouse in the way God intends: to complement each other so that you're better together than apart.
Discuss your top relationship needs.
Work with your spouse to figure out which of these common needs matters most to each of you: affection, sexual intimacy, attention, admiration, companionship, encouragement, respect, honesty and openness, domestic support, and spiritual connection. Then talk about how you all can do a better job of meeting the prioritized needs in your marriage.
Improve the communication between you.
Better communication will help you both understand each other better, despite the differences between you. Learn how to listen carefully to each other and take turns sharing thoughts and feelings honestly and clearly with each other. Avoid negative words and choose positive words whenever possible. Offer each other words of affirmation, appreciation, praise, and encouragement often.
Handle conflict successfully.
Conflict is a natural part of every marriage, so expect it rather than getting discouraged about it. Learn how to work through conflict successfully by focusing on solutions to problems rather than winning arguments, using your anger for constructive purposes rather than destructive ones, listening respectfully to each other's different points of view, avoiding unhealthy behaviors such as blaming and name-calling, and staying focused on what specific problem you and your spouse are trying to solve.
Agree on how to manage your money well.
Seek to understand each other's different perspectives on money. Work together to establish and follow a budget that reflects healthy financial stewardship of the money God has given you both to share.
Pray for help if you're not on the same page spiritually.
If you're close to Jesus and your spouse isn't, ask the Holy Spirit to empower you to be the best possible witness to your spouse to inspire him or her to grow spiritually.
Build a healthy sex life together.
If you and your spouse have different sexual expectations or different levels of desire, talk together about what would help bring you closer together and work with a marriage counselor if you need more help.
Editor's note:
Adapted from "Why Can't He Be More Like Me?: 9 Secrets to Understanding Your Husband," copyright 2012 by Poppy Smith. Published by Harvest House Publishers, Eugene, Or., http://harvesthousepublishers.com/.
Poppy Smith is the author of three books, including the bestselling "I'm Too Young to Be This Old." A teaching leader with Bible Study Fellowship for several years, she now ministers extensively as a retreat and conference speaker both in the United States and around the world. She has a master's degree in spiritual formation and direction from George Fox Seminary. Visit her website at http://www.poppysmith.com/.
by Barbara Rainey
Husbands ought also to love their own wives as their own bodies. He who loves his own wife loves himself. EPHESIANS 5:28
See if you can spot the problem in this couple's relationship:
The first few years of our marriage were good, but the sweet talk and little whispers in the ear diminished, and we became just another married couple. My husband, however, still wanted all the perks that go with marriage. I began to resent his touch because I didn't feel like he really loved me, just my body. I remember after making love with him on occasion, I would cry because I felt cheap and used. He, of course, was angry because he knew this wasn't the way a marriage was supposed to be. Stalemate. Sexual impasse. But is it just a matter of misunderstanding and unmet expectations? Insensitivity and selfishness?
Keep reading.
I'm finding my physical desire for sexual intimacy dwindling. But I would still love to be romantically head-over-heels in love with my husband like I once was. I would love to have him touch my heart. The sad thing is, we just don't really have a spiritual link between us.
Ah, there it is. Underneath all the surface issues, beneath all the uncomfortable moments and silent frustrations, lies the deep spiritual need that resides in every one of us. Far too many husbands fail to recognize that what your wife wants and needs most from you is your concern for her soul—your daily desire to take her needs before the Father and unite with her in shared dependence on Him.
When you step up and take your place as the spiritual leader in your family, you create an environment where bitterness can't easily survive but where relationship and romance can grow.
DISCUSS
Talk about how you can truly lead your wife spiritually. Ask what it looks like to her. Then take her hand and pray for one or two of her needs.
PRAY
Husbands, pray for the courage to keep leading spiritually, even though you won't do it perfectly. Wives, pray that your husband will be encouraged as he leads you and your family spiritually.
Source: Moments with You
by John MacArthur
According to the Bible, God himself ordained the family as the basic building block of human society, because He deemed it "not good that man should be alone" (Genesis 2:18). That verse stands out starkly in the biblical creation narrative, because as Scripture describes the successive days of the creation week, the text punctuates each stage of creation with the words, "God saw that it was good" (Genesis 1:4,10,12,18,21,25). The goodness of creation emerges as the main theme of Genesis 1, and the statement "God saw that it was good" is repeated again and again, like the refrain after each stanza of a lengthy song. Then finally, after the sixth day of creation, we're told with emphasis, "God saw everything that He had made, and indeed it was very good" (italics added).
But then Genesis 2:18 takes us back to the end of day six and reveals that just before God ended His creative work, just one thing was left that was "not good." Every aspect of the entire universe was finished. Each galaxy, star, planet, rock, grain of sand, and tiny molecule was in place. All the species of living things had been created. Adam had already given "names to all cattle, to the birds of the air, and to every beast of the field" (v. 20). But there was still one glaring unfinished aspect of creation: "For Adam there was not found a helper comparable to him" (v. 20). Adam was alone, and in need of a suitable mate. Therefore God's final act of creation on day six — the crowning step that made everything in the universe perfect - was accomplished by the forming of Eve from Adam's rib. Then "He brought her to the man" (Genesis 2:22).
By that act, God established the family for all time. The Genesis narrative says, "Therefore a man shall leave his father and mother and be joined to his wife, and they shall become one flesh" (v. 24). Jesus quoted that verse in Matthew 19:5 to underscore the sanctity and permanence of marriage as an institution. The same verse is quoted practically every time two believers are united in a Christian marriage ceremony. It is a reminder that marriage and the family are ordained by God and therefore sacred in His sight.
So it is no mere accident of history that family relationships have always been the very nucleus of all human civilization. According to Scripture, that is precisely the way God designed it to be. And therefore, if the family crumbles as an institution, all of civilization will ultimately crumble along with it.
Over the past few generations, we have seen that destructive process taking place before our eyes. It seems contemporary secular society has declared war on the family. Casual sex is expected. Divorce is epidemic. Marriage itself is in decline, as multitudes of men and women have decided it's preferable to live together without making a covenant or formally constituting a family. Abortion is a worldwide plague. Juvenile delinquency is rampant, and many parents have deliberately abandoned their roles of authority in the family. On the other hand, child abuse in many forms is escalating. Modern and postmodern philosophies have attacked the traditional roles of men and women within the family. Special interest groups and even government agencies seem bent on the dissolution of the traditional family, advocating the normalization of homosexuality, same-sex "marriage," and (in some cultures nowadays) sterilization programs. Divorce has been made easy, tax laws penalize marriage, and government welfare rewards childbirth outside of wedlock. All those trends (and many more like them) are direct attacks on the sanctity of the family.
These days whenever families are portrayed in films, television dramas, or sitcoms, they are almost always caricatured as grossly dysfunctional. Someone recently pointed out that the only television "family" who regularly attend church together are "The Simpsons" — and they are cartoon exaggerations deliberately saddled with the worst imaginable traits, designed mainly to mock and malign both church and family. It's no joke, though. A relentless parade of similarly dysfunctional assortments of people assaults us on television and in the movies. Hollywood has defined a broad new meaning for the word family.
Meanwhile, traditional nuclear families with a strong, reliable father and a mother whose priorities are in the home have been banished from popular culture, made to feel as if they were the caricature.
Although many Christian leaders have been passionately voicing concerns about the dissolution of the family for decades, things have grown steadily worse, not better, in society at large. Secular social commentators have lately begun to claim that the traditional nuclear family is no longer even "realistic." An article published not long ago by the on-line magazine Salon said this: "The 'ideal' American family — a father and a mother, bound to each other by legal marriage, raising children bound to them by biology — is a stubborn relic, a national symbol that has yet to be retired as threadbare and somewhat unrealistic."¹ The nuclear family simply won't work in 21st-century society, according to many of these self-styled "experts."
I know those voices are wrong, however, because I have witnessed literally thousands of parents in our church who have put into practice what the Bible teaches about the family, and they and their families have been greatly blessed for it.
As society continues its mad quest to eliminate the family, and as our whole culture therefore unravels more and more, it becomes more important than ever for Christians to understand what the Bible teaches about the family, and to put it into practice in our homes. It may well be that the example we set before the world through strong homes and healthy families will in the long run be one of the most powerful, attractive, and living proofs that when the Bible speaks, it speaks with the authority of the God who created us — and whose design for the family is perfect.
¹Amy Benfer, "The nuclear family takes a hit" (7 Jun 2001), Salon.com.
Excerpted from The Fulfilled Family © 2005 by John MacArthur. All rights reserved.
Source: Grace to You.
by Whitney Hopler
Jesus said that we would all have trouble in this fallen world. So we expect suffering to enter our lives, but when it does, we often try to get through it as fast as possible rather than asking God what we can learn from it.
If you choose to embrace your suffering rather than running from it, your pain can turn to praise as God brings good purposes out of the suffering he has allowed into your life. Here's how you can respond to suffering by inviting God to turn your pain into praise:
Offer your suffering to God.
Rather than pleading with God to take your suffering away, view it as a gift that God has allowed to come to you so you will seek Him more and experience His grace in deeper ways. Keep in mind that the same thing that evil forces may intend to destroy you can become what leads you to experience more of God's blessings in your life. What will determine whether your suffering leads to negative or positive results in your life is how you respond to it. Decide that you will respond to any type of suffering - from illness, grief, broken relationships, financial problems, depression, etc. - by surrendering it to God in prayer, asking Him to use it for good in your life and trusting Him to do so.
Invite Jesus to help you through life's storms.
Jesus experienced the depths of human suffering during His time on Earth, so He knows what you're going through. Jesus chose to go through extreme suffering on the cross to pay for people's sins, so He cares about what you're going through. Realize that while you're dealing with the storms of suffering, Jesus is available to go through them with you, giving you the peace you need in the midst of the storms and guiding you wisely through them. Connect with Jesus frequently through prayer as you're going through storms to gain the perspective and help you need.
Know that Jesus is praying for you.
You can trust Jesus, because He has prayed for you to trust Him - and He prayed that before He died for your sins and before you were born. Today, Jesus continues to pray for you in heaven. You can rest assured that Jesus will take whatever weakness that you entrust to Him and infuse it with His strength so you can grow through suffering.
Expect God to redeem your suffering.
Let your suffering help you see your need for a Savior, and keep in mind that your personal story of suffering is part of the greater story of how God is redeeming the world through Jesus. Give your lost causes, hopeless situations, and broken dreams to God, and expect Him to redeem them somehow, because He wants the best for you.
Embrace God's kindness to you.
God loves you unconditionally, and He kindly offers you mercy, despite your sins. Feel free to come to Him just as you are. Expect Him to warmly welcome you and give you all the grace you need to overcome the suffering in your life.
Confess and repent of your sins to begin receiving healing from God.
Whenever you recognize a connection between your suffering and some type of sin in your life, confess that sin in prayer to God, and turn away from it completely. By doing so, you invite God to start healing you of the damage that sin has caused in your life.
Be confident that your suffering won't prevent God from accepting you or using your life.
Rest assured that God has accepted you because of Jesus Christ's sacrifice for you on the cross, and nothing that you suffer can ever change that fact. Rejoice that, not only will your suffering not disqualify you from serving God, but the specific ways in which you've suffered can actually become the greatest ways in which God can use your life to help redeem the world. When you suffer in a certain area of your life, you develop compassion for other people who are also suffering in that area (for example, you can care more about cancer patients after you've overcome cancer yourself). If you respond to your suffering by offering it to God to transform into something He will use to bless others, you may find that your greatest ministry grows out of your deepest suffering.
Trust God even when people betray you.
When people you had once thought you could trust betray your trust, you need to set boundaries with them to protect yourself until they earn back your trust (if they ever do). But you can still live in faith, even when people have betrayed you, because God is always trustworthy and you can choose to trust God in any situation - even those involving difficult people. Ask God to take what people intended for evil and use it to accomplish something good in your life.
Overcome your regrets.
Although there are consequences to the choices that you've made in the past, God is always willing to forgive you for your mistakes and help you learn from them. Be honest with God about your regrets and ask Jesus to help you move forward with the peace that only He can give.
Remember that God will complete the good work He has begun in you.
Healing from suffering is a process. Ask the Holy Spirit to help you be patient throughout the healing process, however long it takes. Trust in God's promise to complete the healing work that He begins in you.
Live in ways that will help other people seek God in their own suffering.
Ask God to empower you to live with integrity and love, so you'll inspire others to learn more about your faith. When people ask about your faith, tell them stories about how God has helped you overcome suffering by turning your pain to praise. Show others who are suffering that God's love is stronger than any pain.
Editor's Note:
Adapted from 'Songs in the Night: How God Transforms Our Pain to Praise,' copyright 2011 by Michael A. Milton. Published by P&R Publishing, Philipsburg, NJ, www.prpbooks.com.
Michael A. Milton is the host of the national Bible teaching television program 'Faith for Living.' He is the author of numerous books and articles and is currently Chancellor and CEO elect of Reformed Theological Seminary and the James M. Baird Jr. Professor of Pastoral Theology, there.
Source: Live It devotional
by John Piper
Christian Hedonists embrace necessary sorrow for the glory of God. On the one hand, we are utterly committed to pursuing joy in God at all times. But on the other hand, we know there is more to the emotional life of godly people than joy. Joy is not the only good emotion. But without delight in God, no emotion would be good. Either as component or the concomitant of all godly emotions, it is joy in God that makes them good.
Consider sorrow. Neither Jesus nor the Holy Spirit has ever sinned. But both have grieved. Both have been sorrowful. Therefore, godly sorrow is possible.
Not only that, godly sorrow is possible also for sinners. It is possible precisely because of our sin. One form of sorrow is sorrow for doing something wrong. So Paul writes to the Corinthians:
For even if I made you grieve with my letter, I do not regret it. . . . I rejoice, not because you were grieved, but because you were grieved into repenting. For you felt a godly grief, so that you suffered no loss through us. 10 For godly grief produces a repentance that leads to salvation without regret, whereas worldly grief produces death. (2 Corinthians 7:8-10)
At least two things govern what makes sorrow good. One is the cause, the other is the outcome. The cause of godly sorrow for our own sin is the spiritual perception of its moral ugliness, not just its negative consequences. We see it as morally repugnant. This repugnance is owing to our spiritual preference for the taste of the truth and beauty of God. Therefore our sorrow for sin is rooted in our savoring of God. Sin is a revolting flavor in the feast of godwardness. Therefore, sorrow over this is a signal that we delight in God. That is what makes the sorrow good.
The outcome of good sorrow for sin is repentance and holiness. In fact, repentance includes sorrow for sin and extends it to a more durable experience of holy living. This holy living is the outward form of delighting in God above all sin. Therefore delight in God is what makes the sorrow and repentance good.
But what about sorrow that is not for our own sin, but for the way we are sinned against or the way we are hurt by calamity and loss? Jesus sorrowed like this. For example, when he saw the Pharisees murmuring about his healing on the Sabbath, "He looked around at them with anger, grieved at their hardness of heart" (Mark 3:5). And in the garden of Gethsemane, he said, "My soul is very sorrowful, even to death. Remain here and watch" (Mark 14:34).
Jesus' sorrow was not owing to his own sin, but to the sins of others. This is the way it is with the Holy Spirit as well. Paul calls us to put sin out of our lives so that we do not grieve the Spirit: "Let no corrupting talk come out of your mouths, but only such as is good for building up, as fits the occasion, that it may give grace to those who hear. And do not grieve the Holy Spirit of God, by whom you were sealed for the day of redemption" (Ephesians 4:29-30).
In the same way believers embrace godly grief not only for our own sins but for the sins of others and for the pain that loss brings us. For example, Peter speaks of our grieving over trials: "In this you rejoice, though now for a little while, as was necessary, you have been grieved by various trials" (1 Peter 1:6). Paul speaks of our grieving over lost loved ones: "We do not want you to be uninformed, brothers, about those who are asleep, that you may not grieve as others do who have no hope" (1 Thessalonians 4:13). And Paul refers to his own grief over the lostness of his kinsmen: "My conscience bears me witness in the Holy Spirit—that I have great sorrow and unceasing anguish in my heart (Romans 9:1).
Nevertheless Paul makes the astonishing statement in 2 Corinthians 6:10 that what marks his life and should mark ours is "sorrowful, yet always rejoicing." This is what makes our sorrow godly. I do not claim that this experience is simple or that we can even put it into adequate words—what it means to be joyful in sorrow. Heaving sobs at the loss of a loved one does not look like joy. Indeed is not joy in its fullness, as we will know it when "He will wipe away every tear from their eyes, and death shall be no more, neither shall there be mourning nor crying nor pain anymore, for the former things have passed away" (Revelation 21:4).
Rather the joy that endures through sorrow is the foretaste of that future joy in God which we hope for in the future. When Jesus was "very sorrowful, even to death" in Gethsemane he was sustained by "the joy that was set before him" (Hebrews 12:2). This does not mean that he felt in the garden or on the cross all that he would feel in the resurrection. But it does mean that he hoped in it and that this hope was an experienced foretaste of that joy.
Therefore, we groan here, waiting for the redemption of our bodies and for the removal of all our sins (Romans 8:23). This groaning and grieving is godly if it is molded by our delight in hope of glory (Romans 5:2-3). The delight is muffled by the pain. But it is there in seed form. It will one day grow into a great vine that yields wine of undiluted delight.
So let us embrace whatever sorrow God appoints for us. Let us not be ashamed of tears. Let the promise that joy comes with the morning (Psalm 30:5) sustain and shape our grief with the power and goodness of God.
© Desiring God; desiringgod.com
by Oswald Chambers
"Let those who suffer according to the will of God commit their souls to Him in doing good . . ." - 1 Peter 4:19
Choosing to suffer means that there must be something wrong with you, but choosing God's will - even if it means you will suffer - is something very different. No normal, healthy saint ever chooses suffering; he simply chooses God's will, just as Jesus did, whether it means suffering or not. And no saint should ever dare to interfere with the lesson of suffering being taught in another saint's life.
The saint who satisfies the heart of Jesus will make other saints strong and mature for God. But the people used to strengthen us are never those who sympathize with us; in fact, we are hindered by those who give us their sympathy, because sympathy only serves to weaken us. No one better understands a saint than the saint who is as close and as intimate with Jesus as possible. If we accept the sympathy of another saint, our spontaneous feeling is, "God is dealing too harshly with me and making my life too difficult." That is why Jesus said that self-pity was of the devil (see Matthew 16:21-23). We must be merciful to God's reputation. It is easy for us to tarnish God's character because He never argues back; He never tries to defend or vindicate Himself. Beware of thinking that Jesus needed sympathy during His life on earth. He refused the sympathy of people because in His great wisdom He knew that no one on earth understood His purpose (see Matthew 16:23). He accepted only the sympathy of His Father and the angels (see Luke 15:10).
Look at God's incredible waste of His saints, according to the world's judgment. God seems to plant His saints in the most useless places. And then we say, "God intends for me to be here because I am so useful to Him." Yet Jesus never measured His life by how or where He was of the greatest use. God places His saints where they will bring the most glory to Him, and we are totally incapable of judging where that may be.
by Fr. Phil Bloom
Bottom line: In a human being, there is nothing more beautiful, more attractive than humility.
Today I like to talk on a central Christian virtue: humility. I'd like to begin with a humorous story. When Oscar Wilde was visiting France, he was introduced to an upcoming author, Marie Anne Bovet. She was a good writer, but plain, even homely in appearance. She noticed that Oscar Wilde was surprised when he saw her. She said, "Come on, admit it. Am I not the ugliest woman in France?" Oscar Wilde made a profound bow and said, "In the world, madam. In the world."
You know, that woman, Marie-Anne Bovet was not only a a good writer. She was beautiful in her humility - her good-natured humility. There is nothing more beautiful, more attractive than humility. I remember seeing that at my ten-year high school reunion. I was struck by one of the girls and asked myself, "Who is she?" As I got closer I recognized her. She was a girl we boys made fun of. One of her facial features was disproportionate. Now, nothing had changed about her face (no cosmetic surgery), but she now had a nice gentle smile. She looked strikingly attractive. What had happened was that she had humbly and gratefully accepted the face God gave her - and she made the best of it. And I hope that we boys had changed in ten years - that we were better able to appreciate the spring of beauty. And, really, nothing is more beautiful than grateful, good-natured humility.
Humility is like a lamp. It enables us to appreciate true beauty, to see what really matters. When Michelangelo Buonarroti was in his mid-eighties, realizing his death was near, he confided to a friend that two things made him sad. "The first," he said, "is that I have not taken more care for the salvation of my soul." Then he added, "the second thing that saddens me is to die now, when like an infant, I am barely beginning to babble the first words of my art." Michelangelo had produced immortal works such as David, Moses, the Pieta and the Sistine Chapel. They have such overwhelming beauty that they often leave people breathless. Yet, at the end of his life, he realized that even these masterpieces - in light of eternity - were like incomplete words. "I am barely beginning to babble."
By his humility before God, Michelangelo was like St. Paul. Today we hear that no one can boast before God. We are saved by grace, says Paul. Our salvation is a gift from God. In the Gospel, we have a famous verse - John 3:16 - I hope all of you know it by heart, "God so loved the world that he gave his only Son that everyone who believes in him might not perish, but have eternal life."
Ironically, the recognition that we owe everything to God is the basis for true self-esteem. Some think that self-esteem comes from doing everything just right, achieving great things - and having others acknowledge what we do. That kind of self-esteem is very fragile. If I make a mistake, if I fail in some way or if someone criticizes me, I fall to pieces. My self-esteem comes apart because it depends on something external: my accomplishments - and whether others listen to me or appreciate me.
St. Paul - and Michelangelo - point to a deeper source of esteem. Even if I do the greatest works ever seen, they are small in comparison to God and eternity. What counts is not so much what you and I do, but what God does for us. God loves us so much that he gives his only Son so that we have life in him.
A person who had this great trust in God was the Cure d'Ars - St. John Vianney. He mentioned that one day he received two letters. One of them praised him, said what a great saint he was; the other accused him of being a fake and a hypocrite. St. John Vianney commented, "The letter of praise gave me nothing. The letter of criticism took nothing from me. I am what I am in the eyes of God and nothing more."
In the eyes of God our works matter only if they express a dependence on him. And the wonderful thing is that acknowledging our sins can bring that same result: humility, reliance on God. This doesn't mean that we should keep sinning or start sinning. No: An unrepented sin can drag a person to hell. Jesus did not come to condemn, but to give life. That means returning to him, resolving to sin no more.
Every year we celebrate Palm Sunday - the inauguration of Holy Week. What we bring to Holy Week is humility - the awareness of who we are before God. In a human being, there is nothing more beautiful, more attractive than humility. Before God none of us can boast. We are saved by grace. He loves us so much that he has given his only Son.
by Fr. Robert Altier
Reading:
1 Samuel 15:16-23
Gospel:
St. Mark 2:18-22
In the first reading today, we hear something that is exceedingly important for all of us, that is, the directive of the Lord when He is teaching Saul about the situation he had gotten himself into. The Lord says to us, Obedience is better than sacrifice, and submission than the fat of rams. For a sin like divination is rebellion, and presumption is the crime of idolatry. Most of us would not necessarily think that way. Here Saul was thinking he did something great. He took all of the things that had been banned, which means they were supposed to put to death all of the sheep and the oxen (they were not supposed to take anything for themselves of the gold and silver and so on; all of that stuff would be under the ban), but what he did was to take the best sheep and the best oxen and offer them in sacrifice, basically saying, "We're going to offer this to God in thanksgiving for the victory." It sounds like a pretty good thing to do, a rather pious gesture, something that should be very pleasing to the Lord - except that it was disobedient to God. Is God going to be pleased that he offered sacrifice from the very things he was supposed to have put to death? And so even though, on the one hand, his heart was in the right place, the reality was that he was being completely disobedient.
In that disobedience, we see that there are a couple of different points. Number one, we have the point of the presumption. That is a point many of us will fall into. We just presume on God's mercy. It is the idea that "I can just go to Confession, and God will forgive me. So it's no big deal if I commit this sin; I'll just go to Confession afterwards." Well, that is presumption, and the Lord makes very clear in this reading that presumption is a sin of idolatry. So it is something we need to completely reject.
We also hear that divination is rebellion. And we also hear in the Old Testament that divination is as witchcraft, because that is what it is. When we think about that, it is a problem that people today are falling into left and right. Everybody is calling psychics on the radio and on the television to try to get information, reading horoscopes, checking out all kinds of bizarre ways of seeing if they can get some sort of knowledge. That is all divination. It is witchcraft and it is rebellion against the Lord. Yet what we wind up doing is not even assuming that it is presumption. Most people these days do not even think it is a sin! It is exactly what Saul did. It is something which is completely forbidden by the First Commandment, and it is all mortal sin. Yet people think it is perfectly all right, but it is exactly what Saul did.
We try to justify ourselves into trying to say that something which is completely wrong is okay. Why? Because we were not trying to do anything evil. "After all, I just wanted to talk to the psychic to find out what happened to this person or that person." Well, it sounds like it might be okay, but it is not. "We just wanted to find out by going to a palm reader what was going to happen with my life." It is not okay. "I just wanted my cards read; I just wanted the tea leaves looked at." It is all forbidden. These things are witchcraft; they are divination.
I am fascinated by the fact these days that Satan has come up with an unbelievable number of things just in the last few years that have never been heard of before that fall into this same category, and people are flocking to them. It is interesting if you go to the hospital these days. Try to find a Catholic chapel or ask for one, you know what you can find? People who are doing alternative healings, which are all demonic. Yet this is being encouraged. You cannot pray with anybody because you might offend somebody, but you can bring somebody in to call on your energy fields or your chakras or they can wave their hand over you and do some kind of weird form of healing. That is okay. It is okay to call on Satan, but it is not okay to pray to the Lord. This is witchcraft and it is purely demonic. You can see exactly why God would forbid it. Yet so many fall right into the category that Saul fell into. They do not have any bad intention; they were not trying to call on Satan to see if they could get healed. "After all, the person who came in to do this was real nice, so that's all that matters" - no it is not. We need to do what is right; we need to be obedient to the commandments of God.
The Lord makes very clear that obedience is better than sacrifice, that divination is rebellion and presumption is idolatry. These are sins that are multiplying greatly in our culture, and we need to make sure we do not fall into them since it is getting easier and easier to do because, as the saying goes, "everyone else is doing it" and there are so many more opportunities for it. We need to make sure that we keep our focus proper, and that we are going to serve the Lord - not the way we think He wants to be served, but according to the way He has made clear that He wants to be served - and to make sure that obedience is at the very foundation of everything we do because obedience and humility are the things that will give to God the greatest glory.
by Ashis Dey
The word surrender is often greatly misunderstood. Surrender is not about "giving up", failing at life, or the loss of anything. Surrender is one of the most beautiful experiences life has to offer, and it is much more enlightening than you can imagine.
Surrender is the gentle release of your ego's constant effort to get someone "better" than here now. It is bowing down to the Divine essence with yourself in this now moment. It is what liberates you from your ego and allows you to instantly manifest the radically joyful life that you deserve and desire.
Surrender frees you from any suffering you are experiencing...instantly! The person who can fully surrender to this moment invites in such a profound clarity that they that start realizing that they are living in paradise on Earth.
Notice what happens anytime you deeply relax and let go of everything. How do you feel about your life, relationships and your future?
The experience of letting go of the need to be in control of your life is such a huge relief. It's similar to the feeling of submerging your feet in a hot bubble bath after standing for 12 hours in uncomfortable shoes. An enormous release occurs the instant you stop pretending to be the general manager of the Universe, and open your mind to seeing and feeling the bigger plan which your soul is here for.
The sweet feeling of surrender creates the energy and space for the Universe to fill you up with what you were seeking. Through surrender, those feelings of emptiness caused by constant striving, pushing and trying to attain something better than "here now" become pleasantly filled with divine goodness. The deeper the let go, the more abundance, inner peace and joy will come rushing into your life. You will find that you are pure conscious intelligent energy at the core. Through surrender you discover what real love is, eternal peace, and deep fulfillment is. Only through surrendering can you discover the greatest experiences we can have. When you consciously surrender to God, you are essentially allowing God to guide you and support every decision you make. If you persist in thinking that you are separate, alone and must strive harder to manifest what you want in life, you are fighting God and swimming upstream. To be in control of your reality you must first surrender to God. Only through surrender can you release all energetic ego roadblocks which were hindering your path to enlightenment and the manifesting abilities that come with it.
If you cannot surrender it is because the ego is protecting itself and afraid to evolve. The ego is easily threatened and can pretend to be a spiritual warrior by covering itself in armor.
The true you is like sunlight, it needs no protection or defense. It is warm, loving, expansive light energy who's only requirement is to enjoy itself.
If you cannot surrender and feel your heart is covered in armor, you are blocking everything that is amazing from entering your life. How can love enter your body if the heart is guarded all throughout your day? The moment you choose the path of surrender, the armor falls away and all your subtle hidden shields around your heart become useless. Only in this space are you able to experience the profound state of peace that brings about your enlightenment. It is only through relinquishing the need to control, defend, manipulate and protect the heart that you can find true and total freedom on a deep soul level.
By giving yourself permission to trust in the perpetual progress and often hidden evolution of your soul's journey, you'll find God simply takes your hand and guides you directly towards that amazing life you have been yearning for. The God Source never forsakes those who trust in its perfection. By surrendering to this moment, you are trusting the entire perfection of the Universe. This empowers you to attract the experience of seeing, feeling and knowing the perfection. Only through this understanding can the Divine Awakened Being you truly are become fully realized. It is only from this space of deep 100% trust in the Perfection, that anyone has the strength of awareness to awaken.
Perhaps the best reason to learn surrender is that the all expansive trusting feeling feels soooo good in your body! Your heart relaxes, your chest releases, your mind opens and you feel a warm sensation of peace throughout every cell inside. Trust liberates your mind from its normal goal orientated approach to life, so you can start seeing the unlimited possibilities that are available here! It allows you to tap into the greatest love available to humankind! Why would you want anything else? There is no more need to struggle. You have efforted enough.
Surrender leads to trust and trust leads you into surrender. Yet, they are always three sides to every coin. What is the path between these? This is the ultimate exploration, for you will go beyond both the experience of surrender and trust. You will find it only in that silent timeless space that is free from any effort at all. It is in this timeless gap between both trust and surrender that you become enlightened. There will come a day when you'll need to drop surrender, as there is also some effort required. Instead of trying to walk along and follow the path to freedom, you have become the Path itself. This is when you will have discovered the Divine is you.
The best news of all is that practicing surrender instantly creates an incredible magic in your life. That magic is already here now and happening, yet surrender removes the blinders so that you can see and feel it again. By letting surrender take control of the steering wheel of your life, you can manifest anything you want with effortless joy and ease. Through true and total surrender to God there is no goal you cannot reach and nothing you cannot accomplish. When you turn everything over to God and trust that all is unfolding exactly as it should, all you can see is the perfection. This is where the real magic exists and makes you truly unstoppable in your spiritual journey towards the brightest life you can imagine.
by George Jacob, Ph D
Follow peace with all men, and holiness, without which no man shall see the Lord
- HEB 12:14.
The infinite holiness of God's nature vehemently hates sin. It is this same holiness which so strongly inclines His heart to show mercy. This can be seen clearly from the contrast between the righteous and the wicked. "A righteous man regardeth the life of his beast: but the tender mercies of the wicked are cruel," PRO 12:10. This cruelty reveals a wicked heart; as mercy reveals holiness.
When a person has difficulty with acts of mercy and forgiveness, the seeds of wickedness that remain hidden in the heart are revealed. We are admonished in ROM 12:21, "Be not overcome of evil, but overcome evil with good." This is only done by showing mercy and forgiveness after gaining the victory over one's own heart.
Oh, beloved, how often it seems as though our patience is spent, and we can bear no longer. Showing mercy and forgiveness seems to become impossible. Then, the only way to gain the victory over our evil heart is by, "Looking unto Jesus the author and finisher of our faith...that endured such contradiction of sinners against himself, lest ye be wearied and faint in your minds," HEB 12:2-3.
Jesus so beautifully reveals the tender mercies of our Heavenly Father in MAT 7:11, "If ye then, being evil, know how to give good gifts unto your children, how much more shall your Father which is in heaven give good things to them that ask him?" The holiness of God is demonstrated by His compassionate heart, filled with mercy.
The acts of mercy and forgiveness are the fruits which lead to peace with all men, which is holiness. A right view of God's holiness reveals His pardoning mercy, for it is His holiness that obliges Him to be faithful in all His promises. Is not this the consolation a poor trembling soul has in Christ?
The Lord uses His holiness to pledge His promises in ISA 41:14, "Fear not, thou worm Jacob, and ye men of Israel; I will help thee, saith the LORD, and thy redeemer, the Holy One of Israel." It is the holiness of God which gives us the assurance that, "All the promises of God in him are yes, and in him Amen, unto the glory of God," 2CO 1:20.
The reason for a man's unfaithfulness in a promise proceeds from some unholiness in the heart. Jacob ascribed faithfulness unto God's promises, even though he complained, "Your father hath deceived me, and changed my wages ten times; but God suffered him not to hurt me," GEN 31:7.
To the man who follows peace with all men, and holiness, without which no man shall see the Lord, "...a vile person is contemned; but he honoureth them that fear the LORD. He that sweareth to his own hurt, and changeth not," PSA 15:4.
by Nancy Leigh DeMoss
In her autobiography, Frances Jane Crosby wrote, "It seemed intended by the blessed Providence of God that I should be blind all my life, and I thank Him for the dispensation."
The doctor who destroyed her sight in her infancy never forgave himself, but there was no room in Fanny's heart for resentment. "If I could meet him now," she wrote, "I would say 'Thank you, thank you'-over and over again-for making me blind."
Crosby accepted her blindness as a gift from God with a special purpose. "I could not have written thousands of hymns," she said, "if I had been hindered by the distractions of seeing all the interesting and beautiful objects that would have been presented to my notice."
For over a century, the church has reaped the benefits of one woman's thankful heart as we sing "To God Be the Glory," "Blessed Assurance," "All the Way My Savior Leads Me," and countless other songs that Fanny Crosby wrote in her lifetime.
The Choice That Lies Before Us
Fanny Crosby's example reminds me of a truth I have learned over the years. In every circumstance that comes my way, I can choose to respond in one of two ways: I can worship, or I can whine! You have the same choice before you.
When we choose the pathway of giving thanks, especially in the midst of difficult circumstances, a radiance issues forth from our lives to bless the Lord and others. On the other hand, when we give in to whining, murmuring, and complaining, we end up on a destructive slide that leads to bitterness and broken relationships.
Oh, what a price we pay for our personal and collective ingratitude! After more than two decades of ministry to hurting people, I have come to believe that a failure to give thanks is at the heart of much, if not most, of the gloom, despair, and despondency that are so pervasive even among believers today. I have also come to believe that many of the sins devastating our society can be traced to the root of unthankfulness.
Sadly, our modern culture is experiencing an epidemic of ingratitude. Like a poisonous vapor, this subtle sin is polluting our lives, our homes, our churches, and our society. But that means a grateful woman will be like fresh air in a world contaminated by bitterness and discontentment.
It all comes down to the choice we make about our attitude.
Gratitude Versus Ingratitude
Consider with me some of the contrasts between a grateful heart and an ungrateful heart.
Grateful people are humble; ungrateful people are proud.
A thankful person is conscious of God and others; an unthankful person is self-conscious and self-centered.
A grateful heart is a full heart; an ungrateful heart is an empty one.
People with thankful hearts are easily contented; unthankful people are subject to bitterness and discontent.
A grateful heart will be revealed and expressed by thankful words; an ungrateful heart will manifest itself in murmuring and complaining.
Thankful people are refreshing, life-giving springs; unthankful people pull others down with them into the stagnant pools of their selfish, demanding ways.
With contrasts like these, is not the better attitude plainly evident? We are called to be thankful people, to recognize and express appreciation for the benefits we have received from God and others.
Paying Off Your Thankfulness Debt
From time to time, I find it helpful to take stock of my "gratitude accounts." I ask myself, is there any circumstance in my life for which I have never given thanks? Is there some blessing I have received for which I have not expressed gratitude? Often I find that I owe a debt of thanks to at least one person.
Now, how about you? Is there an individual-a family member, a friend, an acquaintance, an associate, a teacher, a pastor-who has in some way touched or benefited your life and yet to whom you have not yet paid your debt by saying, "Thank you?"
Embrace the attitude of gratitude. Make a lifetime habit of giving thanks. You'll discover that the world looks different when you learn to see it through the eyes of thankfulness.
Making it personal
What outstanding debts do you have in your "gratitude accounts"? At the first opportunity, offer warm thanks to those in your life who have been a blessing to you.
Adapted from The Attitude of Gratitude: Developing a Thankful Heart
by Nancy Leigh DeMoss. (c)2000 Life Action Ministries. Used by permission.
Regular Features
Hijacking the Brain: How Drug and Alcohol Addiction Hijacks Our Brains
When Bill W. and Dr. Bob created Alcoholics Anonymous 77 years ago, they borrowed principles learned from a Christian fellowship called the Oxford Group to create their 12-step recovery program.
"They knew that their spiritual program was effective where other 'cures' had failed, and over the years, there have been many theories as to why," says Dr. Harry Haroutunian, physician director of the Betty Ford Center in Palm Springs, and collaborator with Dr. Louis Teresi on the book, 'Hijacking the Brain: How Drug and Alcohol Addiction Hijacks our Brains – The Science Behind Twelve-Step Recovery' (www.HijackingTheBrain.com).
"Now we know that stress is the fuel that feeds addiction, and that stress and drug and alcohol use cause neurological and physiological changes," Haroutunian says. "The changes are primarily in the deep brain reward centers, the limbic brain, responsible for decisions, memory and emotion. These centers are 'hijacked' by substance abuse, so that the addicted person wants the booze or drug over anything else. "
As a scientist and physician applying the 12-step program to his own life, Teresi studied the physiological changes triggered by this seemingly non-scientific treatment.
"One response is that elements of 12-step programs reduce stress and increase feelings of comfort and reward through chemical changes in the brain and body. These changes allow for neuronogenesis – the birth of neurons in the brain," Teresi says.
"As substances of abuse affect the limbic brain, so do 12-step recovery practices."
Teresi says the 11th step in the program, which emphasizes spiritual practices such as prayer and meditation, works for the following reasons:
• Chilling out:
Addiction is a cycle of bad habits. When something bad happens, an alcoholic drinks to feel better. When something good occurs, he drinks to celebrate. After years of this behavior, a person needs a way to step outside of himself to maintain sobriety. Regular prayer or meditation achieves that and becomes "that other habitual option" for responding to emotions, he says.
• "Mindfulness" meditation:
While certain forms of prayer are effective, meditation may be a more direct way to achieve the kind of beneficial self-regulation that makes the 11th step so crucial, Teresi says. Mindfulness meditation incorporates active Focused Attention and the more passive Open Monitoring to raise a person's awareness of his impulses, leading to better self-control.
• The three-fold manner:
A successful 11th step tends to have the following benefits: First, stress is relieved in both cognitive and emotional reactivity, as evidenced by reduced cortisol (stress hormone) levels and other biological indicators. Second, some forms of meditation are shown to stimulate the brain's reward centers, releasing dopamine – a mood elevator -- while improving attention and memory. Third, an increased sense of connectivity and empathy to others is achieved, satisfying our natural need for social connection and reducing stress.
"Sobriety is not so much about not drinking or drugging," Teresi says. "It's about developing an attitude and lifestyle that brings sufficient serenity and personal reward that drinking, or taking any mood-altering drug, is simply unnecessary."
About Dr. Teresi & Dr. Haroutunian
Louis Teresi earned his medical degree from Harvard, where he completed honors concentration courses in neuroscience. In more than 24 years of practice, Teresi has authored numerous peer-reviewed papers, winning 14 national and international awards for his research, and is a senior member of the American Society of Neuroradiology. He is a grateful recovering alcoholic.
Dr. Harry L. Haroutunian, known as "Dr. Harry," is an internationally known speaker on addiction who has created the "Recovery 101" lecture series. As physician director of the Betty Ford Center, Dr. Haroutunian has contributed to the development of a variety of programs. He is the author of the soon-to-be-published book "Staying Sober When Nothing Goes Right" and collaborated with Dr. Louis Teresi, author of "Hijacking the Brain: How Drug and Alcohol Addiction Hijacks our Brains – The Science Behind Twelve-Step Recovery."
Self Improvement: How To Release Your Bad Habits
by Wes Hopper
"Our repeated failure to fully act as we would wish must not discourage us. It is the sincere intention that is the essential thing, and this will in time release us from the bondage of habits which at present seem almost insurmountable." Thomas Troward
Sometimes it's very easy to get discouraged when we find ourselves making the same choices, getting distracted at the same places, and not making progress in spite of our resolve to do so.
Has that ever happened to you? You know it has. So how do you react when you realize it?
Our natural reaction is to get angry with ourselves. "Oh, nuts, I've let myself get distracted again! When will I ever learn? Why am I such a (fill in your own favorite expletive.)"
Have you noticed that treating yourself like that does not help you change and make better choices? Actually it traps you in an image of yourself that ensures that you will continue to make the poorer choices.
Let's take the very wise advice of Thomas Troward in our quote. He suggests that the process of change is an incremental process. We shouldn't be discouraged because we can't easily make big changes in one step.
He says that all we need is a sincere intention. Not an empty promise to ourselves with no energy behind it, but a sincere intention that comes from our whole mind and spirit.
Powered by that sincere intention, we can chip away at those old habits and eventually experience the new habits that we want.
We must realize that the habits were built a bit at a time, and they may need to be taken apart a bit at a time.
So celebrate every little victory and hold that intention. Eventually you will win.
Source: Daily Gratitude
This is an incredibly healthy, unique, and refreshing dish from India. Be generous with the condiments, as they are the key to the balance of the flavors.
Ingredients for Curry:
2 (15-ounce) cans chick-peas or garbanzo beans, drained
1 teaspoon salt
2 bay leaves
1 large onion, finely chopped
5 garlic cloves, minced
2 to 3 tablespoons chopped fresh ginger root
2 tablespoons olive oil
2 tablespoons curry powder. or to taste
(You may substitute a mixture of 1 teaspoon turmeric, 1 teaspoon cardamom, 1 teaspoon cumin and 1-1/2 teaspoon coriander for curry powder.)
1 (28-ounce) can diced tomatoes
1 (4-ounce) can chopped green chilies, or chopped fresh green chilies
2 tablespoons lemon juice
Ingredients for Condiments and Assembly
shredded coconut and chutney
chopped cucumber
raisins and cocktail peanuts
chopped pineapple and bananas
plain yogurt
6 cups cooked brown rice
Directions for Curry
Combine the chick-peas. salt and bay leaves with enough water to cover in a saucepan.
Simmer for 20 minutes, stirring occasionally.
Saute the onion, garlic and ginger root in the olive oil in a skillet until the onion is tender and golden brown.
Stir in the curry power.
Cook for 1 minute, stirring frequently.
Add the un-drained chick-pea mixture, un-drained tomatoes and the green chilies to the curry mixture. Mix well.
Simmer, covered, over low heat for 20 to 30 minutes, stirring occasionally.
Discard the bay leaves.
Stir in the lemon juice.
Directions for the Condiments and Serving:
Spoon each condiment into a small bowl.
Spoon the curry over the rice on a serving platter.
Serve with the condiments.
Serves 6 to 8
by Derek O'Brien, Member of the Indian Parliament
Editor's Note: This is an Unusual and Interesting Story about an Anglo-Indian Family Living In India & Pakistan. The Author, Derek O'Brien is a Member of the Indian Parliament and a leading member of Mamta Banerjee's Trinamool Congress.
Thoughts on Independence Day
Each year, on August 15, I find myself thinking of my great-grandmother, my father's paternal grand-mother. Nellie Bella Biswas, as she was named when born to a Bengali-Christian family with homes in Jalpaiguri and Manicktala, who formed part of my earliest memories. She died in 1969, when I was a small schoolboy, yet even by then she had come to represent an influential figure for me, the familiar matriarch, caring but firm, who taught the three of us, my brothers and me, to speak Bengali.
To my young mind, Nellie Bella O'Brien, as she became on marrying an Irish settler in India, symbolized history. She was a walking, talking monument of history. To my innocent eyes, she seemed to stand for Mother India: a venerable and iconic figure who shed a silent tear in August 1947 as one country became two nations, and a composite society was split forever.
Nellie Bella cried in August 1947, she cried every day from 1947 to 1969. She cried for the line in the sand that Partition drew. She cried for Patrick, her first-born, her beloved son, who stayed on in Lahore.
The narrative of Partition has been written in terms of the subcontinent's Hindus and Muslims. Christians have had only a small role. Anglo-Indians, the community I belong to and which makes up a minuscule section of India's Christians, have had just a walk-on part.
Yet Partition had a dramatic impact on my extended family. My paternal grandfather, Nellie's son, was one of three brothers. The eldest of them, Patrick, was a civil servant who worked in Lahore and Peshawar and served as private secretary to Sir Olaf Caroe, governor of the Northwest Frontier Province. Much of the rest of the family was in Kolkata.
One day, without quite realising its implications, these wings of the O'Brien family became citizens of separate countries. Within months India and Pakistan were at war. Patrick, the son who had stayed on in Pakistan, had two daughters. Their husbands were fighter pilots. As it happened, one of these men ended up in the Indian Air Force and the other in the Pakistan Air Force.
Imagine Nellie's plight and that of her granddaughter, my father's cousin. Night after night she stayed up, I've been told, wondering if her husband would come home or if her brother in-law, her sister's husband, was safe or if these two men, comrades and brothers in the same air force till only a few weeks earlier, would aim for each other in the eerie anonymity of the skies.
Thankfully neither died in that war but a distance emerged. Father and daughter, sister and sister, cousin and cousin, my Indian grandfather and his Pakistani brother, Nellie and Patrick lost touch.
My brothers and I grew up in a very different environment. We were the only Christian family in a middle-class, predominantly Bengali-Hindu neighbourhood in Kolkata, living, in one of those ironies that make India just so captivating, in a lane named after a Muslim. We lived in the house Nellie had built in 1938. She was widowed early, left with three sons to bring up. Her training was as a doctor and she was among the earliest women to enter medical college in Bengal and she established a fulfilling practice.
In the mid-1940s, during the Great Calcutta Killings and the pre-Partition riots,she would walk down by the railway lines, from Sealdah to Ballygunge, tending to the injured. She was never harmed, not by Hindus and not by Muslims. The stethoscope around her neck established her credentials; the determined walk established her purpose. She would not be stopped, she would not be moved.
Nellie Bella O'Brien died at the ripe old age of 78 in 1969. She was surrounded and mourned by her children, grandchildren and great-grandchildren. All of Jamir Lane, it seemed, turned up for her funeral. She wasn't just my father's grandmother, she was everybody's. The only one missing was Patrick, the son the mother had not seen for 23 years.
Time passed. In 1984, my brother Andy, then a sports journalist, travelled to Karachi for hockey's Champions Trophy. He was determined to trace the lost O'Briens of Pakistan. Eventually he found them and renewed contact. My father's uncle Patrick was dead but the rest of the family was still there and greeted their Indian cousin very warmly. They continued to refer to the Jamir Lane residence in Kolkata as home. Nellie was a legend for her grandchildren there as well.
Nevertheless there were sobering realities. Most of my father's generation and all of the next generation, my second cousins, had converted to Islam. The pressure had been too much. Being a minority in Pakistan was tough business.
Andy came home and told us the strange and somber story of the Muslim Anglo-Indian clan - or maybe it should be the Muslim Irish-Bengali clan - of Lahore and Karachi. We sat in silence, still digesting it. I thought of our life in India, the freedom to go to church, the freedom to practice my faith, the freedom to be myself, the freedom that my country gave its minorities. I've never felt prouder of being an Indian.
I think about my cousins in Pakistan now and then. Would they be able to join a mainstream political movement, as I was so willingly accepted as part of Mamata Banerjee's struggle? Would they find opportunity to go to parliament as regular politicians?
I was fortunate, I guess. I was fortunate Nellie encouraged me to learn Bengali and participate in the para Saraswati Puja celebration of wisdom and learning and integrate with my larger community. I was fortunate India, and Bengal, allowed me to do this without making unfair demands from me. I was fortunate to have been nurtured by India's Nellie and Nellie's India.
Happy Independence Day!
Derek O'Brien
by Dave Barry, Miami Herald
I called my friend Andy Sable, a gastroenterologist, to make an appointment for a colonoscopy.
A few days later, in his office, Andy showed me a color diagram of the colon, a lengthy organ that appears to go all over the place, at one point passing briefly through Minneapolis.
Then Andy explained the colonoscopy procedure to me in a thorough, reassuring and patient manner.
I nodded thoughtfully, but I didn't really hear anything he said, because my brain was shrieking, 'HE'S GOING TO STICK A TUBE 17,000 FEET UP YOUR BEHIND!'
I left Andy's office with some written instructions, and a prescription for a product called 'MoviPrep,' which comes in a box large enough to hold a microwave oven. I will discuss MoviPrep in detail later; for now suffice it to say that we must never allow it to fall into the hands of America's enemies.
I spent the next several days productively sitting around being nervous.
Then, on the day before my colonoscopy, I began my preparation. In accordance with my instructions, I didn't eat any solid food that day; all I had was chicken broth, which is basically water, only with less flavor.
Then, in the evening, I took the MoviPrep. You mix two packets of powder together in a one-liter plastic jug, then you fill it with lukewarm water. (For those unfamiliar with the metric system, a liter is about 32 gallons). Then you have to drink the whole jug. This takes about an hour, because MoviPrep tastes - and here I am being kind - like a mixture of goat spit and urinal cleanser, with just a hint of lemon.
The instructions for MoviPrep, clearly written by somebody with a great sense of humor, state that after you drink it, 'a loose, watery bowel movement may result.'
This is kind of like saying that after you jump off your roof, you may experience contact with the ground.
MoviPrep is a nuclear laxative. I don't want to be too graphic, here, but, have you ever seen a space-shuttle launch? This is pretty much the MoviPrep experience, with you as the shuttle. There are times when you wish the commode had a seat belt. You spend several hours pretty much confined to the bathroom, spurting violently. You eliminate everything. And then, when you figure you must be totally empty, you have to drink another liter of MoviPrep, at which point, as far as I can tell, your bowels travel into the future and start eliminating food that you have not even eaten yet.
After an action-packed evening, I finally got to sleep.
The next morning my wife drove me to the clinic. I was very nervous. Not only was I worried about the procedure, but I had been experiencing occasional return bouts of MoviPrep spurtage. I was thinking, 'What if I spurt on Andy?' How do you apologize to a friend for something like that? Flowers would not be enough.
At the clinic I had to sign many forms acknowledging that I understood and totally agreed with whatever the heck the forms said. Then they led me to a room full of other colonoscopy people, where I went inside a little curtained space and took off my clothes and put on one of those hospital garments designed by sadist perverts, the kind that, when you put it on, makes you feel even more naked than when you are actually naked..
Then a nurse named Eddie put a little needle in a vein in my left hand. Ordinarily I would have fainted, but Eddie was very good, and I was already lying down. Eddie also told me that some people put vodka in their MoviPrep..
At first I was ticked off that I hadn't thought of this, but then I pondered what would happen if you got yourself too tipsy to make it to the bathroom, so you were staggering around in full Fire Hose Mode. You would have no choice but to burn your house.
When everything was ready, Eddie wheeled me into the procedure room, where Andy was waiting with a nurse and an anesthesiologist. I did not see the 17,000-foot tube, but I knew Andy had it hidden around there somewhere. I was seriously nervous at this point..
Andy had me roll over on my left side, and the anesthesiologist began hooking something up to the needle in my hand.
There was music playing in the room, and I realized that the song was 'Dancing Queen' by ABBA. I remarked to Andy that, of all the songs that could be playing during this particular procedure, 'Dancing Queen' had to be the least appropriate.
'You want me to turn it up?' said Andy, from somewhere behind me..
'Ha ha,' I said. And then it was time, the moment I had been dreading for more than a decade. If you are squeamish, prepare yourself, because I am going to tell you, in explicit detail, exactly what it was like.
I have no idea. Really. I slept through it. One moment, ABBA was yelling 'Dancing Queen, feel the beat of the tambourine,' and the next moment, I was back in the other room, waking up in a very mellow mood.
Andy was looking down at me and asking me how I felt. I felt excellent. I felt even more excellent when Andy told me that it was all over, and that my colon had passed with flying colors. I have never been prouder of an internal organ.
On the subject of Colonoscopies...
Colonoscopies are no joke, but these comments during the exam were quite humorous..... A physician claimed that the following are actual comments made by his patients (predominately male) while he was performing their colonoscopies:
1. Take it easy Doc.. You're boldly going where no man has gone before.
2. 'Find Amelia Earhart yet?'
3. 'Can you hear me NOW?'
4. 'Are we there yet? Are we there yet? Are we there yet?'
5. 'You know, in Arkansas, we're now legally married.'
6. 'Any sign of the trapped miners, Chief?'
7. 'You put your left hand in, you take your left hand out...'
8. 'Hey! Now I know how a Muppet feels!'
9. 'If your hand doesn't fit, you must quit!'
10. 'Hey Doc, let me know if you find my dignity.'
11. 'You used to be an executive at Enron, didn't you?'
12. 'God, now I know why I am not gay.'
And the best one of all:
13. 'Could you write a note for my wife saying that my head is not up there?'
Dave Barry is a Pulitzer Prize-winning humor columnist for the Miami Herald.
With over 7000 articles and hundreds of links to outside resources covering all aspects of Syriac Orthodoxy that are of interest to Family, Malankara World is the premier source for information for Malankara Diaspora. In addition to articles on spirituality, faith, sacraments, sermons, devotionals, etc., Malankara World also has many general interest articles, health tips, Food and Cooking, Virtual Travel, and Family Specific articles. Please
visit Malankara World by clicking here
or cut and paste the link on your browser:
http://www.MalankaraWorld.com/Library/default.htm
Malankara World Journal Subscription
If you are not receiving Malankara World Journal directly, you may sign up to receive it via email free of cost. Please click here: http://www.MalankaraWorld.com/Library/Register/news_regn.asp
You can contact us via email at mail@malankaraworld.com
Malankara World Journal Archives
Previous Issues of Malankara World Journal are archived here.
You can contact us via email at mail@malankaraworld.com
Thank you for your help and support.
Malankara World Journal is published by MalankaraWorld.com http://www.MalankaraWorld.com/
Copyright &copy 2011-2019 Malankara World. All Rights Reserved.