Thursday, June 2, 2011 marks the feast of the Ascension of our Lord Jesus Christ, 40 days after His resurrection. The icon of the feast notes the mystery of the event by placing Christ within a circle, known as a Mandorla, the traditional way to denote that something is beyond or normal vision or understanding. The Scriptures say that among the disciples who were present at His ascension, there were some "who doubted."

It is a remarkable statement for those who presume an "objective" character to all forms of true knowledge. Obviously, the authors of Scripture did not share such a presumption.

Christ's Ascension affirms that He has carried our humanity into the highest heaven and that it is seated "at the right hand of the Father." It is a promise of a fullness to come and of the fullness which is made known to us, even now, in Christ Jesus.

The traditional greeting on the feast, taken from the Psalms: "God has gone up with a shout; the Lord with the sound of the trumpet."

Indeed.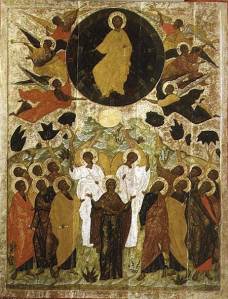 There is one body and one Spirit, just as you were called to the one hope that belongs to your call, one Lord, one faith, one baptism, one God and Father of us all, who is above all and through all and in all. But grace was given to each of us according to the measure of Christ's gift. Therefore it is said, "When he ascended on high he led a host of captives, and he gave gifts to men." (In saying, "He ascended," what does it mean but that he had also descended into the lower parts of the earth? He who descended is he who also ascended far above all the heavens, that he might fill all things.)
Ephesians 4:4-10
Texts: Luke 24:44-53 & Ephesians 1:15-23
The 200-year-old church was being readied for an anniversary celebration when calamity struck: the bell ringer was called out of town. The priest immediately advertised for another.
When the replacement arrived, the priest took him to the steps leading to the bell tower, some 150 feet above them. Round and round they went, huffing and puffing all the way. Just as they reached the landing, the bell ringer tripped and fell face-first into the biggest bell of all. Bo-o-o-o-ong!
Dazed by the blow, the bell ringer stumbled backward onto the landing. The railing broke loose and he fell to the ground. Miraculously, he was unhurt—only stunned—but the priest thought it best to call an ambulance.
"Who are you?" the doctor asked the man.
"I don't know," the man replied.
"Do you know this man's name?" the doctor asked the priest.
"No," the priest replied, "but his face sure rings a bell."
"Who am I?" That's a question all of us find ourselves asking sometime or someone asking it of us. Often we associate it with youth, but it can be a question you find yourself pondering at most any time in your life.
It is not just a question of identity, but also a search for your purpose in the world, why you are here, the meaning of your life.
"Who am I?"
In a very real sense no one can answer that for you. It's a personal journey you must make. No one can make it for you. No one can fully tell you who you are. You must discover this for yourself. But I would like to give you a few nudges in the right direction, a few hints that will help you as you seek the answer to, "Who am I?"
God's Creation
Who are you?
You are God's creation. God made you. God spent personal time just making you. I love these words from Psalm 139:
God, you created every part of me;
you put me together in my mother's womb.
I praise you because you are to be feared;
all you do is strange and wonderful.

I know it with all my heart.

When my bones were being formed,
carefully you put together in my mother's womb,
when I was growing there in secret,
you knew that was was there you saw me before I was born.

(Ps 139:13-16a).
God knows you. God loves you. God created you. You belong to God. Only within this relationship will you find who you are and why you are.
At the Pan American Games, Greg Louganis was asked how he coped with the stress of international diving competition. He replied that he climbs to the board, takes a deep breath, and thinks, EVEN IF I BLOW THIS DIVE, MY MOTHER WILL STILL LOVE ME. Then he goes for excellence.
That's not a bad way to begin every day of your life, taking a deep breath and saying, EVEN IF I BLOW IT TODAY, MY GOD WILL STILL LOVE ME, and then, assured of grace, go into the day seeking a perfect 10! For God made you. God loves you, even when you blow.
You Are Unique
Who are you?
You are unique. You are special. There has never been throughout time anyone exactly like you and there never will be.
Turn your palms up and look at them. If you look closely, you will see tiny swirling lines on your fingers - finger prints. No one has those exactly like you do. God made you that way. You are one of a kind in many ways.
Have you ever heard that saying, "What a wonderful world it would be, if everyone was like me"? Well, don't think that would be wonderful at all! We need to be different. We need diversity. It enriches us.
If you have not found your uniqueness already, you will. Celebrate it. Let the world see it, hear it. For you have contributions to make that only you can give.
You Are Gifted
Who are you?
You are gifted. God has created you with untold talents and abilities. Some of them you already know. Others you will be discovering and developing all your life.
You no doubt have heard about the programs our schools sometimes have for the so-called "gifted" students. That has always bothered me just a little. Why? Because I believe with all my heart that every person is gifted. We are not all gifted in the same ways, but we all are endowed by our Creator with wondrous gifts. You are, each of you, in God's gifted program.
It's going to be fun watching you grow and discover and use those gifts.
You Are Disciples of Christ
Ascension celebrates the ascent of Christ back to God to sit at God's right hand, the position of power and authority. Paul says that Christ is exalted, lifted up, and that all things have been placed under his feet.
Who are you?
I can tell you nothing more important than this - be disciples, followers of Christ. Exalt him above all else in your life. Look up to him as your hero, your role model, your Savior and Lord. Strive all your days to follow his teachings and his example. The more like him you become, the better human being you will be.
And this will help you in so many ways. Knowing you will follow Christ, already settles lots of things. it helps you know what you will do in lots of situations and how you will decide. Whatever the situation, whatever the decision, look at it as Christ would look at it. Decide and act like a Christian.
A Servant
Who are you?
If you follow Christ, the you will be a servant of God in the world.
You will not live your life just for yourself, putting yourself Number 1 all the time. In stead, you will put your life at God's disposal, to be used in service to God and neighbor.
As you discover your gifts, your talents and abilities, consider how you might use them to serve God, to help others.
Your purpose in life is to so live and give yourself that the world is a better place because you were in it.
Conclusion
While walking through the forest one day, a man found a young eagle who had fallen out of his nest. He took it home and put it in his barnyard where it soon learned to eat and behave like the chickens. One day a naturalist passed by the farm and asked why it was that the king of all birds should be confined to live in the barnyard with the chickens. The farmer replied that since he had given it chicken feed and trained it to be a chicken, it had never learned to fly. Since it now behaved as the chickens, it was no longer an eagle.
"Still it has the heart of an eagle," replied the naturalist, "and can surely be taught to fly." He lifted the eagle toward the sky and said, "You belong to the sky and not to the earth. Stretch forth your wings and fly."
The eagle, however, was confused. He did not know who he was, and seeing the chickens eating their food, he jumped down to be with them again.
The naturalist took the bird to the roof of the house and urged him again, saying, "You are an eagle. Stretch forth your wings and fly."
But the eagle was afraid of his unknown self and world and jumped down once more for the chicken food. Finally the naturalist took the eagle out of the barnyard to a high mountain. There he held the king of the birds high above him and encouraged him again, saying, "You are an eagle. You belong to the sky. Stretch forth your wings and fly."
The eagle looked around, back towards the barnyard and up to the sky. Then the naturalist lifted him straight towards the sun and it happened that the eagle began to tremble. Slowly he stretched his wings, and with a triumphant cry, soared away into the heavens. He has never returned to lead the life of a chicken.
You were not created for the barnyard, but for the sky!
You are not a chicken. You are an eagle.
So soar up and become all God has put it you to become.
Text: Acts 1:1-11
Ballanger's Esso was the site of my first real job. I was only 16 and still wet behind everything, but Mr. Ballanger hired me anyway. He was a tall and skinny man, though he was very strong from years of labor at that service station. He had twinkling blue eyes and always wore that old Esso (now Exxon) hat and a uniform of sorts. He was one of the leading citizens of Bridgeton, my hometown. The fact that he hired me to work there was no small thing.
Well, there's a lot more to running a service station than you might think. I know it took me at least four months to learn the basics. I learned how to pump gas, check oil and tires, clean windshields, change oil and tires, even how to operate his aged cash register.
Maybe one of the most important things I learned was that this was a lot more than a service station. It was a place where people could always come and find a friend. Mr. Ballanger was the leading friend of the town. He knew how to treat people. His was a "service" station in more ways than one. From him I learned a lot about just how to treat people. I saw him on more than one occasion help needy travelers, often not charging them a penny. Add to this all the many people in our little village nestled on the Neuse River who had found him a friend in words and deeds.
Then the summer came and he said to me one day, "I have to go away for awhile. I'm leaving you in charge. I've got a telephone number where you can reach me should the need arise. I'll be back. But until then, I am counting on you to keep things going here. Think you're up to it?"
Well, I nodded my head before I even thought about it.
But when I had time to think about it later, I felt two conflicting things.
First, it made me feel great. This meant he trusted me, he believed in me, and thought I was ready and able to carry on for him while he was away. That was a pretty awesome feeling.
But the second feeling I had was being overwhelmed, was doubt. This was a BIG responsibility. Was I really up to it? I mean, I always had him there when I had a question or didn't know what to do. All I had to do was just go inside the station and there he would be sitting in that old office chair of his sipping a small Coca-cola (glass bottle).
As I thought about it, however, I was reminded that I had his number and knew that I could call him anytime. And, also, he was coming back and he thought I could do it until he returned.
I could not help but think about all of this when I read the story today about the Ascension of Christ. For a long time he had been selecting his disciples, training them, and even those precious days after his resurrection he was preparing them for what was ahead - his going away, his return to the Father. Now that has taken place.
He felt, you see, that now they were ready. He had to go away. He could not be with them in the same way he had. But they knew how to contact him, knew that he was just a prayer away, that he promised, in fact, to send them another Comforter, and that one day he would return.
So, honored by such trust, humbled by the task ahead of them but confident in him, they set out to continue his work - to be his witnesses there and throughout the world.
He has called us, too. He is training us, teaching us, preparing us, too, to continue his work. He has promised us that same Holy Spirit to empower us to continue his mission in the world, promising to be only a prayer away and to return one day.
It seems to me that that mission is kind-of like being a service station. The church exists to serve Christ and the world. We should be a community of servants, persons who embody the life, the values, the mind of Christ himself, reaching out to the needy, sharing the Gospel of love and forgiveness, being peacemakers, and working for the good of all people in the name of Christ.
It is an awesome task he has entrusted to us. But he believes in us. He's provided all we need to continue his work.
Perhaps you have never heard of Giacomo Puccini. He was an Italian composer. He left the world some wondrous music. But in 1922, only 64 at the time, he was diagnosed with cancer. Though very ill, he continued to work on the opera Turandot, which many people consider to be his best. Many people tried to convince him not to waste his limited energy on a piece he could not possibly finish but he pressed on.
When he death was near, he said to his students:
"If I do not finish Turandot, I want you to finish it for me."
He did not finish the opera. Immediately after his death his students gathered together all of the scores and his notes, studied them with great care, and then finished the opera.
The opening performance took place in 1926 and was conducted by one of Puccini's students. When he reached the place where the his teacher had stopped composing the conductor put down his baton, turned to the audience and said to them, "Thus far, the master wrote, and then he died."
No one moved and no one made a sound for several minutes. Then he picked up his baton again and smiled through his tears. He said, "But his disciples have finished his work."
Tears flowed with the music and the sound of the applause went on and on.
Let us pray:
Risen, ascended Lord, how you trust us. You have handed over your ministry into our hands, feeble, frail, and sinful. Yet, you trust us to continue it. Forgive us when we have failed you, when we have not followed the notes, the score you have already written and tried to strike out on our own direction. Help us to so know your mind and spirit, O Christ, that we can continue the greatest composition the world has ever heard, not so we can get applause, but that the whole world might be touched by the love, grace, and beauty of your divine music. Amen.
Source: Homiliesbyemail.com
In the Name of the Father and of the Son and of the Holy Spirit.
So we have come to the Feast of the Ascension of Our Lord. Thus we have come to the last day of Christ's physical presence on Earth. This marks the fulfillment of all things, since His Conception at the Annunciation to the Holy Virgin, His Birth and all the events of His earthly life, recorded for us in the Gospels.
Christ came down from Heaven in order to destroy the power of Satan over mankind.
Christ was crucified and rose from the dead in order to destroy death.
Christ ascends into the skies in order to raise up fallen human nature to the heights of Heaven.
But He ascends not as He came down. He ascends taking with Himself a human body, a human soul, a human mind, a human will, all the attributes of human nature, except of course for sin, for Christ's human nature is human nature as it was first intended to be, not fallen human nature, but human nature redeemed and made all comely.
We should note, however, that all these victories of Christ over Satan, death and sin are accomplished in humility.
At His Birth there was, as we would say now, no media. All happened in obscurity, lowliness and poverty, as the Saviour of mankind was born in a cave by the ox and the ass.
At His Crucifixion also there was no glory: on the contrary, there was shame, thieves, reviling, mockery, bodily death, a lonely death.
At His Resurrection, nobody saw anything. The women who saw the empty tomb were not even believed. Only a few dozen believers came to believe in the first few weeks after His Resurrection.
So also at His Ascension the only witnesses were His
Mother and the eleven disciples amid the obscure olives groves on the Mount outside the City.
We see that all the great events, all the victories, of the life of Christ were accompanied by humility. This is because in the Church victory is humility. Every act of humility is a victory over the pride of Satan.
And in order to grant us the opportunity for humility, at the last event of His physical presence amongst us, Christ gives us two things:
Firstly, He comforts us and the disciples with the promise of the Holy Spirit at Pentecost, Who will guide us into all truth, into all humility.
Secondly, through His holy angels, He reminds us that as He ascends, so He will return, with angels and a cloud of glory. He reminds us that He will return in His Second and Glorious Coming to judge all the Earth.
When He ascends, He promises us the Holy Spirit.
When He descends at the Second Coming, He will come in glory as the Victor over death to judge all deathly acts, that is, all sins, for as the Apostle writes, the wages of sin are death.
Thus God is victorious in humility.
Therefore the Orthodox Church and faithful Orthodox Christians are also victorious, but only in humility.
God is the Merciful Saviour among us, granting us the Holy Spirit in order to guide us on our path to the victory of humility. As we have sung this day: 'I am with you and no-one will be against you'.
God is the Righteous Judge among us, granting us His Coming again as the Judge of the Universe, guiding us on our path to the victory of humility: 'I am with you and no-one will be against you'.
Glory to Thee, O God, Glory to Thee! Amen.
Source: St John's Orthodox Church, Colchester